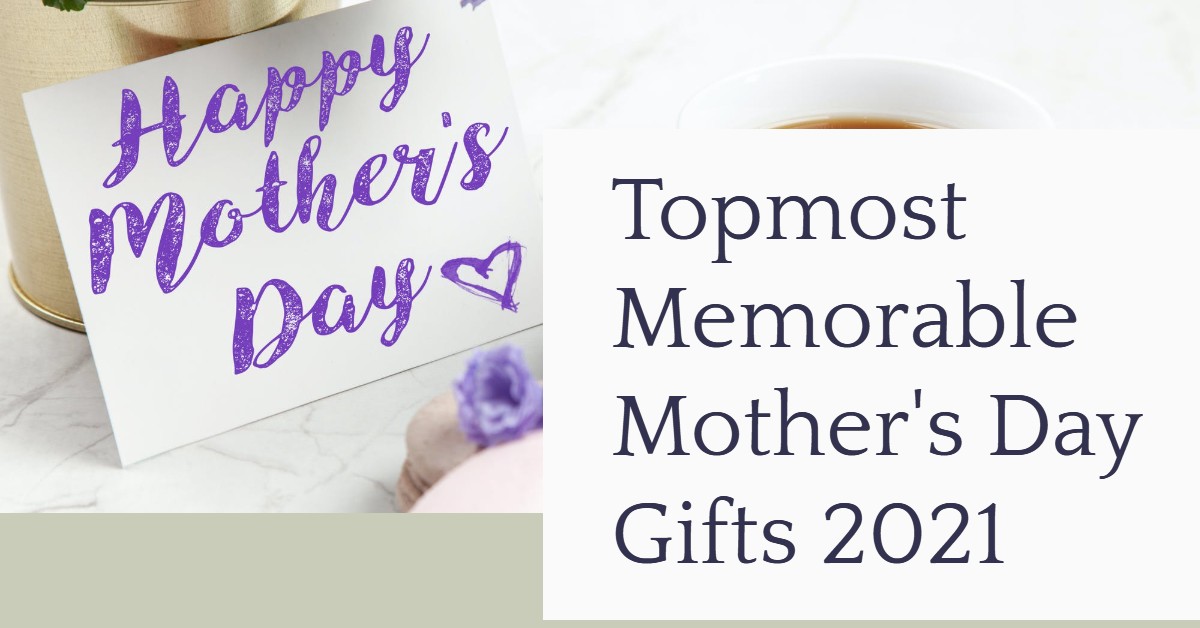 Do you adore your mother for all the wonderful things she has done for you since she brought you into this world? The best time to honor her is during Mother's Day. Here are some of the best you try out in 2021.
If you think there is a gift out there that is worth a mother's unconditional love, think again. You won't find it because there isn't any great gift out there that is equal to a mother's gift of life. We can only send our mothers thoughtful gifts on mother's day to express our appreciation. Happy Mother's Day gifts come in many different types and sizes, making it hard to come up with any excuse not to get your mother anything on Mother's Day. To be sincere, what kind of person won't get his or her mom a gift no matter how simple it is on Mother's Day? What makes mothers sweet is that they will appreciate any gift you sent to them, no matter how simple it is. Therefore, don't look down on yourself because you can't afford expensive gifts; it is understandable.
Think of all the good things that your mother has done for you since you were little until now, and you will find an inspiring gift that your mother will appreciate. Thoughtful Mother's Day gifts range from sweet, funny, sentimental, to practical. The true value of a gift is not in the amount of money you used to buy it but in the thought of buying it. Many people repeat gifts year in and out, but it doesn't have to be like that. Even a simple flower gift doesn't need to be repeated because there are dozens of floral arrangements you can present to your mother to convey many emotions. Therefore when you decide to honor your mother with Mother's Day flowers, ensure that they are unique and vibrant, just like your mother.
If you are looking for inspiring gifts to send to your mother on Mother's Day, here are some that will impress her on this year's Mother's Day. Read on for the best Mother's Day gift ideas for 2021.
Herbal Bathing Tea

Mothers have always been there, taking care of our every need. Honoring her on Mother's Day by taking care of her is the least you can do to show your appreciation. A self-care pampering session will do the trick as a Mother's Day gift. Honoring her with such a gift requires a soothing and relaxing bath that is made from herbal tea. Herbal bathing tea is the perfect gift for a mother who is always out and about fending for her family. This mixed tea is made from soothing oatmeal, sea salt, and chamomile. You compliment this gift with Mother's Day flowers.
Azalea Bonsai
Flowers are always known to be last-minute Mother's Day gifts. The reason being that you want them to reach your mother while fresh. However, you don't need to send the same kind of Mother's flowers every year to honor your mother on Mother's Day. Get her something different this year, such as this awesome azalea bonsai tree, which makes a beautiful addition to her home décor or office. Your mother will love its deep green leaves and pink blossoms that bloom twice each year. You have an option to choose from a large or small tree.
Vinebox Wine Flight
For a mother who loves to unwind with fine wine after a long tiresome day, this wonderful happy Mother's Day gift will keep her stocked all the time with a Vinebox wine subscription. She can choose a six-month or a year's supply of wine delivered to her doorstep. If she has her favorite bottle, then she will get exactly that. Your mother can also give new wine a try. It is quite a convenient gift because it is sent as an ecard to choose to customize her selection and when to order the wine boxes.
Handmade Heart Initial Necklace 
The jewelry loving moms are not left out in this list. Your mother loves us precious and expresses this. You can send her this low key accessory of handmade heart initial necklace. It gives her that understated style that she always likes. You can customize this gift to personalize it with a chosen initial engraved in the center of the heart. You can choose from a 14-karat gold, silver, or rose gold plated over brass. The initial can represent anything sentimental to your mother or both of you.
Conclusion
No matter how broke you are, there is always a gift that suits your budget. Whether it is a bouquet of lovely Mother's Day flowers or kitchen appliances, these few ideas of a Mother's Day gift will make her feel appreciated, and your mother will be so proud of you.
Author Bio :