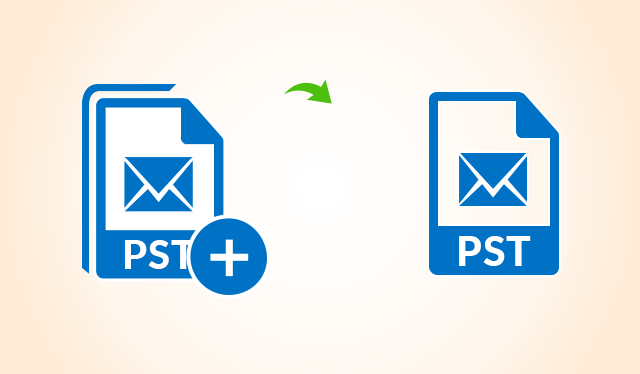 The article is going to help the peoples who need to consolidate PST files for the easy file management. PST file size error is one of the most common topics nowadays. So, avoiding this issue is a necessary process.
There is no perfect computer application available in this technical world, it is same as in case of Outlook. The PST file is the basic data storage file of Outlook, it is also bounded by the size limit. The data files used to work properly until and unless their file size does not exceed. But, if the size increases, then it causes issues like corruption, degradation. Program performance, etc.
The Microsoft team has resolved this issue in latest versions of Outlook like 2016, 2013, 2010, & 2007. That is there is no file size limitation issue in UNICODE PST files. But still, the issue is not yet resolved. So many users create multiple PST data files in old Outlook versions to be safe from file size issue. Therefore now it leads to demand for the solution how to integrate PST files.
Consolidate PST Files Manually In MS Outlook
If you are searching for the solution to combine PST files to collectively access them in the recent MS Outlook versions, then you can take the help of below-mentioned steps:
Step 1: Create a New Outlook PST Data File
1. Open Microsoft Outlook email application in your system and then hit on the option "New Items".
2. You can get one options list. From that click on "More Items–> Outlook Data Files".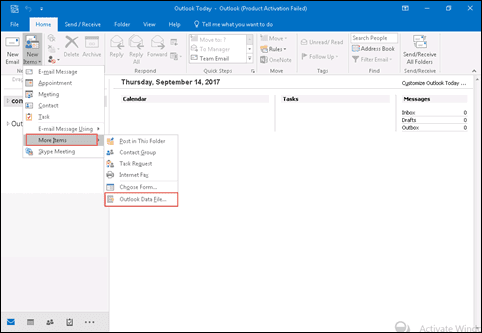 3. Move towards the place where you want to keep the new data file. Provide a name to that file and then press on "OK" button.
4. From the left-hand side of Outlook, you can view the newly created file.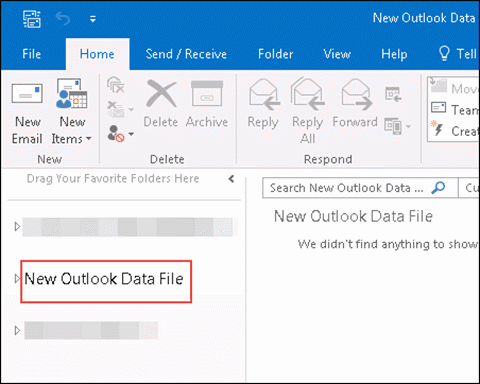 Step 2: Move All the Existing PST Data's into this New File
1. Launch MS Outlook and then click on the options File–> Open & Export–> Import/ Export.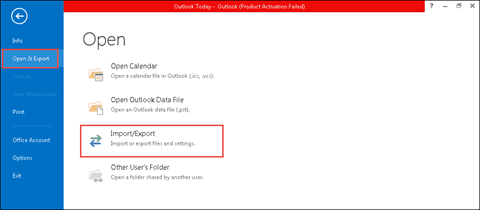 2. From the given Import and Export wizard, select import from and then click on "Next" button.
3. Choose the option "Outlook Data File (.pst) from the "file type to import from" section and then click on "Next" button.
4. Click on the "Browse" button to proceed with the solution to consolidate PST files.
5. Select one of the files and then click on "Open" button. And then click on "Next".
6. From the given window, customize the file import setting as per your need and then click on "Finish".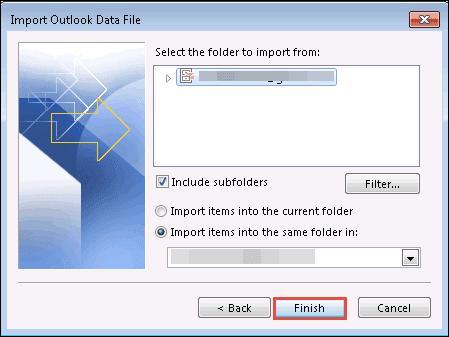 Note: Repeat step 2 to move all the PST data files into the newly created file.
Is the Manual Approach Risk-Free?
The manual method to consolidate PST files sounds to be simple but, when it comes to practical then the users are going to face some hurdle. It is quite easy only if the process is done in a diligent manner. It is so because there are so many chances of the errors occurs when a small thing goes wrong at the time of execution. Besides all this, it is going to be a challenge for the peoples who are unaware of Outlook wizards and other technical terms. So by considering these things, we will provide one alternative solution, which is mentioned in the following section.
Software Fix to Consolidate PST Files
Professional solutions are the quick and easy measure to join PST files together. SysTools PST Merge is one of the best application designed to merge personal storage table files in Outlook. It can work in a systematic and user-friendly manner. It is proficient to integrate all items including emails, contacts, calendars, tasks, etc. It also provides some advanced functionalities like remove duplicate items and excludes deleted items, etc. The tool does not provide any expert knowledge of MS Outlook for working with it. Even one non-technical user can easily consolidate PST files with the help of this utility.
Time to Wind Up
From this blog, one can get the solution to merge/ join PST files. It is possible to attempt the task with both manual and automated solution. The manual workaround is explained in a step by step manner inside this blog. But there is no guarantee of the data integrity maintenance in the manual process. So, one of the best alternative measures to consolidate PST file is also suggested in a brief manner here.
Author Bio :