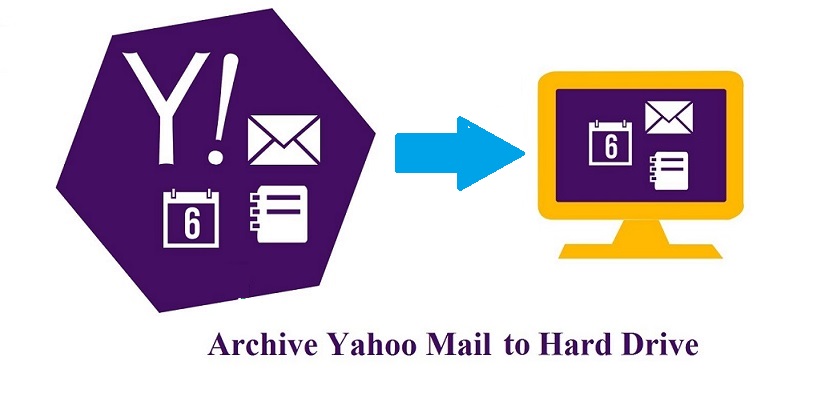 Many users, as well as business professionals, back up their emails, contacts, calendars, etc on a regular basis to avoid data loss. Sometimes, it is helpful to download data from the mail server so as to access your important data without any interrupt. Yahoo mail server can be inaccessible for the moment due to any server issue. Somehow if someone hacks the account of the user and at the same time, you don't remember your password, then you cannot get back your data. Hence, the best alternative solution is to archive Yahoo mail to hard drive to avoid these problems. In the following article, we will discuss methods to backup Yahoo email folders to the local drive.
The biggest advantage of having a backup is that a user can access his emails in an offline mode. There is a standard approach in which you can copy each and every email from Yahoo account and save it to the hard drive. But, you cannot copy the email with exact formatting to your hard drive. So, for that, you can configure your Yahoo account to any desktop email client like MS Outlook or Mozilla Thunderbird. This technique is easy and preferred by most of the users. With the help of this technique, you can work with your emails in an offline mode and all your emails will also save on your hard drive.
Method1: Backup Yahoo Email to Computer Using Microsoft Outlook
You can download Microsoft Outlook and install it on your system or you can also purchase it separately. This method will archive Yahoo mail to hard drive in a PST (Personal Storage Table) file format. Follow below steps to configure and backup Yahoo to Outlook:
Open MS Outlook and go to Start >> All Programs >> Microsoft Office >> Microsoft Office Outlook.
Click on Tools >> Account Settings from the Menu bar.

After that, to add the Yahoo account, click on New button.

Select Microsoft Exchange, POP3, IMAP, or HTTP radio button >> Next button.

Click on the Manually configure server settings or additional server types checkbox >> Next button.

Click on Internet E-mail radio button >> Next button.

Now you need to fill the account details (name, email id and password)

Account Type: POP3
Incoming Mail Server: pop.mail.yahoo.com
Outgoing Mail Server (SMTP): smtp.mail.yahoo.com

After filling the entire details, click on More Settings… button.


Fill the server details in the Advanced tab as follows:

Incoming Server POP3: 995
Click on This server requires an encrypted connection (SSL) checkbox.
Outgoing Server (SMTP): 465
From the drop-down list, Select SSL for the encrypted connection.

After that click on OK button.


Now click on Outgoing Server tab. Click on the My outgoing server (SMTP) requires authentication checkbox >> Use same settings as my incoming mail server radio button. Click on OK button to proceed.

After filling all the details, you return back to the previous window. Click on Next button.

Now a Congratulations! message will be displayed. To end the process, click on Finish button.

You can download all the emails from Yahoo email to desktop with the help of Send/Receive option as shown below.

Method2: Archive Yahoo Mail to Hard Drive Using Mozilla Thunderbird
If MS Outlook is not installed in your system or you don't need to purchase the email application, then you can use a free email client i.e. Mozilla Thunderbird. One can backup data from Yahoo mail to Thunderbird and save emails on the hard drive in MBOX file format. Follow below steps to get your Yahoo emails on Thunderbird:
Download and install Mozilla Thunderbird on your system.
Open the application and enter your credentials to login.

Select the IMAP (remote folders) radio button >> Create Account.

Your account will automatically be configured. Now, you can check your emails in Inbox folder.

Conclusion
In the following article, we have discussed methods to archive Yahoo mail to hard drive for offline emailing. There is no need of internet connection to access these emails on your system. Backing up data can help you in avoiding any kind of data loss. After configuring your Yahoo account in Outlook or Thunderbird, you can view all the emails on your desktop. If you are unable to take backup of multiple accounts with the help of these methods, then you can go for the automated solution to download emails from yahoo to hard drive.
Author Bio :