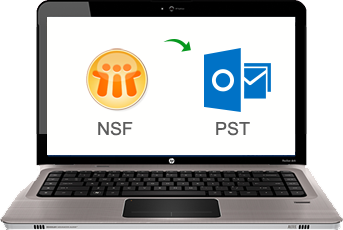 Are you seeking a method to transfer data from NSF to PST? In that case, you must be in need to migrate data from Lotus Notes to Outlook. It is not uncommon for users to switch between these two desktop-based email clients. However, these two email clients saves data in different file formats. Therefore while shifting, users face the necessity to export NSF to PST. This write-up will discuss the techniques of NSF to Outlook PST conversion. First of all, take a look at the reasons behind this process.
Reasons for NSF to PST Migration
Users might want to move data from NSF to PST for various reasons. Some of the reasons are:
Synchronizing Data: Some users can have different emails clients on two different devices. They want to transfer NSF data to PST to have data synchronization between two devices.

Switching Email Client: People switch between email clients for better benefits. If users switch from Lotus Notes to Outlook, they will need to export NSF files to PST in Outlook.
Manual Method to Export NSF Data to PST
To meet these requirements, users can manually move NSF data to PST. This manual process is divided two parts. In following part, the full export procedure will be described.
Part 1: Export Lotus Notes NSF Files
In this part, users have to transfer NSF file to CSV format.
Open Lotus Notes in your system.

From Menu bar, click File.

Now, click Export. Export wizard will open.

From this wizard, enter file name, destination location and Comma Separated Value (CSV) as Save as type. Click Export.

CSV Export dialog box will open. Select all necessary options and then click OK.
NSF data file has been saved as CSV file in your chosen location.
Part 2: Import CSV file into MS Outlook
Next part of manual process is to move CSV file into Outlook.
Start Microsoft Outlook.

Click File, then choose Open & Export and then click Import/ Export.

A wizard will appear named Import and Export. Select 'Import from another program or file' option and click Next button.

Select Comma Separated Value (CSV) and click Next.

Browse and select CSV file created during the first part of this process. From 'Options', select the one you need. Click on Next.

Select destination folder from the next window and hit Next.

In this stage, tick the checkbox to confirm CSV import. Click Finish to export CSV file to Outlook.
With this step, you have successfully migratedNSF file data to Outlook PST.
Drawbacks of Manual Method
This technique can transfer NSF to PST manually. But this export technique has some limitations. These are:
Lengthy Process: The complete process is lengthy one. Only one NSF file can be exported at a time. It takes a significant amount of time to perform whole process.

Chance of Data Loss: During this manual process, user data can get lost while migrating. Users need to have backup of NSF file to avoid data loss.

Selective Conversion Unavailable: If you transfer Lotus Notes files to PST, you need to move the entire data. This method does not allow selective migration.
Trouble-Free Technique to Migrate NSF to PST
Considering the drawbacks of manual method, users often look for a trouble-free technique. Most people prefer third-party software to smoothly transfer NSF files to PST. Thousands of clients worldwide choose NSF to PST converter for this purpose. This program is designed to convert NSF files to Outlook PST including emails, contacts, calendars, tasks, etc. This program can migrate emails with encryption. To run this application, installation of both Lotus Notes and Outlook is needed.
Transfers all types of NSF file into PST format

Permits selective transfer from NSF to PST file

Keeps original Metadata intact after migration

Allows folder to folder export from NSF to PST

Designed to preserve original folder structure

Can transfer all NSF data into single PST file

Converts Lotus Notes emails with attachment
Final Words
Users can try manual method to transfer data from NSF to PST. However, many people find the manual method of Lotus Notes NSF export inconvenient. Experts suggest using third-party tools for easy migration of NSF database to PST. Most of the migration tools do not perform up to the mark. The conversion tool mentioned here exports NSF into Outlook PST smoothly. User can choose this tool to move NSF data to PST.
Author Bio :