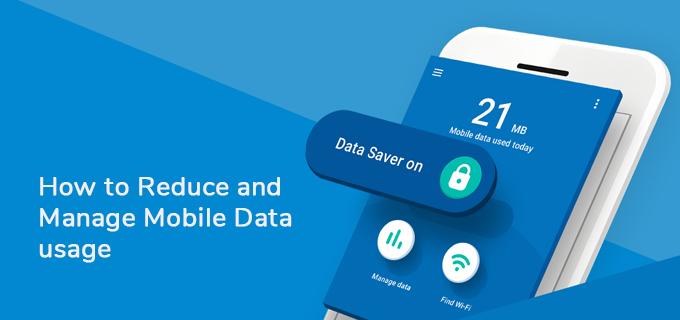 Smartphones and devices have become so much a part of our lives nowadays. The mobile industry continues to boom, and of course, custom application development enjoys great profitability. All over the world, mobile data usage continues rising as users demand more data to do tasks over their mobile phones. 
Do you remember when smartphone plans were about the number of text messages you receive and the call minutes, with unlimited data? Well, the opposite is what's happening now. Of course, we all try our best to not be glued to our smartphones, but it's just an exercise in futility. 
Managing and reducing data usage could help avoid hitting the data caps, boost the battery life span, and prevent from acquiring any additional fees. Mobile data usage has skyrocketed these days. Apps are more data-hungry and pushing new update versions continuously. 
Now, the massive popularity of video streaming services continues to soar, and social media platforms have integrated video services as their major appeal as well.  It's increasingly becoming harder and harder to reduce data usage on both Android and iOS. 
Tips to Reduce and Minimize Data Usage
Custom Software Developers today are building mobile apps and solutions that help reduce the usage of data. Moreover, carriers are offering unlimited data plans now. Yet, there are still unexpected charges, hidden limits, and speed throttling. Here are five great tips to help manage your mobile data usage. 
Whenever possible, use Wi-Fi
A bit of good advice is: If there's Wi-Fi, then use it. Most likely, you have a Wi-Fi connection at home and at work, as well as in some public places, like supermarkets, parks, and malls. There may be some that in order for you to connect requires you to accept their terms and conditions, but most of them have no such requirement. Once you are connected the first time, the next time you're within range, it would automatically connect you. 
There are carriers with their own hotspots. Nevertheless, even if you don't have hotspot access, there are still thousands of free Wi-Fi hotspots you could take advantage of all over the world. However, it would be a good idea to use a VPN if you risk connecting to many public Wi-Fi networks.
Determine the data you need
Most likely, you would overestimate the data you need, thus it's important to use cold hard facts to decide the best data allotment for you. Log into the website of your carrier, and review your data usage in the past few months. Choose a plan that's higher than what you used during that time, but closer to that number as possible. 
There are tools to help you get a rough estimate of your data usage, but it's highly recommended to base it on real-world use. Determine if your data carrier offers some kind of rollover data option. If it does offer, you could have extra data to fall back on the event of an emergency if you utilize more than the regular data in a certain month. 
Set your data limits and alarms
On iOS devices, you can check your data usage by going to the Settings > Cellular or Mobile Data. The data statistics don't automatically reset every billing; thus you should keep in mind to do it yourself. If you're looking for a customized way to track data usage on the iPhone or iPad, it's recommended to look at a few third-party applications. 
To reduce Android data usage, you could check data using the same way as iOS, but set limits and alerts as well. Go towards Settings, and under it, Wireless & Networks, then tap on Mobile data or Data usage. You could check out different Android phones, but still,  it must be under your Network settings. 
Another option is to use the mobile apps of your carrier. How the carrier accounts for data usage on Android and iOS may differ, thus it's recommended to keep an eye on the data for information that's most accurate. Remember, keep in mind to turn off your mobile data when you don't need it. 
Background data limit
One of the biggest data drains is background data, and you may not even realize it from happening. Mail working for syncing as you receive them, or your phone will download new app updates automatically. Do you need this, and could something wait until you are connected to a Wi-Fi?
Review what's using cellular data and make the changes necessary. On iOS, this is under the Settings > Mobile data or Cellular, and on Android, it's under Settings > Wireless and Networks > Data usage or Settings > Connections > Data usage. 
Take Maps Offline
You may be surprised to know that navigation apps could be a big hog on your data. If you use them all the time to look for restaurants or shops, for instance, you would probably be better off downloading the area map ahead of time. For Android, you could simply boot up Google Maps, look for the area you want to download and tap More info and then download. 
The same could be done on iOS by tapping the menu in Google Maps, tap Offline areas, and the plus icon found on the lower right. Define the area, tap on Download, name it, and Save. 
Change browsing habits
It's better to browse the website's mobile version on a mobile device. Thus, if you can, avoid using the desktop versions of a website. Moreover, even if you take up a fair storage amount on your phone, the browser cache actually is a great thing here. 
By preserving the cache, you need not download images from websites that are visited often each time you visit them. If you use Chrome, you could tap the three-dot menu at the top right, select Settings, and turn on Data Saver and it would compress pages automatically before downloading them. 
Conclusion
All of the above are some ways to cut back on your data usage. A good rule of thumb is to determine which apps use the most data and only use those when you are connected to a Wi-Fi. You could considerably save on your use of data as long as you adhere to the tips above, making your browsing last for a longer time. 
Author Bio :