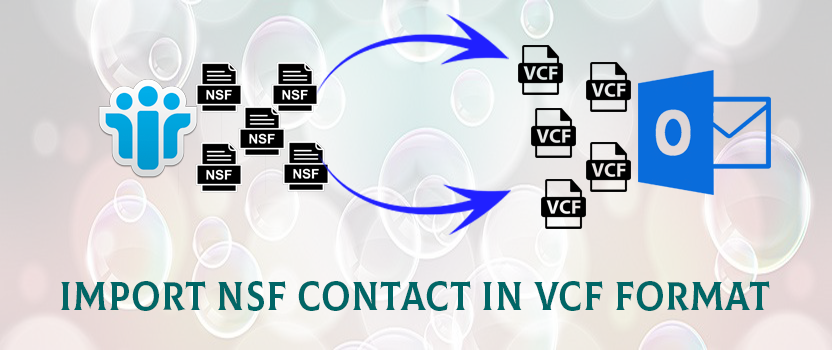 Lotus Notes, the most prominent email client is now facing a downtime among the users. Organizations are not heading to Lotus Notes due to some critical reasons and all the old NSF users are migrating towards Outlook, Office 365, and Thunderbird, etc. Some users want to convert their complete NSF data in PST, MBOX, or Office 365, and some export selected NSF data items like emails, contacts, or calendars.
In this knowledgeable blog, I am going to explain how to export NSF contacts in Outlook in .vcf format. Lotus Notes contacts save in the database directory with the name of "Names.nsf" separated from the main Lotus Notes mailbox file.
The default NSF contact file saving location: C:\\Users\User_Name\App Data\ Local\IBM\Notes\Data\names.nsf
Methods to Export NSF contacts in Outlook
A non-technical user can transfer their complete addresses book items in Outlook using the following simple methods that allow doing a secure process for NSF to PST Migration.
Convert NSF contacts in VCF format
Export Lotus Notes Contacts to CSV
An automated solution
Import IBM Notes address book in .vcf format
VCF is a standard file format for the address book data (contact) which is supported by Outlook, thunderbird, Office365, and many more email clients. Conversion of contacts from Lotus Notes to Outlook is very simple by a manual process. The important steps are written below to follow-
Launch Lotus Notes email client in a Windows supported machine.
Click on the Open option and select the Contacts.
Choose an address book entry (contact) to start the import process.
Now click on the File tab from the menu bar and select the Export Contacts
From the Export Contacts Window select only the contacts you selected in this view.
In save as section provides a destination path to save the Lotus Notes converted the file.
Suggest a file name and select the vCard (.vcf) option from save as type dropdown menu and click on the Export
Now launch Outlook email client.

For Outlook (2007) click on the File tab and select the Import/Export option.
For Outlook (>2007) click on File menu >> select Open & Export >> Import/Export.

From Import/Export Wizard select the Import a vCard file (.vcf).
Select the .vcf file and click on the open button.
Check the imported contact details in the Outlook contacts section.
Transfer IBM Notes contacts in CSV format
Open the Lotus Notes email client and clicks on Open.
Select Contacts and from the contacts window, click on the File tab in the Menu bar.
Choose Export Contacts option, now from the Export Contact window, select the Comma Separated Value in save as type dropdown, and provide the name of the file.
Now open MS Outlook.

For Outlook (2007): Click on File tab >> Import/Export.
For Outlook (>2007): Click File menu >> Open & Export >> Import/Export.

From the Import Export wizard choose Import from another program or file
Select Comma Separated Value (Windows (for Outlook 2007 users)) option and click on the Next
Browse your CSV file and choose an option after that click on Next.
In Import a file wizard, choose a destination folder to save the contacts.
Check the checkbox and hit the finish button.
Drawbacks of the Manual Process
As we know a manual process doesn't need a single penny to convert data from NSF to Outlook PST, but sometimes it occurs some unexpected error that results in data loss.
Here, some major error is listed below to ensure the users that how a manual process can be dangerous.
Using the vCard method user can export their NSF contacts one by one.
In the CSV export option, the address book data doesn't transfer completely.
It doesn't work for large NSF address book migration.
Images and logos don't appear in the contacts in Outlook after the migration.
It may be technical for some users.
Sometimes details of particular contact may mismatch.
Use the third-party solution to convert Lotus Notes contacts in Outlook
To get the complete Lotus Notes address book data at once, opt the best third-party tool because the manual process comes with some unexpected error that may make you data-less. So keep your important contacts safe and secure I recommend you use MailsDaddy NSF to PST converter tool. It migrates Lotus Notes emails, calendars, to-do lists, journals, and address books in Outlook PST with a quick and secure approach.
Convert NSF contacts using the tool
Download and install the tool in Windows supported system.
Enter a valid license key to get full access to the tool's features.
Add the .nsf file and click on the Ok button.
Click on the Export button and from the Export Window select the Export contacts only option.
Apply date filter if required then provide a file saving destination and click on the export button.
Conclusion: After considering the queries for Lotus Notes Contacts to Outlook vcf conversion, I described two approaches for the users to convert their NSF data in PST format with contacts. I would like to ask in a nutshell, that opt an automated solution to convert NSF address books in Outlook or .vcf format along with other data components.
Author Bio :