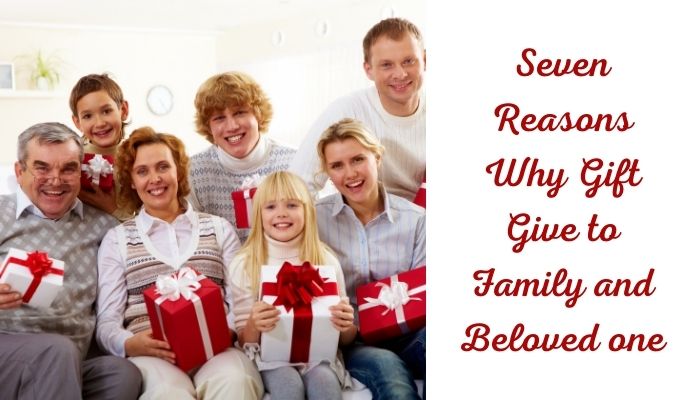 Gift giving is a step to begin positive relationship with family and beloved one. it shapes lifelong values, helps to strengthen the bond and also help to show you care. Except romantic bond there are so many valuable paternal, maternal relatives and friends close to your heart. Exchanging gift shows that you value this relationship. Gift giving is a traditional process followed since so many ages. Gift expresses emotions beautifully. It is an integral part to make human conversation. Its birthday, wedding anniversary, special occasions we remember our mentors, friends, professional friends to establish beautiful relationship. We have exemplified reasons for giving a gift that give a moral push to tie an emotional bond with someone special.
1. To Showing your Love and Emotion
Sometimes words are not enough. Gift is a beautiful object that help showcase love in a fine manner. You are shy person or you don't find adequate words to express love. Well here the gift will express speechless emotions. Now personalised heart shape or name on gift add a personal touch to your emotion. Its wedding anniversary, you are celebrating a date day or you want to propose your partner you can easily convert the message of love with giving romantic gift. But gift should be romantic and it must express heartfelt feelings. You can also send couple gifts specially designed to showcase the eternal bond between two.
2. To Making feeling special and Bonding
In the joy of others lies our own. This phrase says that when you give gift to someone it instantly sparks their face. It instantly reflects happiness. When you handover a gift to someone it really makes someone feel special. IF you are new to any relationship you just need to buy a gift for new bonding. Gift is a good approach to make a special space in someone's heart. it's a needed gesture to begin new bonding in Italy.
3. Reward for something great job
Appreciation gift works a lot when you want to foster someone's knowledge or good deed. They have done a good job, achieved any target or get promoted you can admire their skill by giving gratitude gift. Gratitude gift counts their special efforts. This will motivate the employee to do more hard work and fetch more profit to company.
4. Perfect Occasions
Birthday, anniversary, graduation, baby shower, weddings, there are endless occasions you come by to celebrate relationship. We know that one simple gift will not be able to confess what you say because gift looks smaller than this. But still gift would help to acknowledge what is in your heart. It is the replica of your emotions. You can search the occasion type gift and send Gifts online in Italy from here.
5. Someone is sick or injured
Get well soon gift show you really care for someone. We all take part in sharing happiness but sharing a grief can create a positive impact on someone. Your friend, family or relative is sick or injured you can send cuddly and caring gift to know you are with them. No matter they are living far, you can ordinare fiori online, pinch up the get well balloons delivery, or send get well teddy personalized with get well favor. This would really motivate them for fastest recovery.
6. Appreciate To Someone
When you like someone's behaviour or someone has helped you beyond the limits you should appreciate this by sending thank you gift. Mostly thank you gift is a reward gift. When kids are invited in party they are being honoured with thank you gift in return. The same way you host a party and someone has brought a beautiful birthday or anniversary gift you can send reward gift with thank you note. It is one kind of manner you should follow to appreciate someone's kind and helpful behaviour in Italy.
7. Charitable Contributions
You cannot buy time or emotion with money. If they have everything in the wardrobe what they need is honour, respect and your valuable time. If they are feeling lonely you can surprise them by giving your quality time to them. On the other hand you can give a voluntary contribution. for example take them to orphanage, school or any sports club and do the charity on the name of them. This would really make them feel proud.
So here are the reasons for what is the purpose of gift giving. Gift giving is an etiquette that shows how much you value relationship. Also it expresses your modest and kind behaviour. No matter gift is costly or simple, gift become the best mediator to exchange emotions. So if you have not followed the trend yet, get it started. Gift become a best object to remove all the obstacles that come in making good connection with friend, family and love one.
Author Bio :