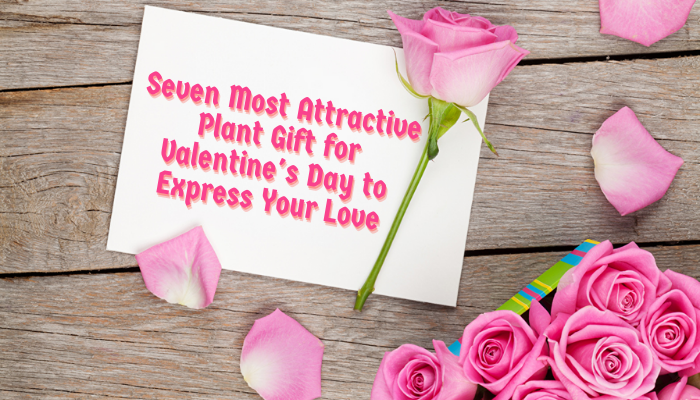 Gifts are the most convenient gate-ways when it comes to expressing love on special days. Valentine's Day is the global love day, celebrated everywhere around the world. On this day, lovers exchange gifts as a token of love; they try to do everything to express their precious expression to their beloveds. One can choose to send plants as gifts; it is a sign of a responsible and mature lover. Plants are not difficult to handle, just needs a little more regular care to thrive. Here is a list of the 7 most attractive plants to send as a Valentine's Day gift to your beloved.
Venus flytrap Plants
Everyone has heard about the very unique Venus flytrap plants and also is curious to see this. Venus flytrap is a carnivorous plant that devours the prey that sits on its spiny jaw-like leaves. For it has some cruel nature, one might think twice before sending this plant as a Valentine's Day gift. However, it is a pretty plant. Charles Darwin himself has called this plant one of the 'most beautiful plant' in the world. As the name suggests, Venus is the Roman goddess of love, sex, and beauty. This flower is symbolic to love. You can order plants online to send the love of your life as Valentine's Day gift.
Heart-leaf philodendron
Any plant that resembles the heart can be an amazing gift of love. Different plants resemble hearts in different ways- some have flowers that are of heart shape; some have red color in it; some other has heart-shaped leaves. A heartleaf philodendron falls in the latter category. These are creeper plants that have its ways of growing; all it needs is some sprinkles of water every day. This plant has a better name than the 'Sweetheart plant' because of its sweet and heart-shaped waxy green plants. It is a very special expressive gift that will represent your love in a very unique way.
Miniature rose
Nothing can beat a rose as the ultimate gift of love on the occasion of Valentine's Day. However, roses are wildflowers and grow best in outdoor gardens. However, everyone can't have an outdoor garden. But does that stop the lover to send such a lovely gift on Valentine's Day? Of course not; here is the miniature rose that is a potted rose plant. It is as same in color, essence, and fragrance as that of the wild roses. The only difference is it can be grown in an inside garden. A bouquet of roses will die out easily and within a week. This gift plant can elongate the essence of the celebration of love for years by blooming and re-blooming. It will undoubtedly be the most attractive Valentine's Day plant gift for your love.
Gerbera-Pink Plants
Gerbera is another beautiful and attractive flower. It allures people with its multiple striking shades like red, violet, pink, yellow, salmon, orange, and many more. It is a very common indoor flower that resembles heavily the daisies. The origin place of this flower is Latin Africa. This flower grows in different heights and shapes- from 2 inches to 5 inches. If your beloved is a nature lover and is an epitome of femininity, this flower will perfectly suit him/her. One can get the pink variety of this plant in any Valentine's Day plant delivery sites which is the most common indoor plant.
Graptoveria "Opalina" Plants
If your beloved is a lover of subtlety, this plant will make her/him the happiest. A Graptoveria Opalina is an Opalina category succulent plant. It needs the least care to thrive in any adverse situation. It is a small plant with a clustering tight rosette. It can grow from 6-8inches in height and 4-6 inches in width. What makes it more of a lover's plant are its leaf-tips and margins showing a hint of pinkish red. February is the best month to send Valentine's Day plant to Germany or any other place where your loved one resides. This surprise gift will melt his/her heart.
Bring Home Anthurium
Anthurium is another succulent category plant that thrives with a little bit of care. An anthurium plant has multiple shades of flowering nature which makes it one of the best flowers in the world. It needs optimum sunlight and a regular limited watering that can make this plant live and gift flowers for years. As this gift is a symbol of love, the more numbers of years it lives, the more intense one's love gets. This heart-shaped leaf plant will help to express with love on Valentine's Day the most precious feelings of love to the most beautiful person in the world.
Sweetheart Cactus
Well, the name is quite uncommon. A cactus is a succulent that mostly has spines in its place of the flower. However, how can a spiny plant be named 'sweetheart'? This cactus looks so beautiful and heart-shaped that nicknamed the 'Valentine plant'. It has all the features of a common succulent- waxy and thick leaves. Another reason to attach it with love is the heart-shaped leaves. This plant will enhance the beauty of your sweetheart's indoor garden which she/he loves.
Gifts are expressions of love. The longer the gifts last, the mightier the love-bond becomes. And in the case of longevity, nothing can beat the plants as the most perfect Valentine's Day gifts for your beloved.
Author Bio :