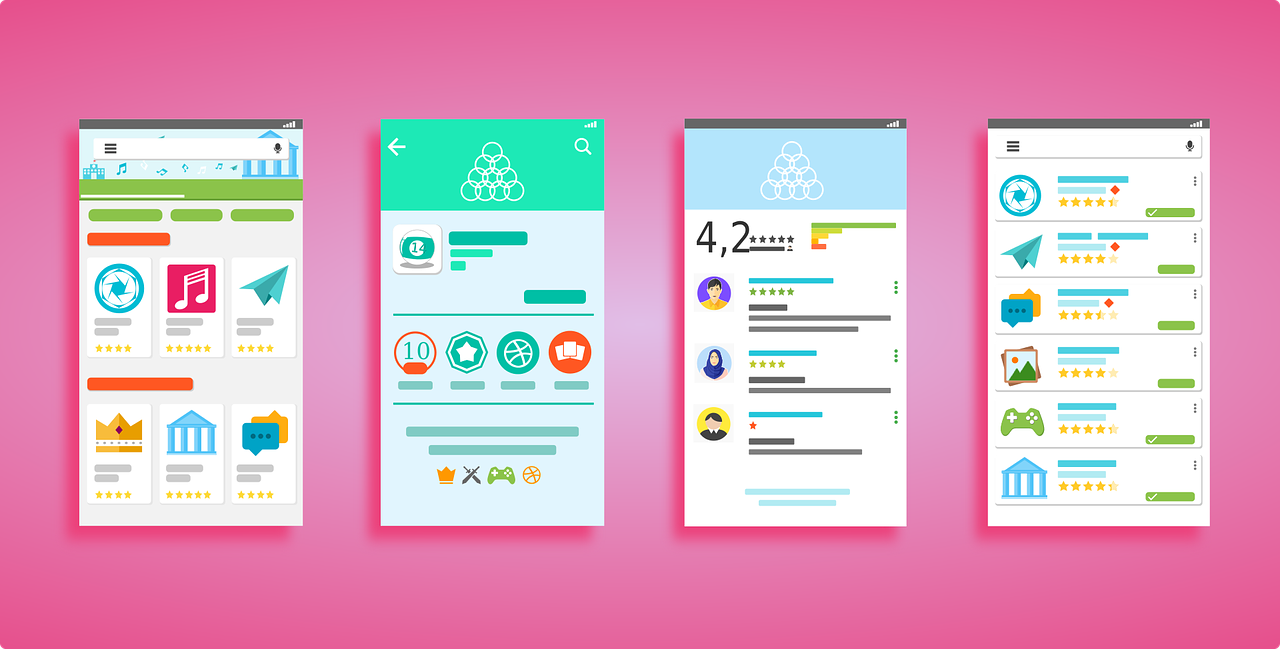 If you wonder what the ASO is, here, we will give you the different factors to take into account when positioning an App in the different application stores such as Google Play and Apple. We will also explain the internal and external factors to take into account and what to improve so that you can have more downloads of your mobile applications.
Do you really know what the ASO is?
ASO (App Store Optimization) is the optimization process aimed at improving the visibility of a mobile application within a store such as the Apple App Store or Google Play. To appear better positioned in search rankings, as in SEO, we need to optimize key elements such as keywords, icons, screenshots, and descriptions. In this way, we will make our app more relevant for users, and therefore, for stores. To make your app a success, it needs more than just a functional code. You need to reach your audience. This is how the App Store algorithm works.
The App Store Algorithm
To gradually clarify what the ASO is, two elements are involved in the App Store algorithm: the system data and the metadata of each app.
System data
The rankings and the results of any search appear in order of these factors:
Downloads: the more downloads the app has, the greater the visibility the app possesses.
Recent downloads: Recent downloads are more important than old ones. The new apps do not have downloads at the beginning. In the case of Apple, they have a greater visibility window during the first 7 days, in which they enjoy a lot of visibility and organic traffic. It is the way to favor newcomers. Everyone likes news ideas, and stores favor it.
Comments: apps with many comments score better than those without them. The importance of this factor is vital.
Activity: Stores want useful apps for people. Internal factors of use such as installations, app openings, uninstallations, usage time, and frequency influence the rankings.
There is no public information available in this regard, so it makes no sense to offer a detailed list. However, there are many indications that prove this and will surely be increasingly important.
Metadata
The factors of the previous section are very important, although they project the problem that we cannot act on them. Metadata are all the fields that appear in the app's tab. By being able to change them, we can optimize them to increase the downloads and conversions of our app.
If you choose the best possible metadata, then you will have a better "System Data" and get more downloads.
To fill in the user data of an app, you need:
Screenshots
Icon
Title
Keywords
Category
Description
How to improve your ASO?
Well, since you know what ASO is, now the first thing, the fundamental thing is to have a great app. If you have an addictive app for your audience, they will come back again and again. Mobile phones and tablets give Google/Apple that usage data.
Having good system data is the key to a good ASO. Make a great app, and you have almost everything done. After achieving that, you need to make it known. The best and cheapest way is to prepare metadata to favor organic search. You don't have to pay every time for organic traffic. Metadata? Give me more information!
Icon
You have 2 seconds to get attention before your user's eye jumps to the next app. Search for the keywords that interest your audience and study your competition. Does your icon attract attention or go unnoticed along with the rest?
Investing time and money in an excellent icon is profitable. The most successful apps have simple icons that everyone likes and remembers.
Screenshots
Recently, the way they show search results has changed. Now more importance is given if it fits the screenshots. They take up more space than the icon. Screenshots should be explaining how your application works. They must also be attractive. To increase downloads, it works very well to translate it into several languages.
Title
The title is the best place to put keywords. The ones you put here will be very reinforced. Using a long list of keywords is not recommended since its effect will be diluted. The title is the ideal place to include keywords with a lot of traffic and extremely descriptive about your app.
In addition, there is also the short title; it is the title that appears under the icon of the app when it is installed on a device. If it has more than 12-13 characters, it will be cut by unpleasant ellipses.
Application Description
Only a few people will read the description of your app. Almost no one reads beyond the first two lines of the description. Give strength to this first paragraph, make a powerful call to action, and demonstrate how well the user can have fun playing your game or using your app.
Category
The category is one of the few things that can be acted upon and must be taken advantage of. That is why it is appropriate to spend some time studying this section. When choosing the category, keep in mind what degree of importance each one has. The name of the category to which your app belongs counts as a keyword.
Author Bio :