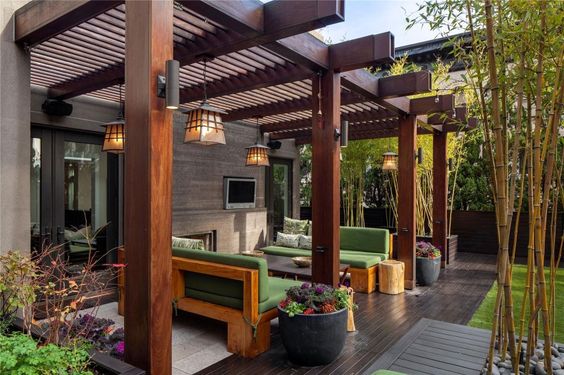 Pergolas are the wonderful structures when you want to add luxury and style to your home. Depending on the architecture you have, you can select a modern design that not only complements your property but also increases the net worth of it.
A pergola is like an exterior room with no walls and roof. Acting as a bridge between a fully enclosed space and a completely open structure, a pergola is what you need when you want to relax and enjoy in outside spaces.
Whether as an extension to your home or as a separate structure, there are several trendy designs that you can adopt while constructing or renovating a pergola. And if you are particularly interested in having contemporary designs, we have collected here a few ideas that can give a kick start to your thinking:
Modern pergola ideas:
A poolside farmhouse
Who doesn't love a lounging area adjoining to the pool? If you got a pool at your home and thinking to make a connection between your home and pool, then a pergola is the best option.
Arrange a stylish lounging chair or a recliner to add comfort. Add a table, racks, and shelves to customize and store things like towels, glasses, plates, etc.
It becomes a splendid place to have lazy laps in the pool and then refreshing in the lounge area. You can bond with your family, spend some time together, or you can just spend alone, relishing the fresh air outdoor air.
Timber covered pergola
Why not give your typical pergola design a woodsy twist? Construct the roof, pillars, and even the floors in solid timber wood. Arrange a polished wood table with matching tree-trunk shaped stools.
To give it a modern look, arrange a fireplace at a corner that decorates with pebble slabs. For a touch of nature, add potted plants or bonsai plants to elevate the space.
All this arrangement not only looks elegant and attractive but also gives your traditional home a contemporary feature.
However, make sure to read the dos and don'ts of a composite timber deck or pergola before you think of installing this modern design.
Broad walkway with bright lights
Go extravagant by constructing a broad walkway that exquisitely highlights your pergola. Arrange small lamps on either side of the walkway to illuminate the space during night times.
It will be a perfect spot to have romantic dinners with your partner. The walkway poses as an entranceway where you can plan nice surprises with your better-half.
A private yet outdoorsy area
A pergola shouldn't always be an open space, where everyone can see what you are doing. Instead, you can construct it as an extension to your bedroom area to create more private space but with an open roof.
Arrange tables, chairs, and plants to create a comfortable ambiance. It will be a nice place to spend some precious time alone with no noises or distractions.
Concrete pergola with plants
If you have got a concrete-styled home and want a similar texture to your pergola, then you can go for it without any hesitation. It looks like an extension to your home rather than a separate structure.
To make it more interesting, you can add several potted plants at the edges or wherever you think they will fit. It makes the plain concrete structure more elegant and adds a colorful element to your home.
A stylish glass lounge
What more looks stylish and modern than a glass structure? And if you construct a pergola in glass panels, it can resonate with your trendy heart, allowing you to extend the style to the home with a separate resting lounge.
You can match the glass panels with the furniture that's sleek, smart-looking and elegant at the same time.
Keep it monochrome
When you construct a pergola in single shade of colors like black, white, red, or blue, you can create a statement. It not only looks trendy but also looks stylish and complements your character, especially if you are the person who prefers to keep things simple but classic.
Penthouse pergola
Imagine you have a house on the top floor of the building. And if you are looking forward to extending your penthouse, then a pergola is the perfect option for you. Creating a nice shady structure, you can relax, enjoy, and have a fun time with your guests.
This idea clicks well, especially if you have a pool. You can create a pool pergola that not only looks modern but also acts functionally as well.
Final Words:
New and modern pergola designs are not cost-oriented. You just have to brainstorm for the ideas so that you can have a sleek, elegant and smart-looking outdoor structure. Hence, we have gathered here the ideas that will turn your gears running. Select any of the mentioned ideas next time when you are thinking to have a pergola.
Author Bio :