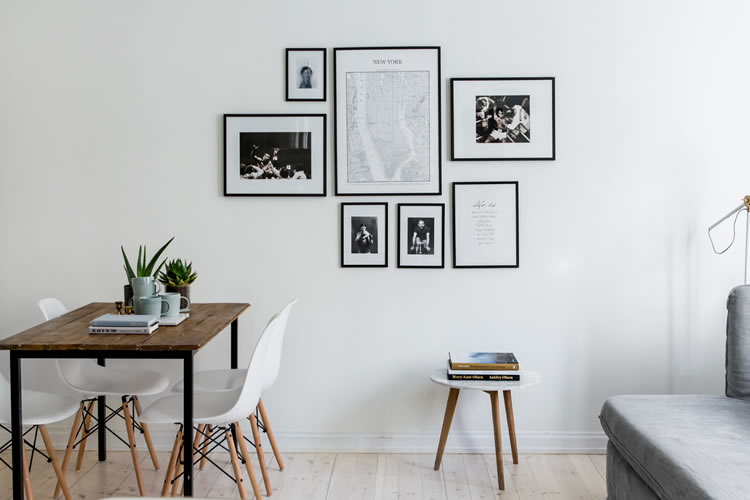 Metal gives us a wide variety of uses and allows us to make some extraordinary artworks. Whether it is zinc, brass, copper, aluminium, or stainless steel, in hard or soft form, metal art can be crafted in many ways. Especially when you wish to hang this art on your walls.
Walls without any artwork or hangings look boring and dull. Your artwork on the walls expresses your inner self and reflects your personality and style. But sometimes you might not understand what kind of metal art you can approach and how it can be done.
There are many unique ways to use metal on your walls. Here are some of the tips and ideas to decorate your walls with metal wall art:
Metal wall craft with waste material
Whether it is vintage metal cheese grater, steel-made spoons, or baby crib springs, you can make some unique wall hangings with your home using waste material. You can make a cute basket storage case; put flowers in it to make an excellent decoration piece.
Kitchen wall art
Sheet metal can be cut in any shape. So, this is the best used for kitchen wall art to display some creative pieces made of metal. These metal pieces can be based either on kitchen materials or some sort of quotes related to food.
Glamorous sunburst mirror on the metal base
Sunburst mirror on decorative metal base can give an elegant touch to your walls. You can customize the design as per your wish and add the size of the mirror according to your need.
3D metal wall art
A geometrical shape, birds, animals or any model in 3D art is perfect for your home or office. This is the most trending wall art these days having a mixture of elegance and beauty.
Alphabetical letters for wall decor
Feature the alphabets on your walls as style signs. You can add to the welcoming walls of your home or in your bedroom to memorize any positive phrase.
Key hanger
A metallic key hanger is useful plus a decorative option for your walls. You can mould the hanger in any customized design you wish to have.
Metallic photo frames
This is such a charming option to add in your home or office walls. Metallic photo frames are versatile to keep your memory pics hanged on a wall. These are one of the best elegant choices if you wish to decorate your wall with family and friends' photographs.
How to pick metal art for walls?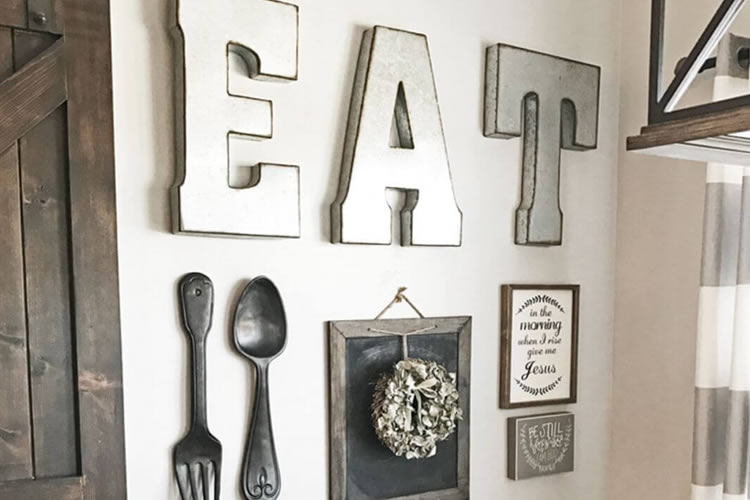 For metal art on walls, look at the space you're going to use and decide what size of crafts you should pick. There are numerous approaches to decide this, like the wall situated at what place? Is it in the kitchen, bedroom or the living room? And, to pick an impeccably estimated bit of artwork, first, keep in mind the areas and then measure the piece by using a divider.
Apart from the rooms and size, there are some other things to consider to add a metal art like the colour of walls, the texture and most importantly the style. If your metal art is of wire sculptures, then the walls should be plain so that the artwork looks clear.
On the other hand, for textured walls, you can go for the filled metallic pieces like geometric design or butterflies that meets nature. With that, you can add wallpaper like effect to your dull walls. This will give a new fabulous look to your rooms.
Rules to hang your metal wall art:
Over the sofas, table or bed
If you are hanging artwork over a couch, bed or table, pick the piece that is of similar length as the furniture or a little smaller. If it is wider than the furniture, it may look weird.
If you want to decorate your dining area walls like a pro, analyse the whole area first. Add the artwork that is perfectly combined with the theme of your dining table and chairs. Look for the colours and apply the same or combining on your metal piece.
Always keep at least 2-inch space between your wall decor and other things so that it doesn't make you and your artwork feel congested.
Choosing the right size of your metal art is essential. The size of your craft piece is also depended on the wall size and area. So, first,take measurements and then put your art piece.
The final word
The right metal art sets the tone of your room walls. Whether you have themed or inspirational artwork, it gives your home apleasing look. Choosing the artwork that suits your style of the residence is not that difficult. You just have to take a little care before hanging the metal art pieces.Hopefully, the above-said ideas and tips help decorate your walls with the best metal wall art.
Author Bio :