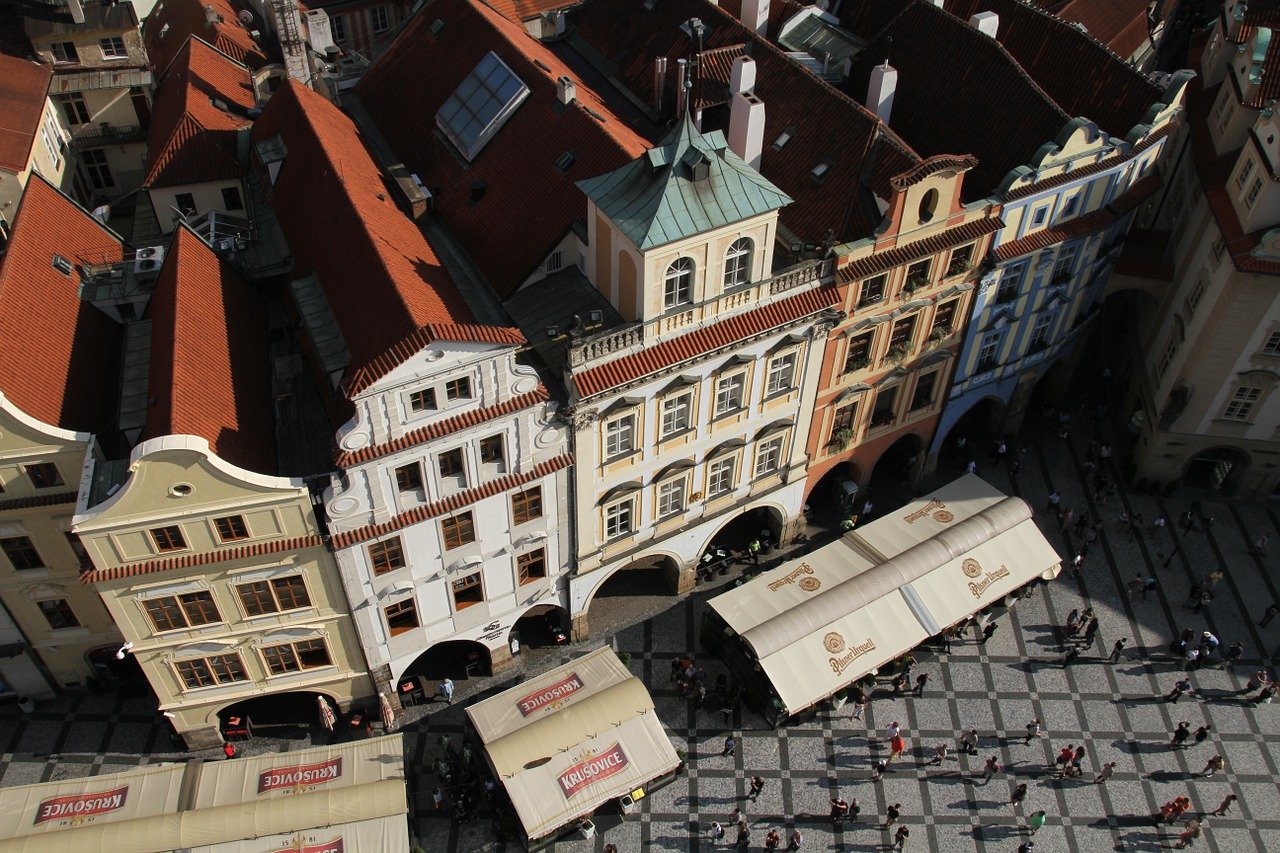 Well-known for its spectacular historic centre, mesmerizing architecture, imposing castles and bustling nightlife, Prague is also a perfect place for adventure seekers.
Whether you are interested in light adventures like climbing stairs and hiking or you are looking for a memorable adrenaline rush, the Czech Republic's capital is waiting for you with plenty of incredible surprises. Continue reading this article and find out why Prague is the perfect destination for adventurers.
Learn About Prague's History
Exploring the city on foot is the first thing you should do when visiting Prague. The city is like an outdoor history museum and seeing it at your own pace helps you understand it better. If you want to spice up your walk, you can play a fun game like "finding the sculptures by Czech Artist David Černý". Not only will you have fun looking for this famous artist's work, but once you discover it, you will be impressed by its provocative touch.
And, in case walking is not your cup of tea, how about an e-bike tour? There is a wide range of bike rentals and tours in Prague, and this is a fun way to discover the amazing history of the city.
If you decide to explore the city by yourself instead of taking an organized tour, make sure you don't miss the main attractions before getting lost and letting the beautifully arranged streets and historic buildings of the city surprise you. The Old Town Square, the Astronomical Clock, Charles Bridge, the old Jewish Ghetto, and Prague Castle are some of the things your must-see list should have.
See the City from Above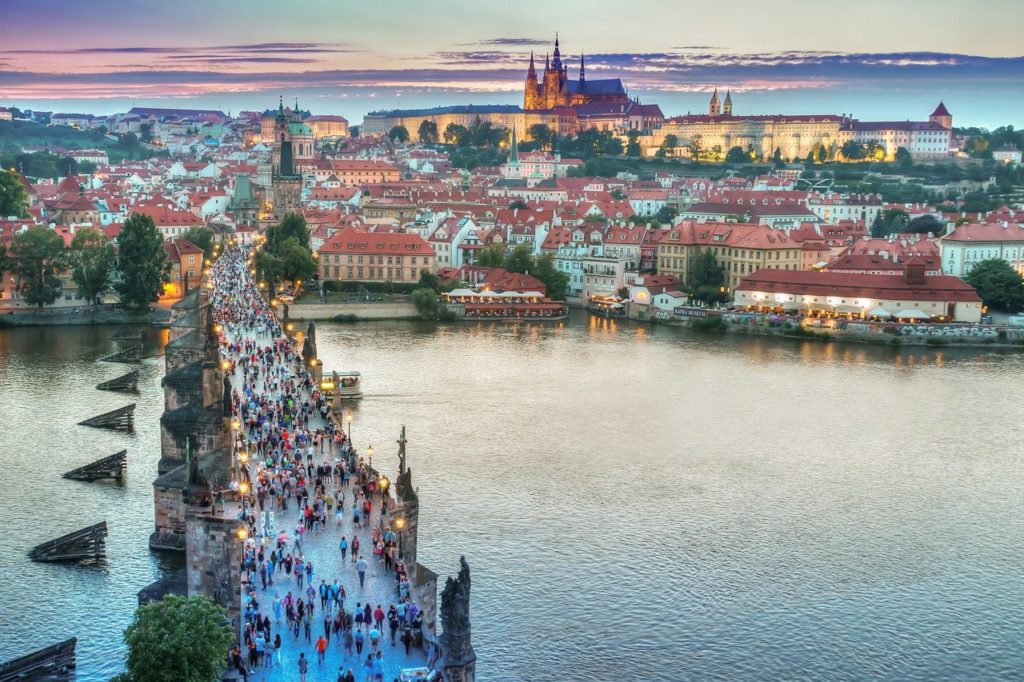 Walking and cycling around the city is fun and gives you the chance to discover its most hidden gems. But, if you want a bit of hiking adventure, going to Petřín Lookout Tower is a fantastic idea. You can, of course, take the cable car, but the best way to reach this "mini Eiffel Tower" built in 1891, is by hiking through the nature trails. The hiking adventure ends with some amazing views of the city that will make everybody forget about the effort required to get there.
If you want to see Prague from above but hiking is not your thing, enjoying a scenic hot-air balloon flight above the picturesque countryside surrounding Prague is a fantastic idea and for an adrenaline rush, soaking up the incredible views while skydiving is the best choice.
Indulge in a Water Adventure
Combining romance with adventure while in Prague is a fantastic way to enjoy the city, while also getting some physical activity. Get a paddleboat from one of the many companies located on Slovanský Ostrov island, add a bottle of wine and some delicious snacks, and make this a romantic date.
If this sounds too easy, you can always indulge your adventurous spirit with a canoe adventure, gliding down the Sazava River Valley's lush forest. For even more adrenaline, choose a Donzi boat, which is like MotoGP but for water. Expect 365 horsepower, more than 100 km/h, and a day you will always remember.
Take a Memorable Day Trip
If you stay more than a few days in Prague, you can also explore its beautiful surrounding areas. There are many amazing day trips you can enjoy, and one of the best choices is to visit the beautiful medieval town of Český Krumlov, with its charming streets, outstanding architecture, and colourful vibe.
But, for the most adventurous, a bohemian Switzerland hike is the answer. This is a real adventure for all fitness levels, and it involves trekking through incredible forests, enjoying boat rides, and admiring spectacular views. Also, you have the chance to visit the Tisa, the place where the Chronicles of Narnia movie was filmed.
Nature lovers who don't enjoy hiking can always enjoy a lovely horse riding session in the rural countryside. Rolling hills, green fields and rich forests are waiting to be explored during a ride on the back of a friendly horse.
Enjoy Prague's Hearty Cuisine and Explosive Nightlife
Whether you want to explore it by day or when the sun goes down, the beautiful capital of the Czech Republic is filled with incredible things to do.
There are plenty of restaurants where you can indulge in delicious Czech cuisine. Krčma, for instance, is one of the hidden treasures in Prague. Located very close to Old Town Square, this place is easy to find, and it offers foodies some of the best traditional Czech dishes in the city. In addition, the prices are friendly and the vibe cosy, making it a perfect place to recover after an adventurous day exploring the city. No matter what you choose from the menu, Krčma promises you will leave happy and satisfied, but of course, this is only one of the many great restaurants in Prague.
You should, however, also give street food a try. There is always a good moment to enjoy a fried cheese sandwich or a mouth-watering Langose. And, of course, a "pivo", which is the Czech word for beer, is always a great idea, whether you want to go to a local brewery or just grab a draft from street stalls.
And if you visit this cosy European capital during the cold season, don't say no to the svařák, the Czech version of mulled wine. Usually, the wine has cinnamon, cloves, and fruit, and it is a great way to enjoy a winter market without feeling too cold. Another great winter warmer is hot medovina, Czech honey wine.
While the hearty Czech cuisine promises to make any foodie's taste buds run wild, the real surprise of the city is its nightlife. From pubs and bars to outstanding clubs and music festivals, Prague has something to welcome every type of party animal.
These are some of the reasons why Prague is a perfect destination for adventurers. But, depending on your personal preferences, budget, time of the year, and the number of days you can spend on holiday, there are plenty of hidden gems and other exciting things to do and see in this beautiful city.
Author Bio :