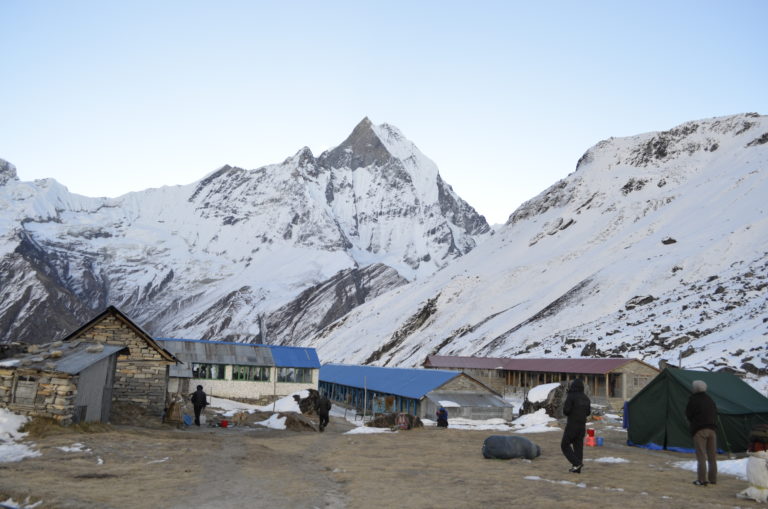 The very foothills of the world's deadliest mountain massif. I generally used to get chills by simply thinking about this Himalayan eight-thou-sander and that morning I was standing just before it. The little base camp, contained 5-6 lodges and a camping site zone is situated amidst an amphitheater of high pinnacles. One of the aides that we met in our hotel tongue in cheek depicted our area: "At the present time, we are amidst a major donut." Even however entertainingly worded, it was valid.
Resting at 4100 meters, particularly when you are so euphoric, is difficult, however in any event it made awakening before the dawn a less troublesome attempt. That morning, everything was peaceful. Once in a while you could see other brisk riser like us scattered around the site that woke up to witness the dramatization. They looked like small specks contrasted with the scene around us. Amidst that hush, you could hear uproarious clamors, practically like thunder, which implied that a torrential slide is occurring some place on the precarious slants. The vertical south face of Annapurna is situated in the north of the base camp and Mount Machhapuchhre (Fishtail) toward the south. Once the daylight touches the pinnacle, the enchantment starts. The sun gradually moves down on the mountain dividers, changing the shade of the sky from emerald to lighter blue.
At that time of unadulterated stunningness, it was anything but difficult to overlook every one of the difficulties that we experienced amid our trekking there. Be that as it may, trekking to Annapurna Base Camp was difficult. Like each great trekking trip, it was brimming with physical and mental difficulties. Trekking is constantly brimming with shocks, extending from irritable climate to the general population you meet. We began our trek in Syauli Bazaar, where the street closes at present. Despite the fact that it was the finish of April, the sun was heartless and it was truly inflicting significant damage on us. On our first day, there was not much height pick up, but rather the climate made trekking very troublesome. The perspectives were delightful however. There was still no indication of the Himalayan massif, however the way moving along the stream had its own advantages. There are just a couple of things more mitigating than strolling to the sound of the waterway filling your ears. That day we ceased at New Bridge – a little town arranged over the waterway with a perspective of a practically vertical slope. The following day we began strolling early. Our goal for the day was Bamboo. Leaving New Bridge, we entered a thick timberland with an exceptionally soak trail.
Following a couple of hours of strolling we achieved Jhinu – an enchanting town with hot springs. We had some delicious dark tea and concluded that we will have our next break in Chomrong. The trail to Chomrong included strides. So a significant number of them, that at one point we thought they will never end. Arriving and eating in Chomrong was a genuine treat. In spite of having voyage so much, Chomrong stays one of my most loved towns I have gone by up until this point. The perspective of the beguiling stone houses dabbing the interminable paddy fields was genuinely charming. From Chomrong, the trail drives us down to a suspension scaffold and after that up again to Sinuwa. The climate by then got truly terrible and it was going to rain. We didn't know whether we need to keep trekking or rest until tomorrow. Notwithstanding, the proprietor of the cabin where we had tea disclosed to us that the lofty trail closes in Sinuwa and that the course to Bamboo is straight and through a thick woodland. In spite of the shower, we were energized by her words and walked on. Amid our stroll to Bamboo we understood why the place got its name. The backwoods was completely made of bamboo trees and strolling through it was really a satisfaction. That night we hit the bed early. The following day we were gone to Deurali. Passing Dovan and Himalaya in transit, the trail to Deurali was exceptionally various as far as scenes. Annapurna and Machhapuchhre were tailing us all over the place while strolling through another part of bamboo woods and afterward an exposed, rough and soak trail on the last way to deal with Deurali. Our fourth day was saved for Annapurna Base Camp. We ascended early and began strolling towards our last goal.
The woodland was totally gone and we were strolling through an amazing high height waterway valley with the view to Annapurna ideal in front of us. At Machhapuchhre Base Camp (MBC) we halted for lunch and some rest. The perspectives were improving and better. From where we were sitting, we could see a major frigid tough that nearly resembled an icy mass. When we would climb that, we would see ABC looking from the separation. This last bit of the trail was a genuine enjoyment. Our pace was fundamentally slower, yet not out of weariness (which we didn't get a handle on of fervor) but since we would stop each other moment to take photographs of the sublime view. The mists had effectively secured the forceful pinnacles once we achieved our last goal, yet we realized that a genuine show was sitting tight for us in the morning. What's more, it truly happened.
The ABC trekking trail is a truly fine case of how trekking in the Nepalese Himalayas resemble. Being both a characteristic and a social affair, ABC is an exemplary trek. It gives you the chance to see probably the most amazing scenes throughout your life, and also to meet, converse with and watch the life of the neighborhood individuals living in the foothills of this compelling massif. Annapurna Base Camp is the ideal "ABC" – prologue to trekking in this piece of the Himalayas and I attempted this experience which is one of the stunning outing of my life.
Author Bio :