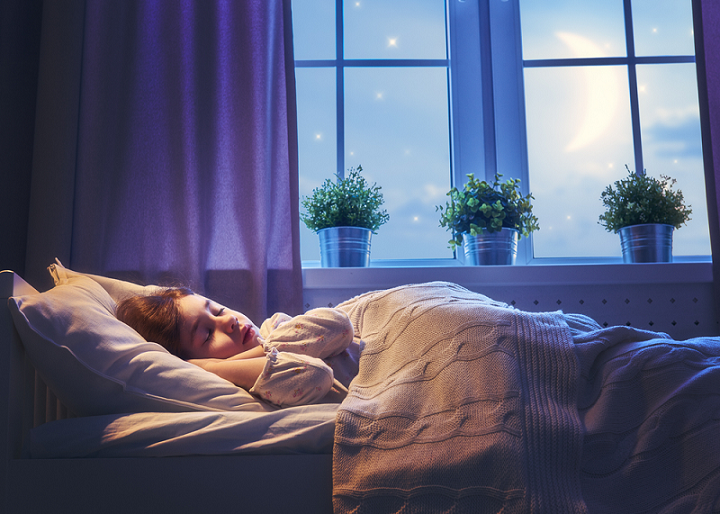 Is it difficult to accustom your younger ones to a regular sleep? Recent research stated that children with poor sleep hygiene are likely to develop slower than their peers and have more problems in school. You are not alone, there are many like you worried about their child's irregular sleeping patterns. Hopefully, this blog will help with some eye-opening facts and expert-backed tips.
According to a survey by the University of British Columbia, a good night's sleep can be possible if you have a sleeping routine in place. As simple as it sounds, a routine need not be boring or necessarily have to imply an obligation; it's on you how you make it amusing and interesting for your child.
Set an example for them!
Personal care is synonymous to a healthy diet and a good bedtime routine. Be a role model for them. Before asking them to follow, you need to need to follow a healthy sleeping routine, this will make it easier for them to implement.
The American Academy of Sleep Medicine (AASM) has listed the amount of sleep required based on age group:
Toddlers (4-12 months) – 12 to 16 hours
1-2 years – 11 to 14 hours
3-5 years – 10 to 13 hours
6-12 years – 9 to 12 hours
13-18 years – 8 to 10 hours
If your child is not getting the required sleep, then head down to know some bedtime routines.
5 expert-backed tips for making a good bedtime ritual
The best way is to start with a bedtime routine much earlier; this makes it easier for the child to adapt. Your child can have a good night's sleep only if he/she has consumed all its energy for the day. The best way to use his/her energy is by indulging your child into physical activities like dance, music, sports or play.
Let them choose
Allow them to participate in the decision-making process such that bedtime rituals don't become stressful. This will give them a feeling of ownership and make it more of fun activity. Let them choose what and how they want to do it.
Get into the habit of saying this: If you brush your teeth, then we can read bedtime stories. Or rather make a simple task fun by turning it into a fun game. Mingle boring tasks like wearing pyjamas or brushing teeth interesting by adding a tinge of a song or dance.
"Transform your children's bedroom into a peaceful, cool and quiet sleeping environment. Choose calming activities like reading aloud a bedtime story, this promotes the child to imagine and creates a bond between the parent and child," cites Fiona Barwick, Ph.D., director of the Sleep & Circadian Health Clinic at Stanford University School of Medicine's Sleep Medicine Center.
You can also reward them with a chocolate or a summer vacation to their desired place. This will help to cultivate positive behaviour and help you understand your child better.
Let them be their own inner sleep coach
Building a visualisation into their bedtime routine helps them to practice relaxation and can be an ideal place to calm down their inner challenging emotions, in case they are struggling with school or studies.
How to do this?
Q.1) Ask them about the most interesting thing or friend or teacher they met?
Q.2) Ask them to visualize their favourite cartoon or place they wish to visit?
Q.3) Ask them about their favourite player?
The whole point is to talk to them about anything that makes them smile. Throwing relaxing words is a useful tool to develop an inner resource that can enhance creativity and imagination.
Prepare a wall of happiness
Substantial research prove that looking at a picture of a person or memory tends to bring positive emotions as we experience those things happening in real life. It can be a photo frame, motivational words or a beautiful painting can that can provide strong visual enforcement of love and care.
This makes them feel secure and prepare them for the challenges coming the next day.
Avoid longer screen time
A Canadian study revealed that excessive screen time can hamper the overall development of the child and affects sleeping patterns. Parents should have a strong vigilance on their children while using mobiles or watching TV.
"Using devices within three feet from the eyes can pose a threat to your child's sleep. The blue light emitted by your mobile screens delays the release of a sleep hormone called 'melatonin' i.e. released two hours before bedtime," stated Fiona Barwick.
Buy an old alarm clock rather than using the smartphones for setting alarms. Parents themselves should stop using the phone 2 hours before going to bed. Make a habit of reducing screen time especially before going to sleep to start your day fresh.
Cuddle them more
Before putting your children to sleep, give time to hug, cuddle, snuggle or talk to them. Bedtime is the best time to listen to what your child has to say, every parent should support and encourage their child to share their emotions.
Giving subtle space to your child to express their fears and joys will surely strengthen your bond and help him/her gain confidence. An honest conversation is much needed!
Turn into a bookworm every night, explore new things and do things that will excite your child. Even a boring experiment taught in class can be made exciting. Let your child be open to the outer world and give them wings to think out of the box. This is no magic formula, a regular and consistent bedtime routine is beneficial.
Let me take you to a normal routine that might be helpful for children. You can always mix and match your options into this:
A warm shower- You can opt for a bedtime warm shower to get rid of all the tiredness and soothe all the nerves. Make it interesting with a waterproof toy, reading books or some splash dance.
Brushing before sleeping- After continuous practice, this will be more of a 'go to sleep' signal and render better oral health.
Washing up- A signal that says 'time to sleep'.
Feel light before heading to bed- Using the washroom before bed and keeping a jar of water nearby will ward off the urge to drink water at night.
Let them choose their pyjamas or night suits- Give them 2 or 3 pyjama options to your child and ask them to pick their choice of pyjamas. This gives them a feeling of control. Many of us can relate this, sleeping in pyjamas (favourite colour or pattern) will surely make you sleep well.
Yoga to render deep sleep– Some child-friendly bedtime yoga can work too.
Play the game 'pick a dream'– Start talking about the day or some creative thinking of the universe. Ask him/her what he/she might like to dream about.
Read out a book– It becomes difficult to think about different bedtime stories every day. Simply, ask him/her to choose a book and read it to your child. Make it entertaining by using adding sound and music.
Lullaby- Humming a lullaby is so soothing and relaxing to your child.
Breathing exercises- Just some breathing exercises before sleep will relax tightened muscles and pump in fresh cool air.
A good night prayer- A prayer can be just a few words giving thanks or a formal religious prayer. Nurture your child to be a better person in the future.
Screen and Stress!
"Bedtime habits can be built in 7 days if done calmly, confidently and consistently," says Lorraine Thomas, founder of the International Parent Coaching Academy.
In her survey of 1000 working parents, it was found that screens and stress are the biggest hurdles affecting sleep. But with a simple night routine, 9 out of 10 reveal that it helps in bringing a difference. This makes your children disciplined, resilient and will surely help in the long run.
As we all know, brain development in children belonging to 0-5 years old is at the peak as they observe and learn adult behaviours that will be replicated in their adulthood. Thus, it is important to reduce less time on emails and WhatsApp.
Bedtime is the best option for working parents who can talk and spend some quality time with their children. Setting a bedtime routine can be challenging but in the end, it is always fun.
Author Bio :