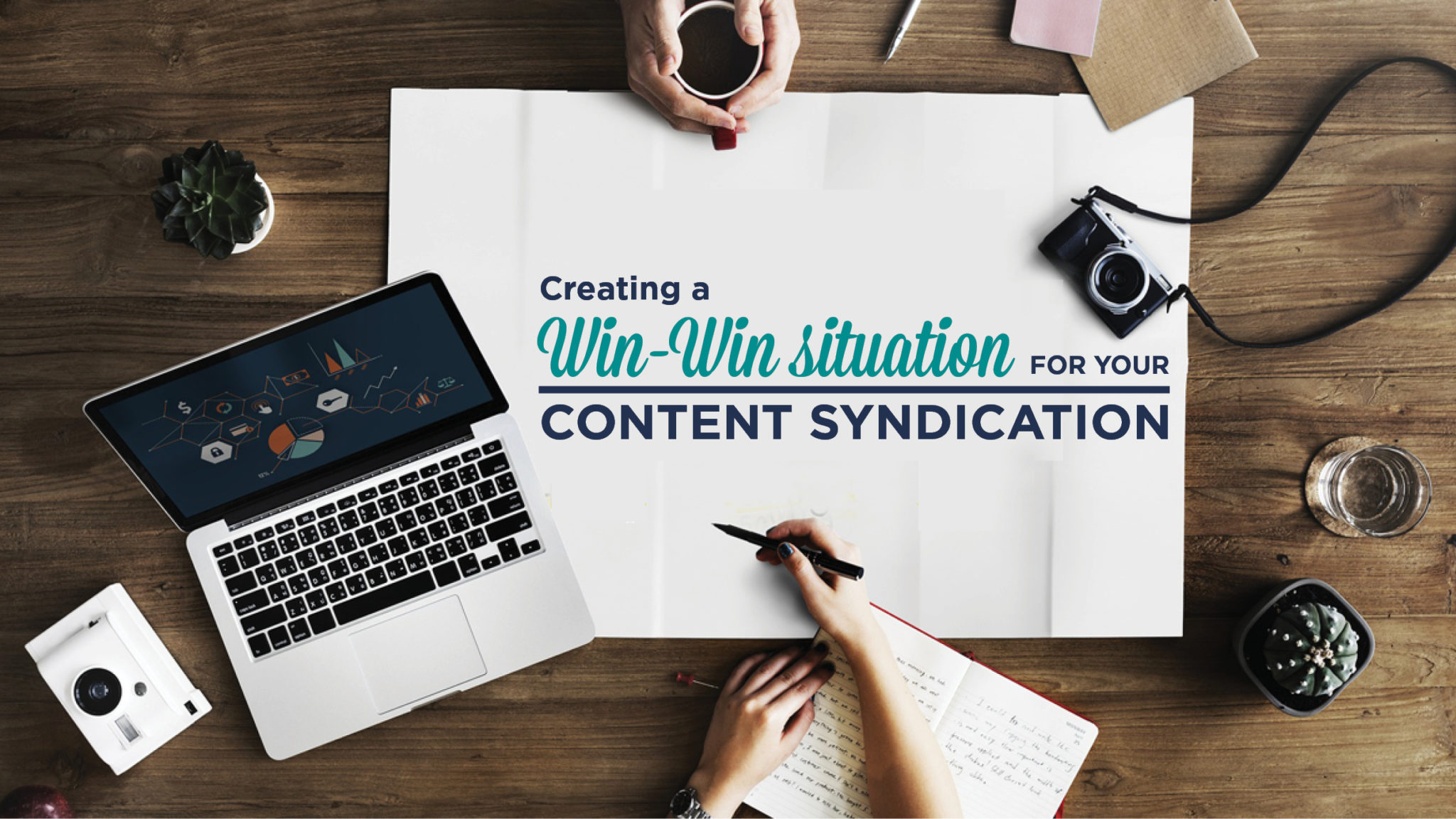 You as a marketer have spent your time and effort in creating brilliant content for your B2B company in the form of white papers, ebooks, recorded Webinars, videos, ebooks or infographics. Most marketers take the passive approach, hoping their readers will read it and instantly associate your brand with expertise but your content has a larger duty of converting your readers and generating leads for your pipeline.
So how can you put your content to work? This is where Content Syndication comes in handy.
What is content syndication? Republishing your content on other sites to promote it as an entire article, an extract, a link or even a thumbnail is the process of content syndication. This is where you use your blog post as a lead magnet on different platforms.
Marketers tend to look at content syndication as a brand awareness strategy. They believe that by increasing the reach of your blog posts you can create and spread an online reputation as an industry expert. Content syndication plays a very valuable role but if not used well, it can make or break your B2B marketing strategy.
Here are 5 ways your content syndication strategy could bring you down.
According to the Cost-Per-Lead program you use when giving your content to a third party site, you as the advertiser will only accept and pay for those leads that meet your specifications. But this does not mean that the site will only generate leads useful to you. There will be many prospects that will register and download your content but don't match your filter. These prospects will be discarded from the publisher's end and will not reach you.
Now, the biggest mistake marketers make is over-filtering. If you place your content on a niche site that focuses exactly on your particular vertical then you need not apply many filters compared to an ad network which has a wider reach. Plus accepting a certain percentage of off-target leads is worth your time and money as the number of 'quality' leads will increase as well. Balance out your filtration so that you can get rid of bad leads but not to the extent that you have cost-prohibitive good leads.
The internet is filled with a variety of content on the same topic you have written. The reason your prospect will download your content and not your competitors' is that of the title of your content and its abstract. But most abstracts have a very dry and disinteresting tone.
Your abstract should be able to describe how valuable your information is and drive your prospect to act. While writing an abstract, keep in mind the following:
Use words like 'learn' and 'discover'

Be clear and specific about what the reader will gain from the material

Employ the term "Download" to drive action

Excessive Dependence on Niche Sites
Companies tend to have a fear of using larger ad networks for their content syndication as they feel that their content would appear everywhere. But this problem can be easily surpassed by having appropriately titled content, a compelling abstract written to a targeted audience and by using the right filters. Ad networks can then generate the same or higher quality leads, at a lower cost and at a faster pace than niche sites can.
Many marketers limit themselves to just 2-3 content assets per publisher even though there is no real cost of creating more content. The more content you create and use as part of your content syndication strategy, the higher the lead generated and the faster you will be able to meet your lead targets.
Due to a lack of timely and effective lead follow-up, your content syndication program could fail miserably. As the content syndicated leads are distributed to the advertiser on a weekly basis, a lot of time could have elapsed since the prospect downloaded the content.
The more time it takes for your inside sales reps to follow up, you run the risk of your prospect not recalling your content. As a guideline, you must create an automated email follow-up that gets sent directly to the prospect as soon as they download the content. This helps keep your company in the mind of your reader and ready for the follow-up call.
If the above are kept in mind while creating and maintaining a content syndication strategy, it can be a win-win situation for both the content owner and the publisher.  It will guarantee maximum exposure for your content, building traffic to your site, promoting yourself as an expert, receiving back quality leads and most of all it will help in building your followers. Make your content work hard for you while you work smarter.
Author Bio :