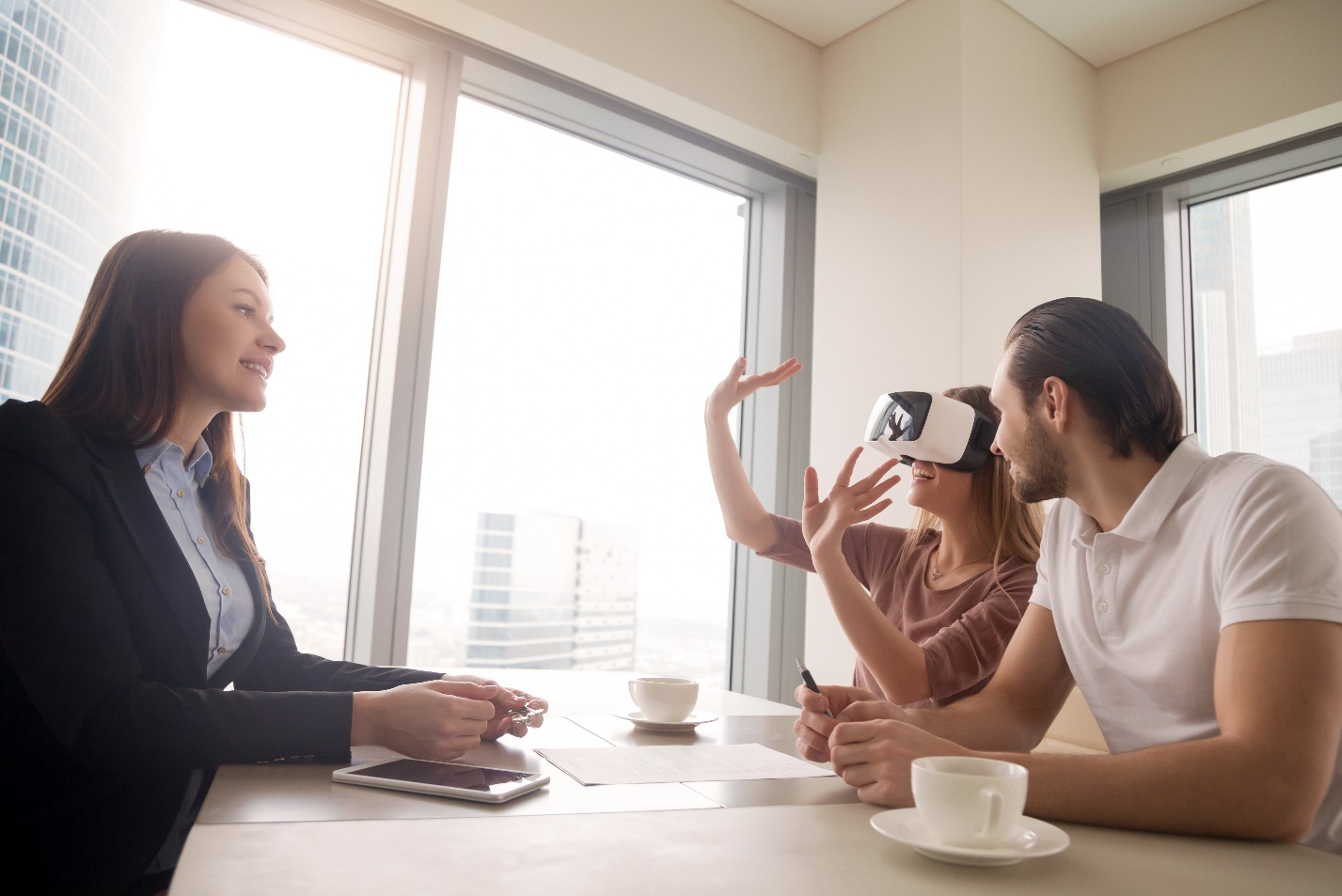 Are you using virtual or augmented reality in your real estate marketing strategy? If not, you are missing out on a huge business opportunity – and it could cost you.
In recent years, virtual reality (VR) and augmented reality (AR) have grown more popular as the
technologies have become more affordable and accessible to the regular consumer. Many industries – including entertainment, healthcare, manufacturing, aviation, and education – have been very successful in their use of VR and AR.
The real estate industry is quickly realizing how these technologies can drastically change the way a property is bought and sold. Any real estate business not leveraging these technologies will find themselves left behind, as other companies attract more customers by capitalizing on VR and AR.
What are Virtual Reality and Augmented Reality?
Virtual reality and augmented reality are related, but provide completely different experiences:
Virtual reality (VR) provides an artificial, computer-generated simulation or re-creation of a real-life setting in 3D. The user is fully-immersed in the digital environment, shutting out the physical world. VR requires the use of a head mounted display (HMD) device such as HTC Vive, Oculus Rift, Samsung Gear or Google Cardboard. Users interact with VR by head tracking, eye tracking, or motion tracking with sound and physical simulation enhancing the experience. Virtual reality is already being used in entertainment (video and computer games or 3D movies) or to enhance training for real-life situations (flight simulators for pilots).
Augmented reality (AR) overlays digital elements (computer-generated graphics, videos, text) on top of your physical view through a lens (most commonly, a camera on a smartphone). AR is developed into apps and used on mobile devices to blend digital components into the real world. One of the main benefits of augmented reality is the ability to visualize information in 3D rather than 2D.
By using virtual reality, real estate buyers and investors don't have to physically visit the properties to get a real-life view. Instead, with a smartphone, computer or other digital device, they can be transported to the property. Augmented reality can be useful for builders, architects and property managers as they can add different elements or sketch out a design.
How VR and AR Can Impact Real Estate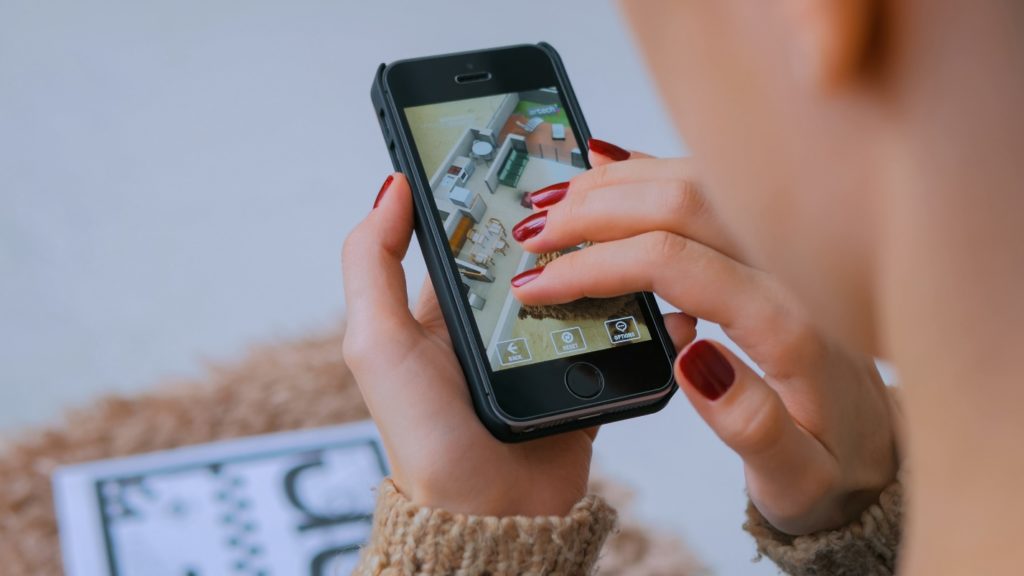 Reach More Potential Buyers:
VR and AR eliminate distances, allowing realtors to expand their customer base beyond local buyers. Instead of having to physically travel to a location, buyers can view properties on their computer or mobile device from the comfort of their home or office.
Home listings with photos have a higher perceived value. Providing an interactive tour in 3D will take your listings to the next level and attract more prospective homebuyers.
VR can also assist the sales of property under construction. 3D visualization allows buyers to see how the home will look when complete.
VR and AR technologies are no longer as expensive as they once were and can be a huge cost savings for real estate agencies. Realtors will not have to spend money staging a home for viewing. Instead, 3D models can be used for real interior design, furniture, landscaping, and more.
Additionally, realtors no longer need to invest in traditional real estate marketing such as print and online advertising. Instead of high-quality photos and print materials, all you need to get started is a smartphone with a 360-degree panoramic camera.
VR and AR can save valuable time by enabling prospective buyers to view properties from the home or office at any time of day. With virtual reality, all listed properties are available for viewing 24 hours a day, 7 days a week. Buyers no longer have to spend time scheduling and visiting multiple properties and open houses.
Since most properties can be shown through virtual tours, realtors can work more productively. Realtors will not have to spend as much time preparing open houses for buyers and can focus more time on finding potential buyers and properties.
Instant Connection to a Home: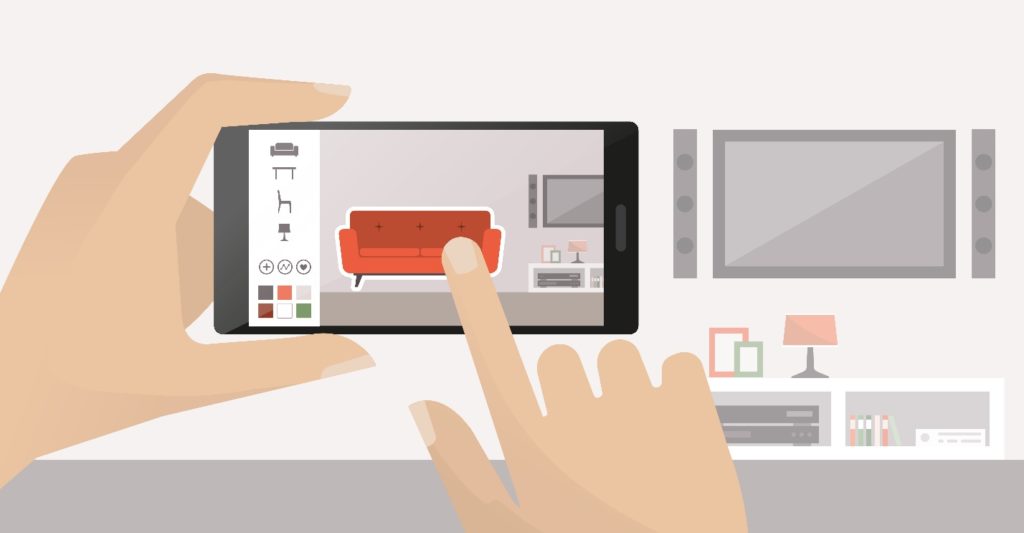 A virtual tour engages potential buyers more effectively than 2D photos or videos, which may look different than how the property looks in person. They can visualize themselves in the home by adding their own furnishings and design features, enabling them to develop an emotional connection and sense of ownership to the house.
Unlike traditional home visits, buyers can take a virtual tour at a convenient time and spend as much time as necessary getting a feel for the property.
How Do They Work? 
VR Tours: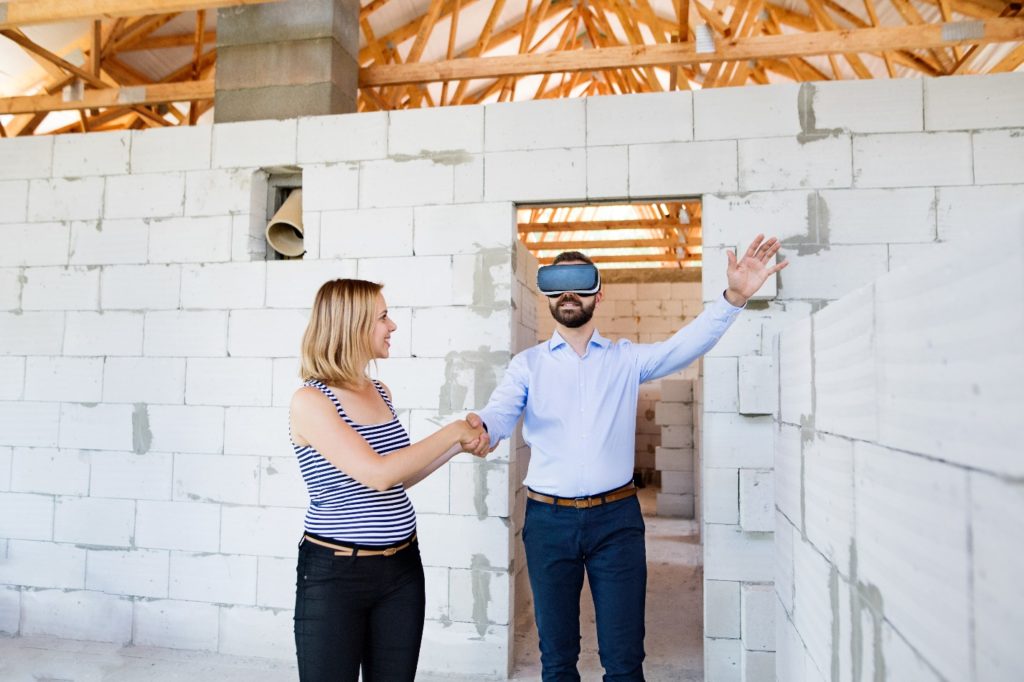 Combines 2D images together to create a 360-degree view of the home. There are generally two types of virtual tours:
Guided visits – Completed in 360-degree video or fully virtual. The buyer is guided through the home from room to room.
Interactive visits – Allows buyers to choose how they want to move around the virtual property and which rooms they want to see.
AR Tours:
With AR, 3D models are under full control and can be manipulated to present the look of the property or a particular room.  Buyers can even add their own details to visualize the completed property. Therefore, buyers can picture exactly how they want a house to look before leaping into the actual design process.
Future of VR and AR in Real Estate
Adoption of VR and AR has been slow in the real estate business. According to a recent survey, 14% of homebuyers have used VR or AR in their most recent home search. However, the number is expected to grow within the next few years as the technologies become more accessible and more buyers and sellers discover the advantages of these tours. According to Goldman Sachs, the real estate market is expected reach $2.6 billion by 2025.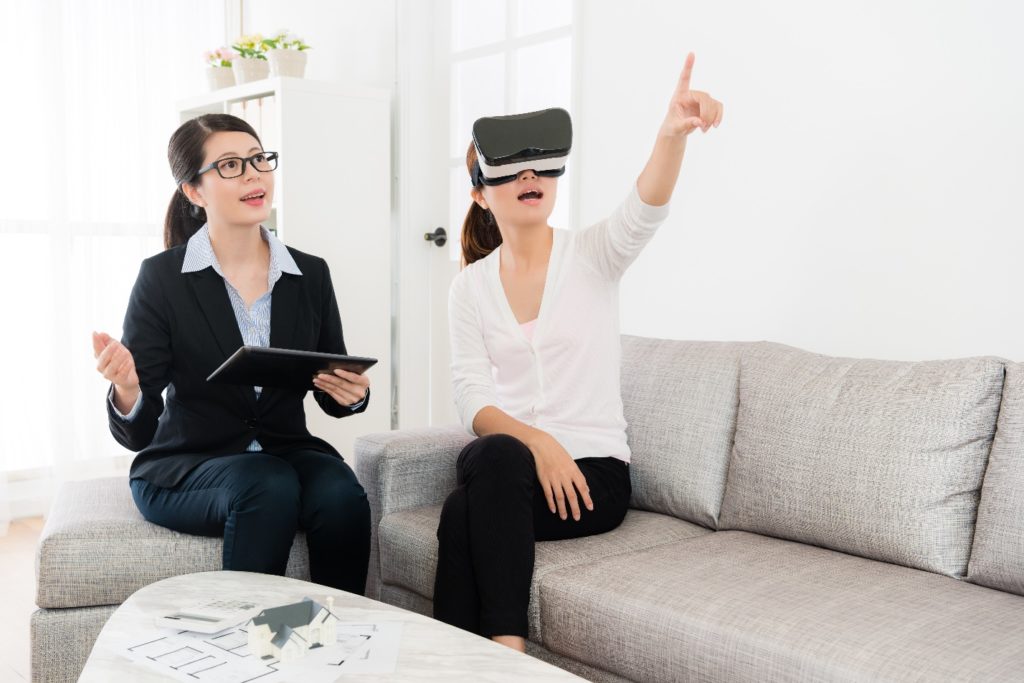 VR and AR technologies have the power to completely transform the real estate business. Most home buyers are using the internet in their home search and adding VR and AR can provide an interactive and memorable experience for potential buyers. This will also help realtors drive more sales while saving time and money. Though the increase in the use of this technology is slow, once adopted, it will change and advance the real estate industry forever.
Author Bio :