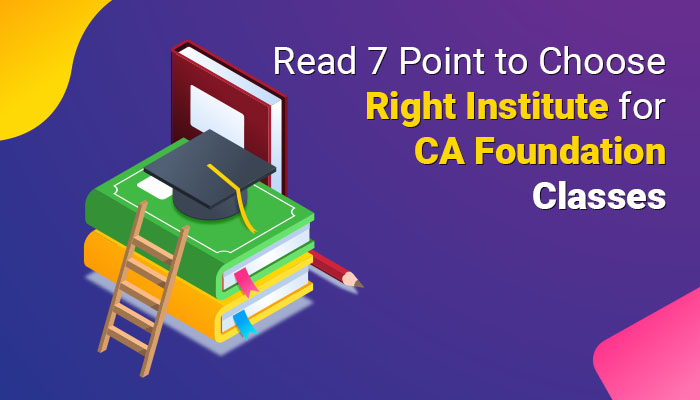 Do you wanna be a successful CA? Because you have selected CA as your career so I can assume that you know how much hard work does it take to become a successful CA.
Surely, your studies of 11th and 12th will be also useful in your CA examination and you can also take help from your seniors if they are in the same field. Now one more important decision has to be taken that from which institute you should prepare for your CA Foundation examination and for clearing your CA examination it is very important that you choose right institute so that you can score best.
As there are various institutes available on the internet so you might be confused that which one to choose but no need to worry we are here to tell you how can you choose best one among all the available options. Look at the following points.
Point To Choose Right Institute for CA Foundation
#1 Why you should go Coaching for CA?
Many people think that joining the Institute for the first step of CA is useless but it's not like that competition in the market is very tough and when you join institute there you get an environment of studies which makes you feel motivated and dedicated towards your studies. Moreover, coaching provides you with the best possible facilities like study material, library facilities, internet facilities, revision classes, and many more facilities you get when you join coaching.
#2 Ask and Register
When you search any institute then ask about that institute either from students who are already studying there or from your seniors or from your batchmates. Shortlist institutes according to your preferences and comfort and then get yourself registered. Also, check the quality and faculty of the institute.
#3 Search and Screen
Search from the internet or from your various sources about the best institute of CA and then make the list and then you can easily shortlist the institutes according to your convenience and priority. And there are many institutes who provide coaching for other competitive exams but you should give preference to the institute who only provides coaching especially for CA.
#4 Check their Records
In whichever institute you are planning to take admission before getting yourself registered, check out their records of previous years that how many students have taken admission and out of that how many have cleared the exam. For more information, you can take the address and contact details of the past students as they only can give you correct information about their experience in that institute.
#5 Fee Structure
Different institutes have different fee criteria with different facilities so compare the Institute accordingly because it is not necessary that if an institute is charging you high then they will provide you with the best facilities. Check out all the discount offers and scholarship offers but remember not to compromise with the quality of institute and as the fees are non-refundable so take your decision wisely.
#6 Timings
As different institutes have different batches at different timings so join the batch which has less no. of students so that they can easily pay attention to you and can give you the best facilities. Ya, choose timing in which you are comfortable in studying as rest all your time you can give to extra studies.
#7 Teaching Techniques
Before finalizing any institute take some demo classes so that you get to know about their teaching techniques because as your future will depend on how you are being taught and also ask them that from how many years these teachers are teaching in the institute because if they are new then they will not know about the exam patterns and tricks of teaching which may lead to failure.
Selecting the best institute of CA is the first and very important decision to be made as your entire career depends on it so just be very careful and take your decision regarding choosing the institute wisely and keep in mind all the positive and negative aspects.
All the best!!!
Author Bio :