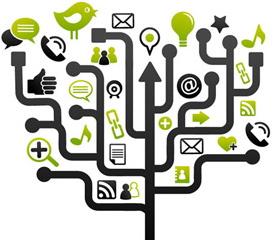 "In this digital age , we have an opportunity to transform lives of people in ways that was hard to imagine just a couple of decades ago. I dream of Digital India where access to information knows no barriers." – Narendra Modi
Do we really need to worry when we have such a dynamic Prime Minister supporting Digitalization? Well, even if the political scenario is kept aside one has to admit that people spend twice as much time online as they used to spend ten years back. Digital marketing is an umbrella under which all the online marketing ideas thrive. Isn't that true? What say!
Recent years have witnessed a boom in the number of people joining various digital platforms. Looking at the evolving nature of this industry, academic institutions have started grooming their students in this domain by providing training sessions. Also, since digital media channels change frequently, people already into it need to adapt themselves and ensure upgradation.
Undoubtedly, digital marketing is the new trend of marketing. It is pertinent for students to realize the Role of digital marketing as an emerging career option. Here are the top reasons why students should be trained in this sphere:
1. Industry is facing talent crunch
Whether it is naukri.com or monster.com, all the platforms are flooded with the demand of people proficient in digital marketing. Budding Entrepreneurs can establish themselves in this area within a short span of time.
2. Plethora of job opportunities
Digital marketing has opened the gateway for a number of career options since more and more companies are incorporating digital marketing as their primary strategy . Mention can be made of search engine specialist, Adword Specialist, Social Media Marketer, Digital Campaign Planner, Web analytics executive, Digital account manager, web content manager and many more.
3. Luring Packages
Rule of economics- Value of product rises with the price. When you are working in a company suffering from shortage of skills, you are at benefit, trust me ! You'll have negotiable salaries.
4. No more a job- taker, be a job-giver
You don't need to wait for a coveted internship or campus placement to create your own portfolio and gain experience. Invest in building a startup and boost your own career even before you set your feet in a workplace. Boost your profile and showcase digital marketing skills.
Let's delve deeper into digital marketing
I know this is fascinating. Let's gain a first hand knowledge about the concept. An array of tactics and assets fall under the category . Efficient digital marketers never miss these and even you should not !
Author Bio :