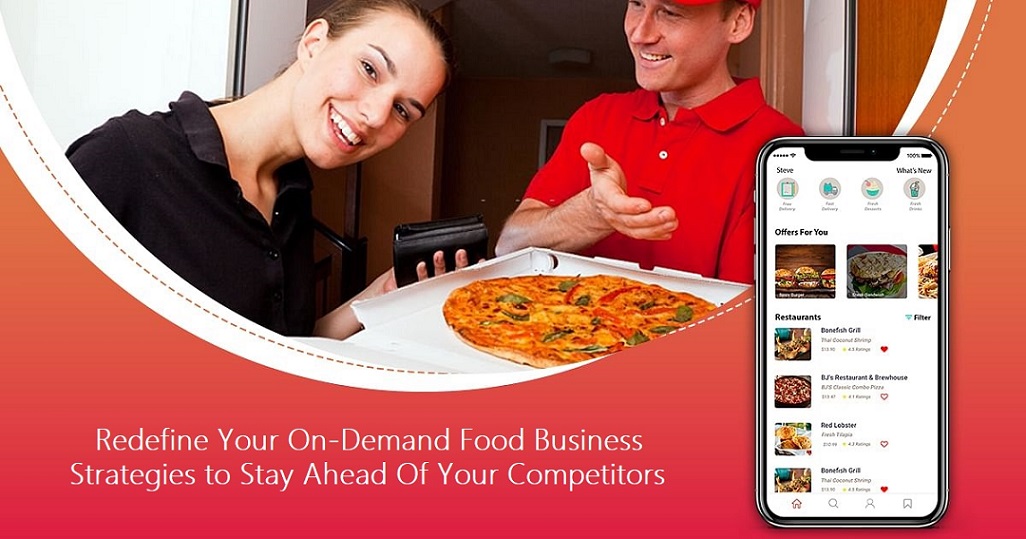 In today's time, it is important for every professional to stay ahead in achieving the goal. The same concept applies to the on-demand food business. It is a tough competition, especially for food delivery start-ups. So professionals need to roll out their sleeves to keep the business upto the mark.
There are ample number of on-demand food business strategies that are helpful for professionals. Using these methods one can achieve the great height in success.   
Here in this article, we will discuss the strategies which you must follow. If you are planning to open an on-demand food delivery business or already into this profession, then you are at the right place. 
Important Strategies for on-demand Food Business
Keep focusing on demand-supply
The demand and supply algorithm also works here. If you focus on the demand-supply then it will give out new wings to your business. It helps in keeping yours on demand food delivery business sustained. Always precise what you are offering and at what interval of time.
Find your competitors strength and weakness
A thorough analysis of your competitor matters a lot. Keep an eye on their activity. How they are putting their products and presenting to the audience. What marketing strategies they are following? All of these factors are important to consider. This will help out in finding out the unique selling point.
Here you must note that you only need to follow them with little modification. Do not copy them as it is. This can bring other problems too.
Compare the price and offers of your competitors
Check out what price and offers your competitors are providing in the market. Give your customers a better price and offers than what your competitors. This will attract the attention of your customer. Your on-demand delivery solution should be based on the best price.   
Responsive customer support
Good customer support is a major expectation of the consumer. But only integrating customer support is not enough. The picture is something more. The team should be responsive enough to assist them.
It doesn't matter whether it is telephonic or chats support. The serving of the customer should be good and on time. They must be ready everytime  and well-trained to solve any problem.
Built out robust software
No-doubt every professional is offering good software. But are you sure that your system is capable enough to provide the best service? Your on-demand food delivery app development should be based on all the required features. The unique features are a backbone to fight the competition. A professional must integrate them to attract the consumers eyes.
Treat your team in a better way
To keep yourself ahead from your competitor, it is also important to focus on your team. Every big business lies on the employees. Keep appreciating your team for their good work. Even if they make any mistake, try to solve the problem with patience. This will hike their enthusiasm and it will impact productivity. 
Understanding of the customer
For any business, the potential factor is the understanding of the customer. The customer needs the initial stage understood. If your business strategy is according to customer behaviour then there will be no chance of failure. You will get a good response from your customers.
On-time delivery
When it is about on-demand food delivery, the main factor to impress is on time delivery. Keep in mind that your customer is hungry. If there is a delay in the delivery of the food it could let you experience the roadblock in the success.
Your software or the app should have all the advanced features. The real-time tracking of the address, GPS integration are some of the best features of this purpose.   
Integration of the latest technology
Day by day technology is exploiting and professionals are following it. Especially for the on-demand delivery, it is mandatory to involve the great technology-based service. For this, you can hire a software development company or dedicated development teams. This is a crucial factor to keep yourself ahead of the competitors.
Follow the latest trend to grow
The latest trend in the market is important to consider. The current trends are good enough to achieve your goal. This also helps in fulfilling the demand of customers. Remember that customers lean only where the demand is on high priority. So always update with the current scenario.
You can also take the help of reputed SEO companies for this purpose. Digital marketing also lies in the latest trends.
Targeting new customers
Targeting new customers is important for expanding your business. The range of expansion can be from students to professionals. So, you have to be aware of their interest. The food must be served according to their choice. Analyse the taste of new customers well.
For this purpose, you can also take help of digital marketing experts. Also, you can ask your team to give innovative ideas on the same.  
Improve your marketing strategy
A unique marketing strategy could differentiate you from the rest of the competitors. For this, you can improve your On-demand food delivery app. You have to keep working on the latest digital marketing trends. This will keep you ahead on the search engine and ultimately you will get endless benefits.
Additional Guidance
Hire a dedicated development team

Consult to the best online marketing company

Bring out new ideas

Be flexible in your approach

Make sure your software is error-free and user-friendly

Offer something new than your competitors

Always bring out the change in your strategy
Conclusion
Every business is having its own competition range. Well, things are not enjoyable without it. The same concept applies to the on-demand food business. A professional only has to follow clever tricks to achieve the goal.
Only a smart approach can make your business grow. Here we have shared all the strategies. So follow these steps to beat your competitor and grow your on demand food business.
Author Bio :