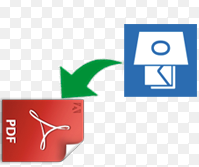 As we know that Microsoft Outlook and Adobe Acrobat both are different applications that support different file formats. PST file format support by MS Outlook and PDF file format support by Adobe Acrobat. But, in the organization's Outlook is widely preferred email client used by the users. PST file contains emails, images, contacts, attachments, etc. While on the other hand, Adobe Acrobat Reader supports PDF file format. This file contains texts, attachments, hyperlinks, etc. This is the most secure and reliable file format. This one of the major reason due to which users transfer PST to PDF. Moreover, there are other reasons also for the migration of PST files. Therefore, in this blog article, we will discuss all reasons and various solutions to perform Outlook emails to PDF migration.
Various Reasons to Convert multiple Emails to PDF
Some of the common reasons due to which users want to migrate Outlook emails to PDF are described below-
In some cases users have PST files as their backup but, they don't have Microsoft Outlook in their system. In such case, users can convert PST file to PDF with attachments and access emails from anywhere at any time.
PDF files are mostly used for the forensic purpose. Lawyers can easily present Outlook emails in PDF file format as their evidence.
Users can easily print Outlook emails as PDF in batch and store emails in hard copy.
PST files are large in size to save important Outlook emails whereas PDF files are light in size.
Manual Approach to Convert Outlook PST to PDF
Users can easily convert multiple emails to PDF file format by following some useful steps-
Firstly, start MS Outlook
Then, go to File Menu from the menu bar
Now, user have to select Save As option
After that, a new window pop up window opens, where user has to save the File Type as option
Then, select the HTML format
Now, browse and select the location to save the HTML file
Then, click on Save
After this, user has to open the saved HTML file by following these options
Select HTML file >> Right Click >> Open with MS Word
Now, user have to open MS Word
Then, select File
Now, select Save As
Then, choose File Type as PDF file
Now, open the resultant PDF document.
Drawbacks of Manual Solution to Transfer PST to PDF
With this manual solution, the user can migrate PST to Adobe PDF. But, this solution is not is not easy as it seems to be. There are various limitations such as –
This method will not convert multiple PST files
Sometimes there may be a chance of PST file corruption
Time Consuming
Lengthy procedure
Good technical Knowledge is required
Troubleshoot Method to Convert Multiple Emails to PDF
With the manual solution, the user can export PST to PDF but it has limitations as described in above section. Therefore, it is recommended to use third party software i.e. PST Viewer pro. This software easily batch convert outlook email to PDF. This tool also provides various matchless features such as user can filter items for selective conversion. Date range filter option helps the user to avoid useless data migration. Moreover, all the email attributes like Cc, Bcc, Subject, etc all remain intact. There is no loss of data.
Conclusion
In this article, we have seen various reasons due to which user wants to transfer PST to PDF. Moreover, apart from this we have seen both manual as well as troubleshoot method to export PST file to PDF. But, the manual procedure is not reliable. Therefore, a user should opt the third party tool as mentioned in above section. Furthermore, this tool allows users to save and print Outlook emails to PDF file format along with embedded attachments. It is an error-free solution.