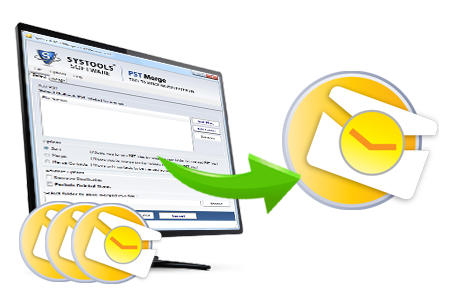 If we talk about the most used email client, no doubt it is Microsoft Outlook. In Outlook all the files for backup is stored in PST files. These PST files are personal storage table which keeps the copies of various items such as contacts, emails, calendars. Due to oversizing issues, PST files are required to be maintained on regular basis. If we merge multiple Outlook data files, then it makes the data managable and more efficient. But it becomes very difficult for the user to manage multiple PST files at different places. Therefore, to manage the data easily, it becomes necessary to merge Outlook data files.
Quick Solution: Try SysTools Merge PST Tool for merging multiple PST files in Outlook.
What is the Reason to Merge Multiple PST Files
There are several reasons to combine multiple outlook data files. The main reasons are described as:
1. The higher the number of mails in PST, the more maintenance required. Which creates a hassle for the user at this condition it becomes the necessity to join multiple PST email.
2. If the number of files in PST is more than more space consumption will take place in hard drive, which makes difficult to save more data file in the PST.
3. If the maintenance is not done properly it may generate an issue, therefore, all the emails and data file should be maintained in a regular manner.
These are the main reason of Merge Multiple Outlook data Files & to keep the data safe the user needs to combine multiple outlook email.
Why it becomes relevant to join multiple pst files
1. To keep the data safe from accidental deletion and or to avoid the loss of data.
2. It takes time to open one by one many number of files, If we combine multiple Outlook file it will take less time.
3. If we consolidate multiple PST file, then a large number of file can be shared by once which is time-saving too.
4. It will take less space on the hard drive.
5. No need for the regular maintenance.
These are the reason and advantage we have discussed above, about the relevant reason to combine Outlook data files, only the main motive is to be error free.
Possible approaches which tell us how to merge multiple Outlook data files
There are two possible ways to join multiple pst files
1. Manual approaches
2. Automatic approaches
Manual approaches:
The complete procedure is given below how to merge multiple PST files:
This procedure includes two steps;
Step 1 : Create a new blank PST.
In the Outlook window, click on New Items > More Items > Outlook Data File.
Now select the suitable location to save the new blank PST with a name
Click on OK.
Step 2: Combine all existing PST files into the new blank PST
In this step, user has to join multiple pst files
Now open File > Open > Import in Outlook Window.
Select Import from another program or file, when Import-Export Wizard will open.
Click on Next.
Select the file type that is Outlook data file (.pst) to import from
Click on Next.
Click on browse to locate the file to be imported
Check the do not import duplicates box
Click on next
Select which folder user wants to import
Check the Include sub-folders & Import items into the same folder in boxes.
Click on finish
It is done when we combine multiple PST files, the file is imported into the folder which is mention in step number 13.
Automatic approaches :
If we are talking about an automatic solution, then it should be easy to operate, reliable and less time-consuming. Though the manual process is mentioned above due to its limitations become difficult to perform. To merge multiple outlook data files by using Manual process is become lengthy, time-consuming, and the user should be perfect in technical skills more over there is less assurance to get success over this process.
Therefore to overcome these limitations and to combine multiple outlook data emails one should go for the third-party software/tool like "Systools PST Merge Tool".
Features of SysTools PST Merge Tool
1. Multiple options are there to join multiple pst files.
2. Remove Duplicate files.
3.Versatile, Reliable, Easy to perform & less time-consuming.
4. It is not limited by size.
5. Split large sized merged PST file.
6.Support all the version from 2016 to below versions of 2016.
Last Words:
In the above article, we have discussed a precise solution of how to merge multiple Outlook data files. Both manual and automatic solution works but there are many users who look for automatic/ third party software or tool to combine multiple pst files which work better and quick. Therefore my suggesting is a better alternative process which is "SysTools PST Merge". This tool is reliable and easy to perform. Hope this piece of information is worth to you.