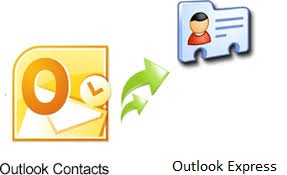 In today's era, Outlook is the most popular Email clients used by most of the organizations Worldwide. But now, many of them are switching from Microsoft Outlook Address book to WAB. While transferring, the major task among the users is to export Outlook Address Book to Outlook Express WAB. Since the contacts play a very important role in communications, that is why it is mandatory to switch the contacts with extra care so that not even a single contact gets affected during the migration process. Since CSV and vCard are the common File format used by all the email application. Therefore, users are always suggested to export Outlook Address books to vCard because it is a common file format and is easily accessible by all the Email clients. But before this conversion process takes place, let us all have a quick review about Outlook Express WAB and Outlook Address Book:
Outlook Express WAB
Outlook Express stores its contacts in Windows Address Book format. It is also abbreviated as WAB because it enables users to maintain a single Document of contacts information that can be shared by the multiple programs. WAB was introduced by Internet Explorer 3 and later versions.
Outlook Address Book
Outlook is a personal manager that is available in Microsoft Office Suite provided by Microsoft. Outlook is an Email application which also includes contacts, calendars, journal, etc. It is basically a standalone application but it can also work with Exchange Server and SharePoint Server for multiple users in any organization that is either big or small.
Need to Export Outlook Address Book to Outlook Express WAB file
The latest version of Windows has made it simple for large Organizations to manage their contacts in a more simple and user-friendly program, named as WAB. The users can perform this migration process using the below-given methods:
Manual Approach to Migrate Outlook Address Book
Firstly, users have to Open MS Outlook.
Click File tab.
Now, Click Open & Export → Click Import & Export.
Now, Click Export to a file option → Click on Next.
Navigate to CSV and then, Click Next.
Choose Contacts Folder from "Select folder to export from" and again Click Next.
Click on Browse then, Enter File's name and Click OK.
Now, choose Export Designation and now, Click Next.
Click Finish button to proceed with the process of converting Outlook Address Book to Outlook Express WAB file.
Automated Alternative Solution
To convert user's contacts from Microsoft Outlook to WAB, there is an automated alternative solution also available that helps in maintaining the integrity of the user's contacts and performs the migration process in a more safe and reliable method. To avoid any damage issues with user's contacts, vCard Exporter Tool can be used. This application performs the secure conversion of address book contacts from MS Outlook to WAB. This software also provides an option to merge the contacts under a single VCF file.
Features
Transfer the contacts list from Microsoft Outlook Profile to WAB Contacts, VCF, etc
Capable in adding single PST, Add Folder and Auto-detect default Microsoft Outlook profile
Helps to import Selective files and folders containing Microsoft Outlook Address Book
Provides option to combine all the contacts under a single VCF file
Outlook Express installation is mandatory to perform this conversion process of Outlook Address Book to Outlook Express WAB.
Conclusion
We conclude that nowadays, contacts utilization in Windows Address Book is not a challenging task for the users anymore. In this article, we have discussed about the manual and automated techniques to export Outlook Address Book to Outlook Express WAB in an effective and reliable manner as well. Both of these methods have their own benefits but limitations too. Third party automated approach is more preferred among the users to perform this migration process of Microsoft Outlook Address Book.
Author Bio :