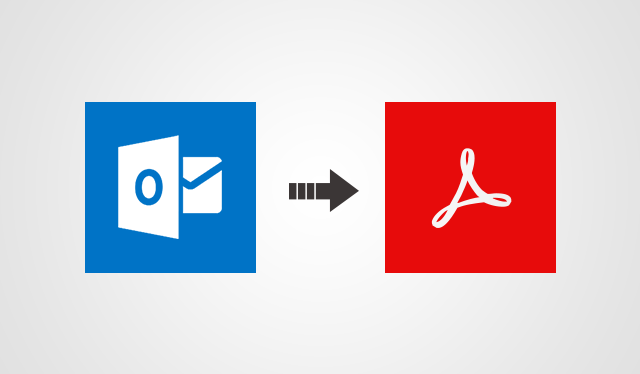 Save Outlook Emails as PDF using Best Tips & Tricks
The Outlook messages can be saved in multiple file formats like PST, PDF, MSG, EML or HTML. They often need to be read individually with attachment in a single file. This requires extracting a single email from Outlook mailbox. Many users prefer to save Outlook emails as PDF file including attachments. This allows them to open and access Windows message in Mac or Linux operating system. It requires simple steps that have been explained in this post. Read the entire segment to batch convert PST to PDF without any data loss.
PST
The Outlook data file(.pst) is a personal database of complete mailbox data. It stored emails, contacts, calendar, tasks, notes, journal items in a single file. A .pst file is saved locally on a Windows PC and is a proprietary format to Outlook application. All the messages for a POP3 account are downloaded from the server and saved to this file.
PDF
It is a document format that can be read through an Adobe Reader or Adobe Acrobat application. It provides varying level of security to protect .pdf data. One can choose to export multiple Outlook messages to Adobe PDF format. An Adobe document can be accessed across various platforms such as Windows, Mac or Linux machine.
Reasons why Users Save Outlook Emails as PDF Format
Following are some of the various causes for saving a message as an individual file in Outlook 2010, 2013, 2016:
Backup Emails with Attachments: Often the need arises to extract individual messages and save them with attachments to PDF for backup purposes. This file can be saved to an external drive and referred to in case of Outlook damage or corruption.
Cross-Platform: Some important conversations need to be transferred from Windows to Mac machine which requires conversion to PDF format.
Forensics Analysis: Many investigative teams extract an email from Outlook and save it to PDF as part of the legal evidence. They analyse the data and export it with attachments so that it can be analysed later.
Methods to Print Outlook Messages to Adobe PDF
Here are steps involved to saving a message as an individual file in an Adobe document file:
Solution 1: Save Outlook Emails as PDF Manually
First, open the email application and select the message that needs to be saved as a file.
Next, go to File>>Save As and Browse to the location where the PDF file will be saved.
From the Save as Type, select HTML from the drop-down box.
Then, click on the Save button.
Next, go to the folder path where the HTML file is saved.
Right-click this file and select Open With>>MS Word.
From the Microsoft Word application, go to File>>Save as.
Again, set a folder path for the document file and name for the Word document.
From the Save As Type, select PDF from the drop-down box and click Save.
Limitations in Manual Method
Technical Steps: The manual steps can be too much for some non-technical or home users. They prefer to look for alternative solutions to make this task easier and simpler.
Limited to Some Messages: The method to Export Outlook Messages to Adobe PDF manually can be performed for some important emails. It is not an ideal choice for moving complete email folders to PDF files in bulk. This can take a lot of time and efforts.
Emails Only: The manual solution is only applicable for email messages not for contacts, calendar, task or notes item.
Solution 2: A Perfect Tool to Save Outlook Emails as PDF
There is no direct way to save contact file as PDF. Many users often look for online solutions to migrate complete mailbox to Adobe document format. They search for third-party tools like the PST to PDF Converter. It is a professional software designed for both, technical and non-technical users. It can selectively convert emails, contacts, calendar etc. items to PDF file. It is a user-friendly tool used for creating a single PDF for entire PST file. Or for saving each item in a .pst file to a separate .pdf file.
Conclusion
Messages need to be saved in individual files with attachments for many business and documentation needs. They need to be saved in a format that can be accessed across platforms in a multi-OS environment. Many users prefer to save Outlook emails as PDF. This can be done manually or by using an automated solution. A software can complete the task easily and make it more convenient for the user.