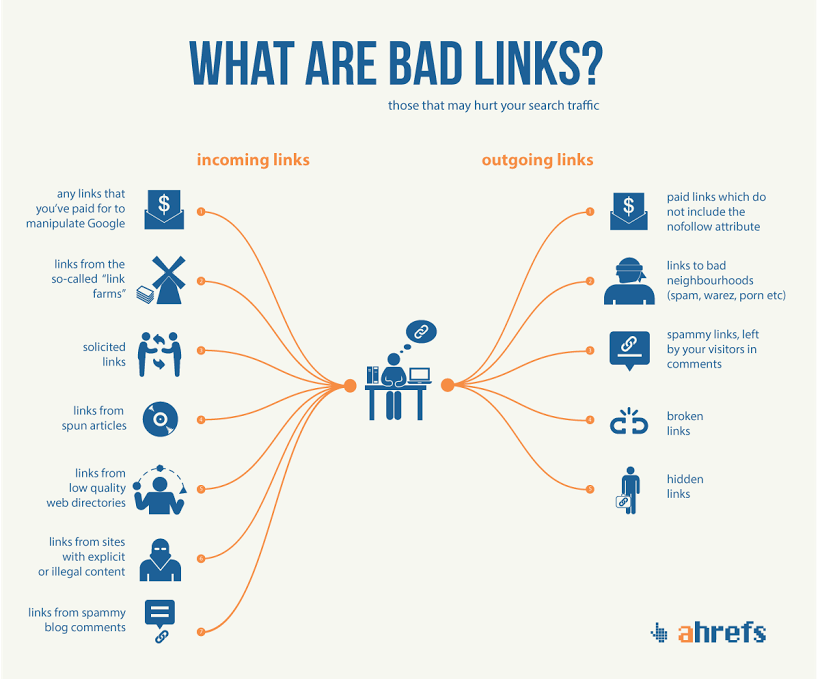 Backlinking has made a strong foothold as search engine optimization evolved over the years.  Google may roll out updates to improve search engine algorithm but backlinking remains pretty much solid as a ranking factor.
For a beginner, backlinking is a link your website gets from other websites. It's equivalent to endorsement of your website from the digital community. A vote of appreciation, to be pitch perfect!
Of the over 200 factors that Google considers for ranking its website, inbound links still lead the list of ranking factors.
Yet many companies invest in low quality links in the desperation to get a large number of links without investigating the source.
The truth is it does no good to your SEO.
In fact, Google has repeatedly emphasized over the relevance or usefulness of the links you get from other websites. For instance, Google is very particular about the anchor text used for linking in general.
When tried to probe further, Google's John Mueller stated: "I would continue to look at the anchor text that you use, especially internally within your website and try to make sure that you're providing anchor text in a way that is really useful, provides context to what is linked of the other page."
So, it is not just the source of the link but the anchor text and the text supporting it is that Google may consider ranking your website. Something which many companies do not pay attention to.
This chase to create hundreds of the lousy or lame links for your website from irrelevant resources are nothing but black hat SEO tactics that can only HARM.
 Good or Bad Links?
Not all links are created equal. Before we plunge ahead, its reasonable to differentiate between good and bad links for your website. Getting a link from a website with poor PA/DA or some spammy site will not help you anyway.
You must target websites that are relevant to your industry and promotes content in the right way.
As per Google's Quality Guidelines for "link schemes":
"Any links intended to manipulate PageRank or a site's ranking in Google search results may be considered part of a link scheme and a violation of Google's Webmaster Guidelines. This includes any behavior that manipulates links to your site or outgoing links from your site".
Be wary of the steps you undertake to create your backlink profile. From nature to the number of backlinks created per day, Google is reading it all. Any unexpected signal can be a red flag for the Google to penalize (more on Google penalties later).
How To Stay Safe?
Deeply vet the source of the links: Determine the page authority (PA) and domain authority (DA) to determine how relevant or authoritative the source is for Google.  Aim for higher if you wish to scale the website Shape your off-site SEO practices to get natural links from sites with high PA/DA and online reputation. Google wants the best for its users; and if you're serving/supporting the user searches, surely you can rank well.
Useful & Engaging Content: No one likes reading dull or drab content piece. Users have barely any patience when they visit a website. It is a matter of few seconds to seal the fate of your website. Do not fool around with the search engines and instead draft simple and succinct information to solve the user queries.
How to Master Backlinking in 2019?
The digital space is tough given the unbelievable competition hundreds of websites face for every single query.
The truth is Google keeps the field clean for a fair and square game for websites. You have to push the envelope to discover new tricks to get high-quality or business-friendly links for your website.
So what we are going to do? Work out on the following tips:
Content has been talked about for years by now. But how and where you market the content?  Whether it's your blogs, academic articles, videos, podcasts, guides, case studies, whitepapers or any other form of industry-backed content, form a sound strategy to publish the content for connecting with the right audience.
Draw out a list of high-ranking and reputable sites that can help you diversify your content strategy in a way like never before.  Make concerted efforts to draw organic backlink for your website so that Google rewards your genuine measures.
Sharpen Your Email Marketing
Yes, we know email marketing sounds pretty hackneyed to most SEOs.  But hey, if meticulously planned, you can surely hit the bulls' eye!
Whether you are pitching for guest blogs, link reclaiming, appending broken links back or anything, personalize your emails to hit the right chord for the prospective customers.
Influencer marketing has been causing a lot of buzz. Most big brands are chasing celebrities, sportspersons, athletes etc to endorse their products/services. Approach such A-class listers or public personalities, take an interview and post them on your website to get your kind-of-links to improve the ranking, and of course brand reputation.
You do not want your emails to stuck in spam folders. Right? Do something never tried before to enjoy the rewards.
Build your online presence strong with active discussions on industry recognized online platforms that enables you to open an account with a link to your website. For instance, Joomla forum, Mysql forum, CNET forum and many more.
Practically, it is not feasible to be active on all the forums. Cherry pick what fits in your subject of interests and benefits your website the most.
Indulge in discussions, write reviews, vote etc and nurture your profile as a digital marketer to connect with some big names and reap the real benefits.
Smart SEO-friendly website
Looks matter but so do how you waltz out of your home.
A good and authoritative website gets natural links from other equally competitive sites. For instance, Apple, Facebook, Amazon and the likes of it get organic links for all the good work they have put up for the users.
Check for:
Customized websites on WordPress
Innovative web design
Website speed (AMP)
Responsive website that impeccably runs on desktop, laptop, smartphone, tabs alike
Use HTTPS encryption
Build online reputation
Having said that you can't expect positive returns overnight on your SEO practices, even if they are perfect to the T.  Give some time for Google to warm up to your online presence and reward with the deserving returns.
How To Prevent Google Link Penalty?
Penalties do not harbor good news for your website.
Link penalties are slapped in consequent of low-quality, spam, unnatural or  otherwise bad links spotted in your website's link profile.
Even if you adhere to ethical practices, you're likely to receive irrelevant and suspicious links from unidentified sources.  If you happen to notice any such link activity that can potentially harm your website ranking, report such spammy/shady links.
Google, in cognizance of such poor links that violate webmaster quality guidelines to manipulate your site's rankings, penalizes your website including the fatal move to remove from indexation.
A link penalty also means your website will be shoved down in the ranking and all your attempts to pump up the SEO go in vain.
Remember, Google keeps a close watch on artificial link schemes. Steer clear of any such scheme that raises a red flag!
Keep a close eye on your backlink profile to smell trouble.
How To Clean Website Of Bad Links?
List out such links and find the contact details of the website owner to request to remove the link.
Use disavow tool to block such low-quality links.
Remove 404/410 pages
God forbidden if you have been penalized for major updates such as Penguin, Panda, do not hesitate on removing the domain itself. Drastic step? yes but worth it!
The Final Thoughts
Link-building has been a steady source of strength for SEO strategies for decades now. Recognize its actual potential and tweak your SEO practices to gain high-quality backlinks to improve ROI.
The biggest takeaway for link building is making concerted efforts to improve the credibility of your website to get natural or organic support from other websites. Get or give link to sites that resonates with high-standard of fair practices in search engine optimization.
Do you suspect poor backlink profile? Consult the ingenious SEO company in India for a thorough website audit to find and fix all plausible backlinking issues consuming your returns.
Author Bio :