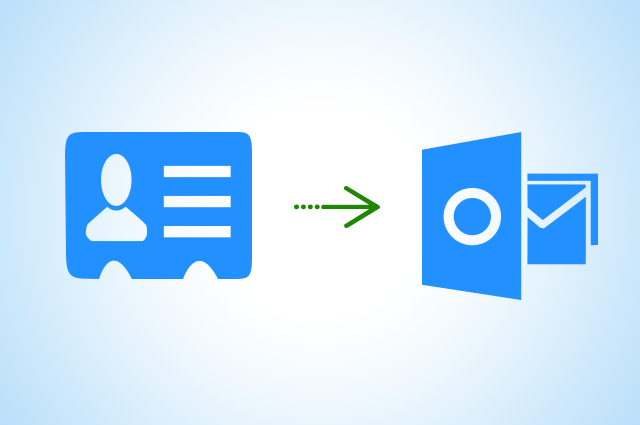 An Astonishing Journey to Convert VCF to PST
Outlook has proven to be the best solution to all the frequent email users. With multiple functionalities and high graphical user interface of the application, any one can fall in love with it. Saving and managing the contacts in Vcard files becomes very hard for a user that's why this article explains the solution to import Vcard contacts to Outlook. Now a user can easily convert VCF to PST format and can get access to any of the contact file easily.
Convert VCF to PST- A Prominent Need
There are times when we need to have an access to the contacts segment but we can't get the data to a local machine because of some network issues. So, to convert VCF to any other format could be very easy for a user to manage and implement changes in future.
Microsoft Outlook platform is highly dependent and secure too but there are various scenarios when a corrupted and damaged online data file can't be used or loss of credentials may be a reason that leads to a huge loss. So to have the backup of all the contacts as well as data items helps to be in a safer zone. Moreover handling multiple .vcf files is also difficult to manage and take a larger volume of size, converting it to a PST make multiple VCF to a single PST that can be managed easily.
Manual Way to import Vcard contacts to outlook
This process to import VCF file to PST could easily be performed by the help of Outlook application. Outlook has certain function that could help in process of migration. But if the contact file is corrupted or damaged then the user won't be able to access the data. Following are the step that you could follow to convert .vcf to Outlook contacts.
Step 1. Run Microsoft Outlook in your local workstation.
Step 2. Press File Menu and select Open and Import function to convert VCF to PST.
Step 3. An Import/Export Wizard will open.
Step 4. Select the Vcard File(.vcf) in that Wizard and click Next.
Step 5. Select the particular .vcf file in your system to import the contacts.
Step 6. Hit on Open in the end which will import VCF to Outlook PST.
This process seems to be very easy and comfortable but there are some black holes in this technique that we have discussed-above.
Disadvantage of Manual Ways
 What if you don't have an Outlook then you won't be able to convert Vcard VCF to PST
If the size of the Vcard is too large that Outlook fails to import that file.
 The VCF file is corrupted and then the data is not accessible to the Outlook account
All of these problems are very big if you import multiple VCF to Outlook manually but if you use an automated tool then all these big issues would be compressed and the problem would be solved.
An Advance Technique to Convert VCF to PST
The manual solution that we have provided in this segment is not necessarily understandable to many users. A third party tool is a very quick and fast way that can help the user to import Vcard to Outlook file format. The advance functionality of SysTools Vcard Importer tool like converting multiple .vcf files at a time and there is no file size limitation. The best part of the software is that the user doesn't even need to install Outlook on the local machine. The advance algorithm of the tool will convert Vcard VCF to PST by creating new Outlook PST.
Ending Points
This blog explains the detailed process of how to import multiple VCF to a PST file format. The migration process takes a lot of time when there are a lot of contacts that are to be imported. We have provided a certain manual solution through which the user could easily migrate .vcf contacts to PST format. If still there is any dash of the issue in data transfer the user can make a third party tool at work. This tool will make it very easy you convert VCF to PST and make it easy for every user to sync the data.
Author Bio :