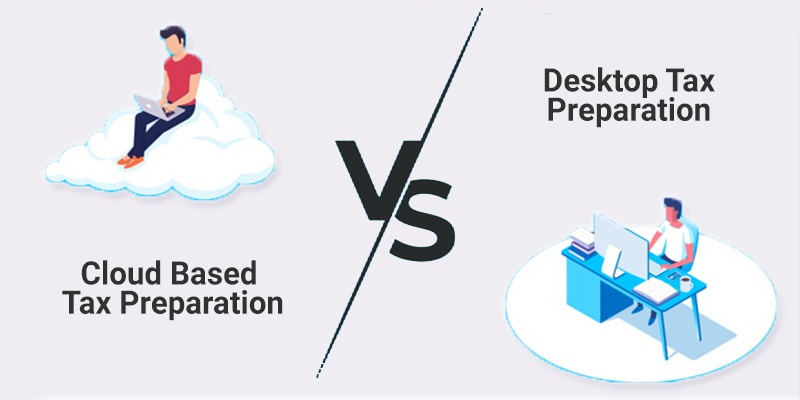 While thinking about tax preparation, what is the first thing you need to consider? It is whether to choose a desktop version that you have to first install and use on your desktop or the cloud version that can help just with an internet connection. When you try to choose software for tax preparation and prepare a tax checklist, you must decide what you need and what are your business necessities. This helps in deciding the factors that will help in choosing the right software for your tax preparation. 
As you choose between desktop and online, consider the following differences and then decide wisely.
Usability
The first and foremost thing that makes the software suitable is usability. The desktop version of the tax preparation software can only be used when you have the computer where the software is installed. This hinders your ability to file taxes and submit taxes when you are at remote locations, either way, if you want to file taxes only when you are at work or using your system desktop tax preparation software works fine for you. 
Online tax software is easy to use and works merely with an internet connection. Using the online tax software, you can start filing your taxes anywhere and on any device. The good news is that you can start your tax preparation on one system and finish at another without any trouble. You can use the software on mobile devices to do your tax preparation and tax returns. 
Storage and backup availability
Desktop tax preparation and online tax preparation work differently when it comes to storage capabilities and backup availability. When you use the desktop software, you have to handle your storage and allow data backup all by yourself. You are responsible for protecting your data from emergency and disasters. For backing up, you can do data backup automatically while using the software or perform it when you close the software. Also, you need to be careful while deciding for data backup location. You can backup your data on a hard drive but it is equally important to keep a second backup to have an option if the drive fails. You can backup your tax software data file on a USB drive, an online backup service or on a Network-attached server(NAS). But you see, end of the day you have to do a lot by yourself!
Using online tax software, you don't have to worry about storage and backup as all of it is automatically done. The data is stored online and is saved while you work on the software. The online data is secure, and the encrypted copies are stored in various locations to ensure no data loss in case of emergencies. The cloud services such as Apple's iCloud, Microsoft OneDrive and Google Drive offer space other than physical storage to save the files and data. 
Data security 
Businesses or any individual demanding data protection and security is obvious as data is the major role player in every aspect. The desktop software stores all the information in a local system which decreases the security chances. If you anyhow fail to use the updated firewall software or a quality antivirus software, it is risky to save your tax data in case of any disaster. But this is not the case when you choose online tax preparation. 
Online tax preparation software is safe and secure. They have the finest security and this is the reason why they are used by the larger enterprises to protect data fraud and ensure data security. The tax data is stored in multiple locations along with excellent encryption that protects the data from any hacker or fraud. However, you have to be careful while using online tax software in public systems. Make sure that you log out after using, close the browser window, delete browsing and software history, and never keep your password saved on public servers. 
Regular updates 
When you choose desktop tax software, there are concerns about updates as the software does not perform updates itself. Every time you open the application, you need to check for the available updates especially in cases like new tax laws. It is necessary to update with the changing laws and IRS new tax codes and hence you can't miss the chance. You must keep checking and updating all by yourself. Also while you update your software, there are possibilities of having errors and you might need tech support.
While you choose online tax preparation software, there's no hurdle in updating as everything is automated. When you open the software you will see the updates already available and no extra efforts are required. 
Choosing the right tax software is as essential as focusing on other business tasks such as managing accounts or handling finances. As tax seasons are not that easy to handle, having the right tax software helps you to at least cover major tax issues and defined tax returns. 
Author Bio :