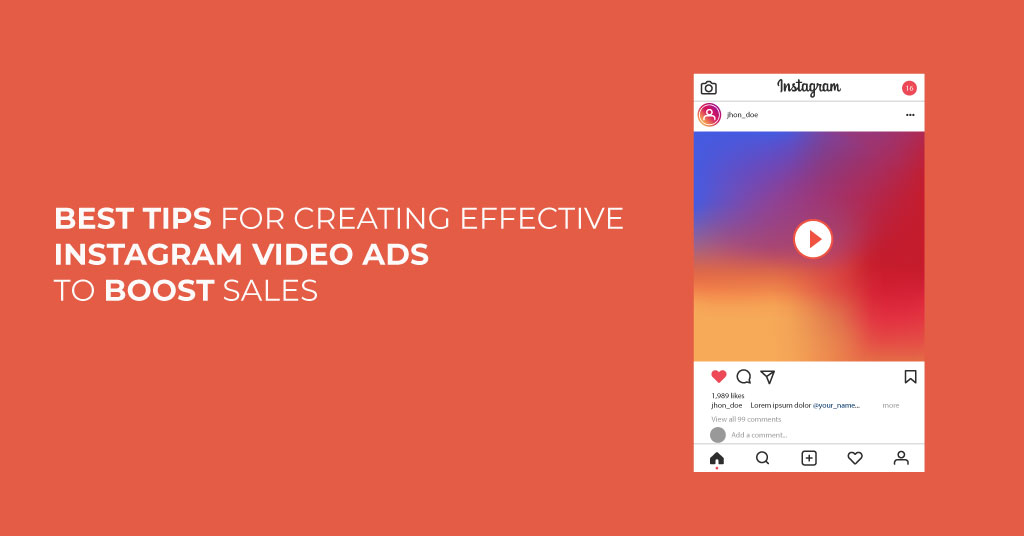 Instagram is becoming the second most popular social media platform after Facebook. According to surveys, Instagram has around 1 billion users around the globe and is increasing continuously.
As Instagram has a gigantic user base, it offers advertising services to businesses to promote their products/services and earn the online business.
Instagram offers better quality images and videos, and you can use vibrant visuals to enhance your engagement and conversions.
Instagram ads deliver the amazing CTR on lower CPCs, and it's a reliable and efficient way of marketing.
However, if we consider the videos over images, videos better attract users and convey your message to them, emphasizing the conversion actions.
Hence, you can consider the video ads on Instagram to reach maximum customers economically. Instagram video ads can deliver the best return on your investments, and you shouldn't miss the opportunity to leverage its benefits.
If you decide to give it a shot, you must consider the best practices to create your video ads and drive profitable business results.
Let's discuss some tips for creating high-converting Instagram video ads to invigorate the sales:
Shoot & Post the Videos in Right Dimensions
The user's response depends on how you represent yourself. Instagram videos appear in the post, and there is no full-screen mode. Now, you should consider the right dimensions to show your video effectively and pamper the user persona to convert.
Initially, when you shoot or create the video, consider the vertical instead of horizontal orientation. The suitable dimension for video ads is 600*600 to cover the entire post. Moreover, for stories, you can consider an aspect ratio of 1:1 of 1080*1080 and 1080*1920.
So, look best with your enticing video to grab the user's attention and emphasize your sales.
Give Extra Attention to Initial Seconds
The second your video starts has a very significant role because this is the time when a user decides to watch the video or not. Hence, you should put some extra effort into making an interesting start to make the user stay and see the video.
If your video fails to attract the users and there will be no engagement and conversion consequently. So, all your video making and promotion efforts become fruitless. Hence, give significant time to your video's initial second to get the desired sales results.
Target a Single Goal
Short videos are recommended on Instagram, and around 30 seconds of videos perform best. Now, if you try to cover multiple objectives in this short video, you will not have anything. You need to set a specific goal for your video ad to drive the results. Your video creation will go around your goal to get what you desire.
Solve User's Pain Points
Users will buy or subscribe to your things if your offerings make some sense and solve their pain points. You should consider a user analysis to know their pain points, and create your video, showing the solution to the user's problems.
When users see a solution to their problems with your products/services, then they will consider you in the first place to convert. So, align your videos with the user's intent and pain points, and serve the solution to boost your sales.
Don't Be Too Promotional
As discussed, you need to pass some value to the users to encourage favorable actions. So, being too promotional makes you look like an ad, and users are not interested in watching advertisements. You need to offer something first, and then you can expect in return. If you are not passing any value to the users, then you can't have the sales. So, direct advertisement has never been an option. Give some tips, post a tutorial or something that helps a user can help you have the sales you want from your video ads.
Make Loopable Videos
The Instagram video goes on loop, and your video should be curated accordingly to leverage the benefits of this feature. The video should be synchronized in such a way that users get back to starting from the end seamlessly. This way, you can increase your post's engagement and influence the buyer persona more effectively.
Make Your Landing Pages for Mobile
The function of ads is to attract the traffic and drive them to your specific service or the product page. Now, it depends on your landing page, whether visitors convert or not.
If users don't find what they intended while clicking the ad, they will bounce back, which is counterproductive. So, optimize your landing page to offer the best relevancy and boost your sales. Moreover, consider improving the UI/UX of your webpage to enhance the engagement.
Attract your customers with enchanting ads and serve them the best quality relevant content to uplift your sales.
Add Proper Call-to-Action
Call to Action is something that leads users to your landing page. So, there should be a proper call to action with your video ad to help the customers reach you. You have the option to add a button along with your video ad, and you should assign the most relevant page to that CTA button to direct the user to that page and convert.
Include Subtitles
Most of the time, people watch videos on mute in public or traveling. So, they can't understand the context of the video without any sound. So, you can add the subtitles on your video ads to pass the same understanding to the people who are watching on mute, deaf, or have a hard hearing.
Research says 91% of viewers watch a complete video with subtitles, and it comes to 665 without subtitles. So, you must consider the subtitles in your video to get the utmost engagement.
These are the best tips for creating effective Instagram video ads to boost your sales. You must always consider these tips while creating your video ads.
However, creating a video ad isn't enough; you should have ample skills to promote your product correctly and drive sales. So, you can consider an appropriate instagram marketing service to help you get the potential benefits of instagram marketing video ads.
Wish you a great boost in sales with effective Instagram Video Ads!!
Author Bio :