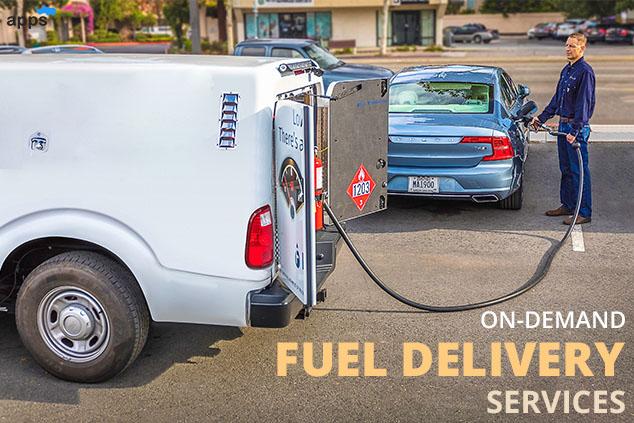 Oil becomes an essential thing for every household during the times of chilling winters. That is why the proper management of your oil needs is necessary. But managing your oil needs without disturbing your household budget is also necessary and you need to find a way out for it.  Yes, there is a sure-shot way to save your money and that is to choose a good oil delivery company for getting fuel.
Now, you can easily get your fuel tanks filled by using a fuel delivery app. All you have to do is to just make a request for your desired fuel by entering your sign up and address details. The fuel delivery company will send a fuel tanker to your destination. Their driver can easily find your location by using the real-time tracking feature and fill your fuel tank.
If you have a fuel delivery business, then you should think about providing home fuel delivery services. These services can help you to get more profits by allowing you to provide services in remote areas. You have to build a robust on-demand delivery solution for making fuel deliveries. You can hire dedicated software engineering team, or you can outsource your development to remote developers.
How can you save money with fuel delivery services?
Fuel prices keep changing due to the dryness of heating oil in winters. During winter months, you pay more money for fuel than what you pay during summer. If you carefully understand this trend and analyse how it affects the oil prices, you can purchase oil for your home at the right time. The best time for buying fuel for your home is the offseason.
Heating your homes every winter is no more stress for you now. You can take help of the home fuel delivery services to save your money. Fuel delivery services providers can help you to manage your household budget by providing you with affordable solutions. However, there are many fuel delivery services in the market. So it can be tough for you to choose the right one. You need to do detailed market research for that. But before you start with your research, you need to know how fuel delivery services can save your money:
1. Helps you with budgeting
Price fluctuations are common in the case of oil heating prices. It means that the oil prices increase during the winters when people need it the most. If you don't want to pay more for the oil, then you should look for an oil delivery company that can help you with your operational costs.
By using oil delivery services, you would only have to pay for the fuel that you have consumed. The driver will check your fuel delivery tank before filling it again. He will keep a record of their delivery and will charge you only for the fuel they have filled. So in this way, fuel delivery service can allow you to manage your budgets by decreasing your fuel costs.
2. Low energy bills
Think about the energy bill that you got last month. Of course, you're worried about such a high bill. In many houses, the energy bills would likely to get increased during winter as people prefer to spend most of their time at home rather than going outside.
If you can get the on-demand fuel delivery services, then you do not have to worry about the shortage of fuel. Instead, you can get a consistent fuel supply.
3. Limitations of fuel stations
Another reason for getting an on-demand fuel delivery solution is that traditional fuel stations are facing a lot of issues in sustaining their business due to the tough market competition. Hike in the real-estate prices, old business model, fuel thefts and rising safety issues are some of the bottlenecks for the fuel stations.
The above mentioned limitations of the fuel stations would encourage more and more people to avail on-demand fuel delivery service for fuel deliveries.
4.   Proper working of the system
Let's say if you have selected a low standard oil from an unknown company, then you are taking the risk of damaging your heating system. Sometimes these lead to serious safety concerns.
That is why you need to take the service of a reputed fuel delivery company. It would help you to increase the life of your on-demand fuel delivery system by improving its working pattern. It guarantees you a long life of your system.
5.   Increased productivity
It is hard to focus on essential tasks when you are busy with constantly monitoring your fuel consumption. This can adversely affect your productivity by consuming your time unnecessarily.
By scheduling home fuel delivery, you can focus on important tasks rather than wasting your time. Also, when your fuel is going to get finished, you can be assured of getting it at the right time. In this way, on-demand fuel delivery can increase your productivity.
6.   Flexible delivery options
What if you missed the fuel delivery someday? You may have to bear some losses, and you also have to make arrangements for getting fuel. But if you are using a fuel delivery system, then you don't have to stay at your place to get fuel. You can get your fuel delivered right at your doorstep.
You can offer scheduled fuel delivery options to your customer so that they can book their deliveries beforehand. Also, you can allow them to make online payments rather than paying by traditional payment modes.
7.   Emergency assistance
Just imagine that you are going somewhere for a vacation or picnic and suddenly your fuel gets finished. And the irony is that there is no fuel station nearby. Now, what will you do?
This can be a critical situation for your customers. However, you can provide sufficient roadside assistance to your customers by using on-demand fuel delivery services.
8.   Furnace inspections
Once your furnace becomes old, you will face more breakdowns and damages than before. If your furnace does not work properly, it will consume more fuel or energy than its requirement. This will create a burden on your monthly budget. To save your fuel and money, you need to take help of the fuel delivery services.
Oil delivery services will not only keep your furnace stacked up with fuel, but they will also inspect your furnace and fuel supply connections to check their damage. The technical staff of these delivery services would know how the furnace in good condition will look and how some critical problems. Thus, you do not have to depend on some local technicians to repair your furnaces.
Delivery service provider's technical experts can be able to solve the problems quickly, so you do not have to worry about the expensive repair in the future. Also, they will ensure better efficiency of your systems. So that you can provide efficient fuel deliveries to customers every time.
Author Bio :