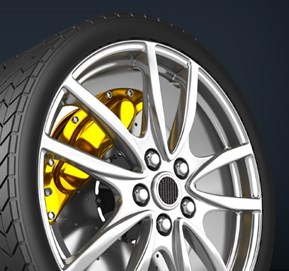 Wheels improve the overall look of a vehicle and protect the car from uneven road surface. They come in great variety of styles, sizes, and designs. Sometimes they are customized by car owners as many of them prefer alloy wheels for their cars.
No matter what types of wheels your car has, protect them from damage as even an alloy wheel repair may cost your several hundred dollars.
Let us learn how to save your wheels against damage.
Protect it
Avoid loaning your car to others. It will greatly help you to protect your assets. For added protection, you may also use rim protector which is a hard plastic rib fitted between the rim lip and barrier between the curb and the wheel. Though they won't protect your car's wheel entirely, still they help. Even if they don't, take your vehicle immediately for a wheel rim straightening after damage.
Get Tire Pressure Checked
Check your tire pressure at regular intervals. It is all the important with modern low profile wheels and tires. Keep a check, and if you have a tire losing pressure more than others, it is a sign of slow leaked. Get it fixed immediately. If the tires are at the end of their tread, they are more likely to lose the seal on the rim and get a puncture. In such case, it is advisable to get them changed.
Cleaning Damage
It may sound crazy, but the surface of your wheels is sometimes soft than you might have thought. Harsh cleaners may damage the alloy wheels and steal its shine and highly polished look. In the process of cleaning, you may have removed some dirt and tar, but your wheels lose their sparkles. Make sure that you select only quality products.
Poor Fitting Tools
It is important to make sure that you have the right brace for your wheel nuts. While fitting new wheels, car owners are often so excited that they forget about the tools. Get the fitting tools, and it will avoid a lot of ache damage knuckles, rims and lug nuts in future.
Car Wash
Yes, your car may get damaged while getting washed! Sometimes a whirly brush may strip off the clear coat on your car. If you have a nice set of alloy wheels, don't take such risks. Instead, stick to hand washing.
Follow these tips, and your vehicle will be in good conditions for years to come.
Author Bio :