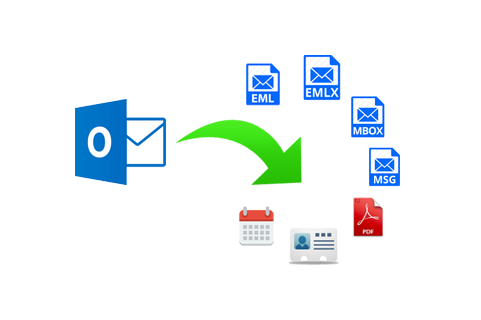 Outlook is one of the most popular and widely used email application. Its an outstanding mailing client that along with exchanging emails, also lets users to manage their contacts, notes, tasks, meetings, journals and much more. The file generated by Outlook to store entire data is in PST format, which is only accessible in Outlook. The types of PST files supported by Outlook are ANSI and Unicode.
ANSI (American Nationals Standard Institute) PST files are supported by Outlook editions 97 to 2002. That's why they are officially declared as "Outlook 97/2002 Personal Folders File". ANSI PST files have a limitation of storing 65000 items per folder and overall size of PST should never exceed 2GB.
Unicode PST files are supported by Outlook 2003 and above editions, including Outlook 2016. A Unicode PST file supports multiple character sets and possess no limitation on the number of items saved per folder. Moreover, the file size limit of Unicode PST file is 20 GB (Outlook 2003 and 2007) which is increased to 50 GB (Outlook 2007 to latest edition).
How to Convert PST File without Outlook?
PST Exporter is an expert utility that helps users to convert PST file without Outlook. It's an all-in-one conversion tool that convert Outlook PST files to PDF, MBOX, EML, EMLX, MSG, vCard and ICS formats. Its a powerful application that converts innumerable PST files of any size with complete efficiency. The tool is precise in its working as it preserves the entire email properties (meta headers, formatting, attachments, hyperlinks, images etc.), contacts details (name, address, URL, company details, email ID etc.) and calendars data (meetings, schedules etc.) in accurate form and no damage or alteration is done to data.
PST Exporter is designed in keeping users' requirements, and their foremost requirement is ease of use. This tool easily fulfils their requirement as it can be easily operated by both technical and non-technical users without any efforts. The tool is completely Windows based and can be operated on all Windows editions – 10, 8.1, 8, 7, XP and below editions.
PST Exporter – Tool to Export PST files to Multiple File Formats
PST Converter is a comprehensive tool that supports to convert PST files to :
PST to MBOX : By converting PST files to MBOX format, user get the privilege to import, access, view, read Outlook emails in Thunderbird, Mac Mail, Evolution, Opera Mail, PocoMail, The Bat!, SpiceBird, Mail Copa, Berkeley and many more email clients supporting MBOX format.
PST to PDF : With PST to PDF conversion option, users can secure their Outlook emails and make them eligible to access them at anytime and anywhere, on any system. The PDF documents are also used for legal purposes, so converting PST files to PDF make them to be utilized for such purpose.
PST to EML/EMLX : This option is suitable to import Outlook emails in Windows Live Mail, Outlook Express, Windows Mail, DreamMail, em Client and more. The software also supports conversion of PST files to EMLX, so as to import them in any of Mac OSX series supported email applications
PST to MSG : This option creates all PST emails in individual MSG files with all attachments and other meta elements saved in exact format.
PST contacts to vCard : PST Exporter provides separate option to convert Outlook contacts to universal file format, i.e. vCard. Once you have all the contacts saved in vCard, you can access them in any application, cloud, digital device and smartphones.
PST Calendars to ICS : Another option supported by PST Converter is exporting Outlook calendar items to standard ICS format, therefore allowing users to import Outlook calendars (ICS) to different emails applications and other devices.
Evaluate PST Exporter with Free Trial Edition
With PST Exporter FREE download edition, you can test the software for its working capabilities. Free Trial edition allows conversions of first 20 emails/contacts or calendar items from Outlook PST files to the supported file formats. If you are satisfied with the working of the demo edition, you can opt for the licensed edition of the software.
Author Bio :