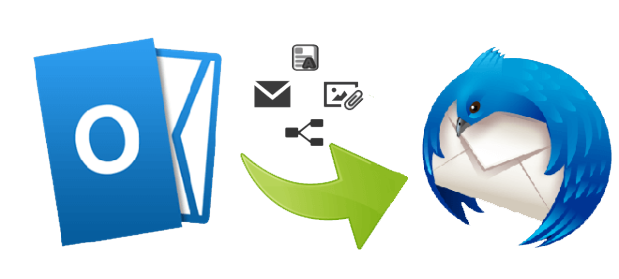 In today's digital world, emailing process has become one of the most important part of business and home users. If a user make a choice of smart email client, then it will push the growth in the right direction. It is a well-known fact that every user is familiar with the MS Outlook and Thunderbird email clients. MS Outlook is popular and most used emailing program for versatile features whereas Thunderbird has gained large number of fan following due to open source tag.
Reason for transferring email from Outlook to Thunderbird
According to expert's point of view, root cause of switching from Outlook to Thunderbird are concluded as follows:
MS Outlook is easily susceptible to damage because of the minor error attack
MBOX file format is a platform independent whereas PST is not. It is a platform dependent
MBOX based email applications are available at free of cost
Mozilla Thunderbird includes large size limit for attached items
Automatically adds the contact to the address book, whereas MS Outlook implements this synchronization through add-on.
Apart from user-friendly features, Mozilla Thunderbird and other MBOX related email applications provided high-end security for email communication. This is one of the main factor that influence the users of MS Outlook to convert PST file into MBOX format.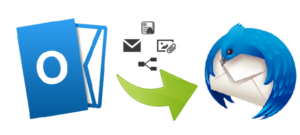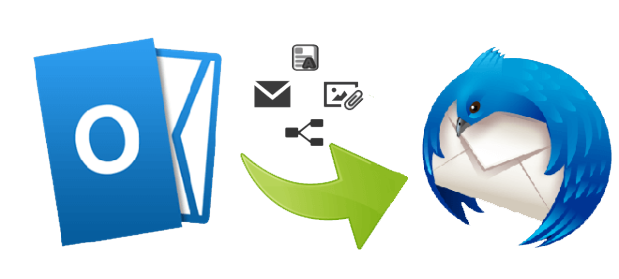 Solution to Import Outlook PST Mail to Thunderbird on New Computer
Users can do PST to MBOX conversion by applying two techniques mentioned below:
Manual Method to import Outlook Mailbox to Thunderbird
The manual method contains two phase. In first phase, users will get to know about the data migration at single Windows machine whereas second phase will show the transfer of data from one PC to another.
Phase 1: Export process on Single Machine
Step 1. Go to Start button >> Default Programs >> Set the default program. Choose MS Outlook from the list and click on Set this program as Default.
Step 2. Now, open Mozilla Thunderbird >> Go to Tools >> click on Import.
Step 3. Select the radio button, displaying next to Mail >> Click on 'Next'. Choose Outlook from the displayed list and click on Next. Click on Finish button to complete the import procedure.
Step 4. Continue the process and now click on 'Address books' or other data which a user need to import from Outlook to Thunderbird.
Step 5. Now open the window of default program again if closed earlier. At this time, select Mozilla Thunderbird from the displayed list and click on Set this program as default.
Phase 2: Export data from one PC to another
Step 1. Install Mozilla Thunderbird on the same computer where MS Outlook is running.
Step 2. Now again follow the import process to import data from MS Outlook to Thunderbird. The process includes setting the Outlook as a default program, import process and also ensure that you import all the crucial data including mails, Address Books and settings.
Step 3. Click on Start button >> Type %APPDATA% on the search box >> Select Roaming that will display in search results.
Step 4: In order to complete the whole steps, insert USB storage device on the computer, right click on Thunderbird folder in a roaming window. Click on Send to option and select USB.
Step 5: Now connect the same USB device with the system where you installed the Mozilla Thunderbird. Open USB drive >> right click on Thunderbird folder and click on Copy.
Step 6: Again go to Start >> type %APPDATA% in the search box. Click on roaming folder >> Select and Delete existing Thunderbird folder, click anywhere in roaming folder and Paste the same. And whenever the user launch Thunderbird, they will be able to view all Outlook information.
Drawback of applying manual procedure
The manual solution is easy but time consuming. The professionals can quickly make use of the methods but it would become complicated to those who are not from technical field. All such steps could lead to severe loss of data because there are few users who have shared their worst experiences while performing the procedure with manual method.
Transfer Email from Outlook to Thunderbird on New Computer with Third Party Solution
Professional applications includes strong advantage of zero-data-loss policy. Another thing, it gives 100% assurance by providing the free demo version to users. So, if the software matches the need, then the user can go with the license edition after testing the software functionality by transferring 20 email from Outlook to Thunderbird.
Conclusion:
All the methods can be implemented by users to transfer emails from Outlook to Thunderbird on New Computer. But user can apply the process according to the requirement and feasibility. If a user feels comfortable applying the manual procedure then they can go ahead and eliminate the possibilities without wasting a single minute. Otherwise, the third party software could prove be the wise decision to avail stress-free conversion.
Author Bio :