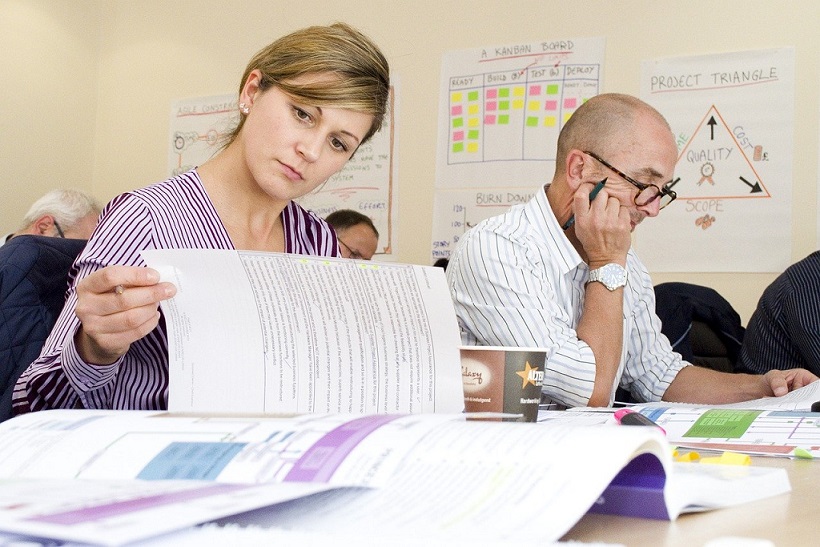 Project management, the word is self-explanatory.  It is work or a project that needs to be handled collectively to meet a common goal. And the result is completed phase-wise to achieve the set milestone.
Any project can look like a hotchpotch of various tasks that different departments of an organisation could be carrying out haphazardly, along with a little coordination.
That situation is a recipe for making a monumental mess of the whole project. A project manager simply sending out reminders to employees about their tasks and deadlines is not enough. There are established management processes to break down the projects into different, easy to execute phases that make it simpler to understand and manage the workflow.
A Guide to the Project Management Book of Knowledge, developed by a team of members of the Project Management Institute, lists five phases of project management:

Initiation,
planning,
execution,
performance/monitoring
project closure.
These phases together make up the project life cycle.
Phase 1: Project Initiation
As the name implies, this is the initiation or beginning of the project. In this phase, a broad outline of the project is formed, making a case for the business, researching its feasibility to see if it can be undertaken, and if required, can the feasibility be tested.
The stakeholders may also do their due diligence for this and if cleared, a project charter or a project initiation document (PID).
Stating the purpose and requirements of the project, the business needs, stakeholders, and the business case is prepared. It has details such as:
Project constraints
Appointment of the project manager
Budget, Expected timeline, etc.
PID templates drawn up following the PMBOK Guided guidelines that can be found online to help you get started.
Phase 2: Project Planning
Crucial for proper project management, it involves drawing up a roadmap for everyone to follow. It starts with setting goals, for which two standard methods are SMART and CLEAR.
SMART, elaborated as:
Specific
measurable
attainable,
realistic, and timely
They ensure that the goals are appropriately analysed and vetted.
Specific – The goals should be specific and be able to satisfy the questions "who, what, where, when, which, and why".
Measurable – Clear-cut standards and criteria need to be set to assess the success of a goal.
Attainable – This is to set the crucial goals for the project and determine what all is needed to achieve them.
Realistic – The targets should not be too low or too demanding and people should be willing and able to work for a particular goal.
Timely – There should be a timeframe for achieving the goal.
CLEAR goals, a newer method developed taking into account fast-paced contemporary businesses,  consists of five elements:

Collaborative – It should inspire employees to work together.
Limited – The goals should be limited and manageable for the employees to handle them.
Emotional – If the employees can feel passion or an emotional connection with the goal, it improves the quality of work.
Appreciable – This is about breaking down a goal into smaller tasks that can be achieved quickly and faster.
Refinable – There should be flexibility to allow refining the goals following new situations and circumstances that may arise.
Planning phase must also include making a thorough assessment of the cost, quality, available resources, and preparing a realistic timetable for each deliverable. It also involves establishing baselines or performance measures to monitor whether the project is on track. Another aspect Project Managers (PMs) have to take care of is lying down the roles and roles and responsibilities for everyone involved and fixing their accountability.
The PM prepares a work breakdown structure (WBS) that lays out the entire project in different sections for the team. Having a plan for risk mitigation is a vital aspect to be taken care of. The PM needs to identify potential risks and prepare a strategy to minimize them. Another essential element has a change management plan to take care of change in circumstances and avoid any hiccups and project delays.
Phase 3: Project Execution
This is when the project is put on the ground, so to say, and what was on paper is put into action. Status and performance reports are prepared, meetings held, and updates were taken on developments. It includes forming teams, assigning resources, executing project management plans, any procurement that needs to be made, setting up tracking systems, holding status meetings, updating project schedules if required and making any required modifications in plans.
Phase 4: Project Performance/Monitoring
This can and often does happen together with project execution, to measure the progress and performance of the project execution to ensure things are going according to the plan. Key performance indicators (KPIs) are used to see if the project is going as per the schedule and for more detailed information on the project procedure, there is assignment help available online for the needful.
Phase 5: Project Closure
This is the completion of the project and services of those explicitly hired for it are terminated. There may be a concluding meeting to discuss and assess-
what went well, what didn't,
whose performance was right and who didn't do well.
lessons learned, etc.
All these form inputs for future projects. The PM will have some paperwork and documentation left to do, such as doing final budgeting, preparing a final report on the project, collecting and filing all project documents, etc. Dividing up the project into distinct phases makes it easier to conceptualise and execute and provides an understandable framework to work in.
Summing-up
Following the project closure in any project, the resources of the project are mostly reassigned into another.
Team assessments are drawn up, and project managers generally hold a closing meeting patronising the staff or hold an informal closing party to congratulate the team.
Author Bio :