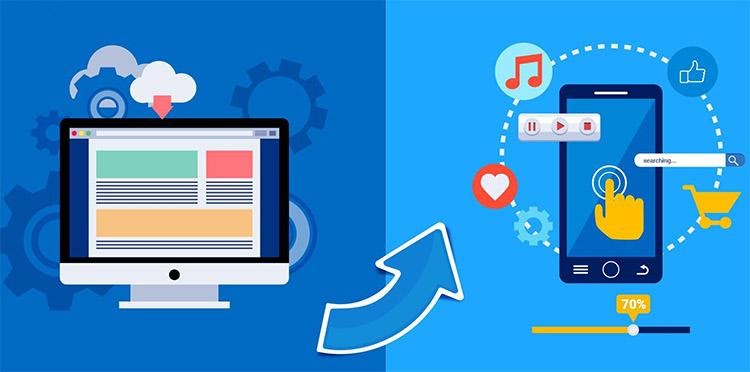 No doubt, a website is the ultimate face of a business on the internet. But, today millions of businesses are being recognized by their mobile apps. With mobile app downloads having crossed a hulking figure of 196 million till recent updates, as per online sources like statista, businesses have a lot to gain from having a mobile app today. 
What makes mobile apps so popular among users? The answer is the incredible convenience of use and on the go access to the business offerings. From online cab booking, banking, food delivery, shopping, and even consulting with healthcare providers, there are apps for anything and everything you can think of today. 
Startups and businesses that rely only on their websites for customer acquisition and retention must ponder over the idea of having apps that make their business accessible to the audiences across the globe. If you want to excel in competition, an app is all you need to move one step closer to success. 
Some important statistics about mobile app sector will help you realize the ever-increasing power of mobile apps! Check these out:
There are 4 billion plus mobile phone users worldwide and the number is growing.

The number of app downloads has already crossed 196 million mark.

This number of mobile app downloads is expected to cross 258 billion by 2022

Above 5% users spend money on in-app-purchases
Well, that's just a glimpse, there are other amazing statistics that motivate businesses to consider mobile and web application development. The idea of converting your website into a mobile app can be great for you as well as it has been for some of the well-known brands and names like Facebook, Dropbox, etc. that initially started their operations via a website and then moved on to app. 
If you also want to build a mobile app for your website and online business, you will need the help of a trusted and competent mobile app development company that can understand your business goals and expectations from the mobile app you intend to create. You may discuss your app requirements with them and they will develop mobile app that meets your needs.
But even before you hire mobile app developers for your app development project, let me help you understand the many benefits you can expect with the app. 
1. Smartphones are ubiquitous
It is projected that by the next few years, the number of smartphones will exceed 6 billion, which means about 70% of global population will have mobile phones. And, most likely, each user will have at least one app on his/her mobile. If we consider the growing revenue graph of app stores, it becomes even clearer that smartphones and apps will be the future of technology and businesses soon. There are apps for various purposes including gaming, shopping, healthcare, and more. Businesses can monetize their apps and remarkably boost their profitability.
2. Extended functionality
Another compelling reason why you must convert your website into a mobile app is the additional features and functionalities that these apps offer. The apps enable businesses to integrate several features including camera, push notifications, GPS tracking in the real-time, etc., which you cannot expect from your website. Whether you go for iPhone app development or Android development, you can add numerous great features and functionalities to your app.
Businesses can share discount deals, offers, send push-notifications, etc. to keep their targeted customers engaged. These added functionalities and features can make a big difference to the lives of your customers and multiply their income. Interaction with customers will also become easier if you have an app for your business. Hire iOS developers or Android developers for creating your mobile app or consult a mobile application development company to better understand what you stand to gain from a mobile app? 
3. Be more visible to your potential customers
You can boost your online visibility 2x or more with just an app! Amazing! Isn't it? With an app, you can expand your reach and add more customers to your business with minimum efforts, as compared to a website. Your website development company will guide you about how you can boost your app's visibility on App Store and Google Play.
If your potential customers have your app on their smartphones, selling and cross-selling becomes easier. Furthermore, the notifications, alerts, and reminders that your customers receive on their mobile phones via your app help in etching your brand and business name on their minds. 
4. Offline availability
While you need an internet connection to use mobile apps, some features and functionalities are still accessible even when your phone is on offline mode. This is something you cannot expect from a website. Can a website even open if there is no internet connection? No! Not at all! But to enjoy all the great benefits of a mobile app, you will need to hire Android app developers or iOS app developers with expertise and rich experience in the industry. 
Other than the above mentioned four reasons, one great benefit of having an app is the ease of use and access. The users don't need to open the internet browser, type in the url, or search for the website on the search engine just to access your business. All they need to do is touch or tap the app icon on their phone and get started!
Do you want your customers to shop more and remember your business? Contact a mobile or web development company to discuss your app development needs now! 
You may choose to hire dedicated developers or you may opt for the web development services offered by a mobile app development company for your project. 
Summing Up
Whether you go for Android app development or iOS app development, the benefits you will reap from your mobile app will amaze you for sure. But to enjoy all these and more benefits, you will ensure that you an IT development company that has a well-defined methodology, infallible app development strategy, and great track record.
Author Bio :