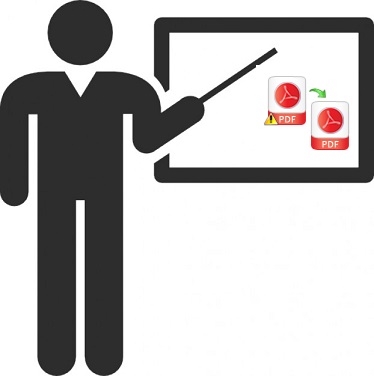 Are you looking for a method to open corrupted PDF file in Windows OS or want's to restore damaged PDF? Are you finding it very difficult to get a suitable method for the same? Then, without any doubt, this is exactly the right place you are looking for. Yes, we have come up with two best techniques to repair damaged PDF file without any data loss.
PDF provides higher-level security to all documents as compared to other file formats. Though, if the PDF documents get corrupted & you could not find any reliable method. Then, you are at the correct place now to get the answer. In this blog, we are going to discuss effective measures to let users understand how to repair a damaged Adobe PDF file on Windows Operating systems with an ease.
Instant Solution: If your PDF file is severely corrupted then use PDF Recovery Tool. This software easily repair damaged PDF files and creates the new healthy document.
Manual Methods to Recover Damaged PDF Files
Go through the following steps that will help to repair corrupted PDF. Let us proceed with the manual method:
Open & Repair Corrupted Adobe PDF File
At times, when PDF file may be corrupted, it is not possible because a PDF document itself gets corrupted or damaged. But, the main problem is in PDF Reader that might bring unexpected problems. So the Adobe Reader is to the official PDF reader.
Whenever users are unable to read or open all PDF files, they should first try to check & restore the Adobe Reader and then read & recover each portable file. Some of the instructions are mentioned below:
A) Check Adobe Reader
First of all, launch the Adobe Reader, go to Help option and click Check for Updates
Now, users can see whether the program is up-to-date or there are some other updates to install. If there are many updates, go ahead and then, install all of them.
B) Repair Adobe Reader
If Adobe Acrobat Reader indeed has dead, the users can follow steps to repair PDF Reader.
Open the Adobe Reader, navigate to Help and select an option Repair Adobe Reader Installation.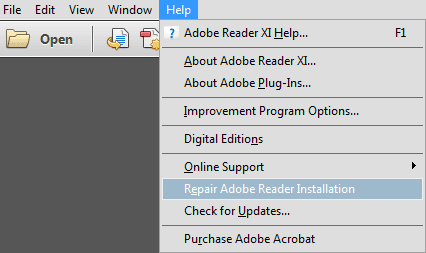 Users may also try to uninstall the Adobe Reader and then, reinstall it for repairing PDF file.
Automated Approach to Restore Damaged PDF Files
If the above-stated manual techniques are unable to repair corrupt PDF quickly then, users can take help of a reliable third-party tool i.e. PDF Recovery Software. It is designed in such a way to repair and recover damaged PDF file without any difficulty. It is capable enough to restore text as well as images from portable files without compromising the integrity of data. It has a simple and interactive interface so that even a novice user can use it without taking any external help. Some of the extraordinary features of the software are below mentioned:
Restore damaged PDF files and create a new portable document
Allows users to extract all PDF components using this software
Save recovered PDF file in new location as Healthy document
Compatibility with all PDF file formats and its different versions
Capable to resolve severe as well as major level corruption issues
Operable on all editions of Windows operating systems
Final Words
Many times users have faced the problem all of sudden a PDF file becomes corrupt. So, users should aware how to restore damaged PDF. In this blog, we have discussed the manual trick to recover damaged PDF file on Windows operating system in an efficient manner. Also, we have suggested an automated solution. Though users can use any of the workarounds as per their need and convenience.