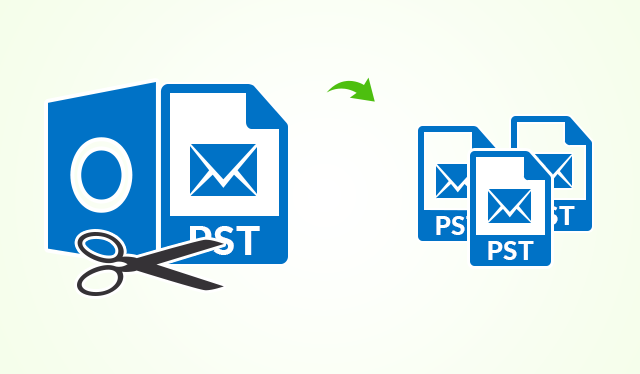 Split PST File into Smaller Parts via 4 Techniques
Sometimes, we don't realize that our Outlook PST Files are getting large day by day. In such circumstances, the files can be set into a severe damage. Moreover, it degrades MS Outlook performance. This leads to system crash and hanging most of the times. When these things happen, the users get to a state of procrastination and face the problem like corruption. The worse consequence of big sized PST file is the corruption problem. In such situation, the best possible alternative is to split PST file into smaller parts.
MS Outlook PST File stores the emails and mailbox items. The PST files are of 2 types: ANSI and UNICODE. The ANSI PST file is used for MS Outlook 2002 and the earlier editions. It has a default file size range of 2 GB and one cannot exceed the mailbox limit. In contrary to it, the UNICODE PST file is the default file format of the latest version of MS Outlook after 2002 like 2003, 7,10,13,16. The storage space of UNICODE PST file is 20 to 50 GB. If the file size limit exceeds more than 2 GB for ANSI and 20 to 50 GB for UNICODE, then the files get corrupted.
Note: For dividing the PST files, the users can go for Compact Feature in Outlook. The users can even try for scanpst.exe inbuilt program to repair the corrupt PST files.
Quick Solution: To fasten up the process you can try SysTools Split PST tool. The software can easily split up PST file without consuming much time.
Break PST into 2 Files
We all are aware of the fact that MS Outlook does not give any built-in program to break up a PST file into smaller parts. But, the users can make use of Archive, Import/Export feature of Outlook. It even provides users with Move to Folder Option for moving the mailboxes content from one file to other. But, in these facilities do not break PST files in actual. Mentioned below are the 4 methods through which the files can be divided into parts.
Technique 1: Split PST File into Smaller Parts via Archive Feature
Open MS Outlook and select the PST file whose items are needed to be exported to a New PST file.
Select File tab and then Info>> Click Cleanup Tools. It opens a drop-down depicting the other options too. From all the options, select Archive Option
It opens the Archive dialog box. Tick-mark the Archive this folder and sub folders option. After it pops out, select folder from the list
It opens an Archive items older than the option. Select a particular date range from the calendar. Click Browse and select the location and save the file by a name. By default the name is Archive.pst
Click Ok and initiate the Split PST into parts process.
It creates a new PST file by default and you can easily check this file in MS Outlook.
Technique 2: Split Outlook PST File using Import and Export Option
Download and Launch MS Outlook on your machine and create new Outlook PST data file
Select le tab. It opens create or open Outlook file Window
Navigate to the location and choose the name for new Outlook files. Select Ok
Hit on File Tab>> Click File tab>> Open and then Import. It opens Import and Export Wizard
Choose Export to a file tab from the list and then Click Next. Opt for Data File i.e., PST and then Click Next and select the folder to export files
Expand the folder and choose an item, click on Next Button. Afterwards, select Browse and mark the file to be transferred.
It opens an Outlook Data file window. Select file to be exported and then Click Ok and confirm the entire process
Click on the Finish Button to split PST file into smaller parts
Technique 3: Truncate Large PST Files through Move to Folder Facility
Open and Launch MS Outlook in the device. On the Home tab, select New Items. Click on More Items and then Outlook File
A window pops-up showing Create/Open Data File. Select new data file and then click Ok.
Open an Outlook data File and expand the file which you need to copy or move to the mailbox item.
Choose any specific mailbox
Hit on the Move Tab and Select Copy to Folder alternative. It opens Copy Items dialog Boxes.
Afterwards Click on OK button
Technique 4: An Expert Solution- Split PST
The best way out to resolve the problem is Split PST program. It can be claimed as a best possible resource to the problems of the users if their PST files size limit increases. So, let's take a look at the tangible features of Split Outlook PST program:
Split PST file into smaller parts through size, data, year filters
Truncate the newly and archived PST files using PST Splitter tool
Split all the items like emails, address books, to-do lists, calendars
No restrictions imposed on both ANSI and UNICODE PST Splitting
Requires Microsoft Outlook for dividing large sized PST Files easily
Operable on MS Outlook Editions like 2002/2003, & above versions
The Final Summation
The above write-up tells users regarding How to Split PST File into smaller parts manually. The article even provides users with 4 techniques to break PST file. So, the users can easily understand the entire process. If the users fail to perform the process manually, then they can switch to a professional tool: PST Splitter to resolve the problem completely.