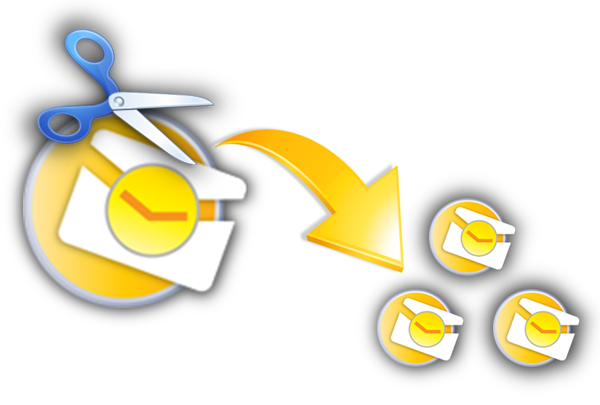 Learn How to Break Down a Large PST File Easily
As per the observation, the performance of MS Outlook is getting degraded gradually as the file size of Outlook PST tends to grow. This sometimes leads to inaccessibility of Outlook if proper measures are not taken accordingly. This issue to break down a large PST file arises due to the file size limitation which is according to the versions of Outlook. It is nearly 2GB in Outlook 97, 2000 & 2002(XP) whereas 20GB in MS Outlook 2003 & 2007 version. The latest version of Outlook 2010 & 2013 has the file size of nearly 50 GB.
There are several problems which are faced in the earlier version of Outlook due to the smaller size of PST file. In this article, we will discuss simple methods to avoid over sizing of these files. The methods can be performed easily by moving data items to another PST or to another location. To break PST file you can also refer third party utility like SysTools Split PST software, the tool can easily split big PST file into smaller chunks without any issue.
Break PST Into Smaller Files Using Several Manual Methods
There are three methods through which one can break down a large PST file manually. These methods are stated below:
Use 'Import & Export' option
Use 'Archive' option
Use 'Move to Folders' option
Move Data Items of PST Using 'Import & Export' option:
Launch Outlook application.
Select File Menu>> Account settings
In Account settings pop-up, select the Data files & then click on Add.
A 'Create or open Outlook data file' screen will appear. Choose the path of the new PST & assign a name to it. Then click on OK & close the account setting window.
Now go to File>> Open>> Import
The 'Import & Export' wizard window will appear. From there select 'Export to a file' & click Next.
Now select the PST file & click Next
Now choose the folder from where you want to export the data. Click Next.
Tap on Browse option to choose the location of the file & assign a name to the file. Click OK.
A 'create Outlook data file' window will appear. From here you can apply a password.
Use 'Archive' Option to Break Down a Large PST File:
Run MS Outlook application
Now, choose the PST file from which you need to move items. Select the file menu & click on the cleanup tools option.
A drop down will appear, you can select Archive option.
Now an 'Archive this folder & all subfolders' pop will be shown which is checked. You can check the option if it any case it is unchecked.
Select the folder which you want to move.
You can also choose the date from the 'Archive items older than' option.
Now, choose the location of the new PST file by clicking on the browse button. Then assign a name to it then click OK.
Moving the Items of PST file Using 'Move to Folders' Option:
Start MS Outlook application.
Select the file tab>> then click new>> Outlook data file.
A 'New Outlook File' window will appear from where choose the Office Outlook Personal Folder File option.
Click OK. Another pop up will be shown in this 'Create MS Personal Folder' give the name of the new PST file.
Now, you can choose the folders which you want to move to newly created PST file.
Select the Edit menu>> click on Move to Folder option
'Move Items' window will appear where you need to click New option.
A dialog box appears where you need to provide a name of the folder.
Select where to place the folder option & click on new PST file then click on OK
Now in 'move items' check the new folder in the new PST file is selected & then click OK.
Use Automated Solution to Break Down a Large PST File in Outlook
All the above-mentioned methods to break PST file has been discussed above. These solutions can be used by the users to manually transfer the data items within the PST file to another location so as to reduce the size. These above-stated methods are very useful but the users who do not have the knowledge about the technical stuff might find difficult to perform the breaking of the PST file. In such a case, a user-friendly commercial tool to break down PST file does the needful. SysTools for Split PST software is one such tool to break down a large PST file that requires no technical know-how to perform the operation. It efficiently break PST into smaller files. You can give it a try or you can also use its demo version & get to know the functionality of the tool.
Conclusion
The above write up to discuss the procedure through which one can break down a large PST file easily. Now a user is aware of various manual methods to break PST file into smaller parts. However, there are several demerits of the manual steps because of which users look for third party products. The procedure to break PST files becomes flawless and easy when users utilize a correct product for the same.
Author Bio :