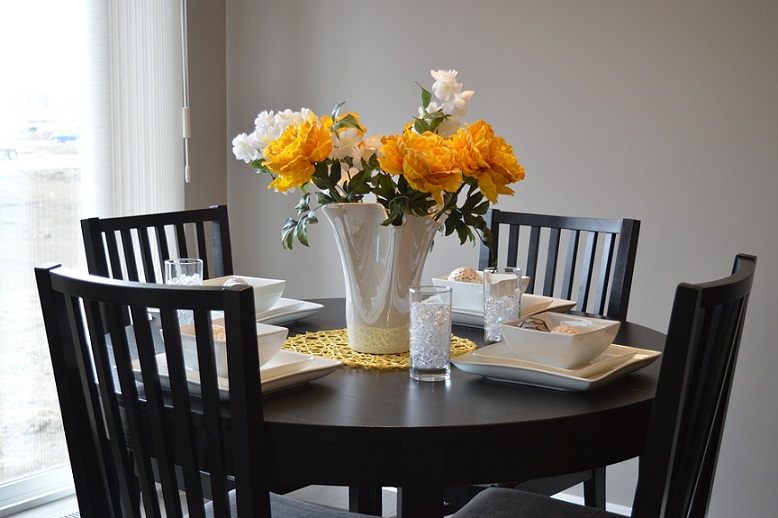 Are you currently looking for furniture for your outdated dining room? Even though it seems like a good idea to just get up and go buy new branded dining room furniture right now, there are some considerations that should be made first. The size of a dining room is an important aspect to know because it's the determining factor for what type of dining room set you can fit in the dining room. Location is another important factor to keep in mind because even if a room can fit a large table, it doesn't mean it should.
For example, if it's a room that connects between the kitchen and living room area then you probably want to keep some walking room to get around. Or if the dining room is in a larger room, isolated from the rest of the house, you may need to fill it up to keep it from looking empty. Now that we have those initial thoughts out of the way, let's get started on the different styles of dining room furniture.
• Contemporary Designs
What better way to turn heads in your dining room than by having current dining room furniture. Contemporary dining room furniture is designed to both streamline space in a house and look good at the same time. Most of the designs implement different shapes that can be used to your advantage. Contemporary designs also forego the standard wood furniture for lighter materials that can be much easier to rearrange. Also, if your home is a newer house then it was probably built with contemporary furniture in mind.
• Classic Designs
The classic furniture designs can be great if you really enjoy the classic look. Classic dining room furniture is often made of solid wood and is available in several different designs. Also, if you're able to find a popular furniture outlet, in most cases classic designs are the easiest and cheapest to purchase. The only real downside to classic dining room furniture is that it can often be heavy (thus harder to rearrange) and can be considered dated by more modern standards.
• House Structure
Another thing to keep in mind when getting new dining room furniture is the structure of your house itself. Ranch style homes allot more space in their one-story design and often have sliding doors either in the front or back entrance which can make moving furniture in and out a breeze. Victorian structured architecture, on the other hand, is very big and often of an asymmetrical setup which can make for a difficult furniture picking process. The good thing about the Victorian design is that everything that you put in their will look more elegant; the stone walls will remind your dinner guests of a castle.
To conclude, these are some ideas that you can use to help pick out the best furniture for your dining room; but the decision ultimately falls on you. We all have different tastes and our own individual style can really shine when setting up a dining room. Just keep in mind the factors and options listed above while also trying some things out for yourself. Happy furniture hunting and I'm sure your dining room is going to look great!
Author Bio :