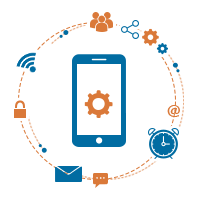 In Today's arena, employees are getting smarter when handling their own business. They bring all mobile gadgets with the corporate email messages on these devices. With this strategy, they steal the confidential data or applications without any complications. It is necessary to be aware of the fact that users data is unprotected from an introducer. In this blog, we are going to discuss all advantages of using Mobile Device Management solutions. Before that, let us explore brief information about MDM technology and its advantages as well.
Quick Glance on MDM Technology
MDM is the software that monitors, protects, manages, and supports every mobile gadget, which will be deployed across mobile operators, service providers, and enterprise. Such mobile devices are smartphones, laptops, tablets, and desktop computers. It is the work of admin in an organization where they have to tackle the most important data. The main purpose of mobile device management is to optimize the functionality and security of all the mobile gadgets within an organization. Besides this, MDM also provides the exciting feature to protect corporate networks from any trouble.
Use of Mobile Device Management
Mobile device management (MDM) works in such a way that is:
Protect sensitive or confidential information
Organize all mobile devices and troubleshoot self-service issues
Take care of corporate emails in all kind of connections
With growing technology, the demand for mobile device management products or services is also increasing day-by-day. Users just need to select a way, which offers high security to all mobile devices and deals with all programs as well.
Implementation of MDM Technology
The Mobile Device management approach that involves:
Server Component: Send the entire management instructions to all mobile gadgets
Client Component: It can work with the organized devices and also execute the management commands.
The MDM solution guarantees that everyone will be benefited with the plug-and-play services on which all devices they are working with. This type of security environment will encounter components over the network automatically. The automated procedure that holds all record of used devices. Moreover, the users will capable to track the current location of mobile gadgets for enhancing the security purpose.
Benefits of Mobile Device Management Solutions
There are so many advantages of using MDM solutions, which are mentioned below:
Restricts As Per Standard Rules: MDM technology equips benefits with initiatives of security compliance that can easily be supervised and tracked through a centralized console. It can work on the particular set of rules, which are explained by business users.
Supports 'BYOD' Demand Easily: Many professional users feel shy when working with several devices, which are offered by an organization. Nevertheless, Mobile Device management technology equips the facility of BYOD where employees can bring their own mobile devices and thus, use it for professional purpose. Do not worry the entire data will be secured by MDM technology on employee's gadgets.
Manage User with All Devices: To manage users with their devices is a major benefit for mobile device management (MDM). By remotely supervised and managing mobile devices, the users need to be able to guarantee the best security for them.
Control All Latest Updates: Several applications installed on the mobile devices will get automatically updated when their current edition occurs. Not only for this but, users will be capable to work with the latest application still having enhanced security in it.
Security Policy Enforcement: One of the main advantages of using MDM strategy is that it can apply same security measures as well as protocols, which are available in organization's premises and will be extended to protect some mobile devices across the network.
Data Backup and Restore Files: When mobile devices may come with Mobile Device Management (MDM) technology, all the data connected with the corporate programs that will be automatically backed up. This only works for business continuity solutions of relieving mobile devices from individual failure point for any data loss.
Conclusion
Managing and controlling the mobile environment includes different challenges within it. It is a fast and flexible platform where things can be changed constantly either by updating the existing things or by bringing a new technology into the online market. Mobile device management (MDM) technology is an invention of smart minds, enabling end users to perform official activities by the mobile phone in a safe and secure manner. There are different services and products, which provides this type of technology to all users.
Author Bio :