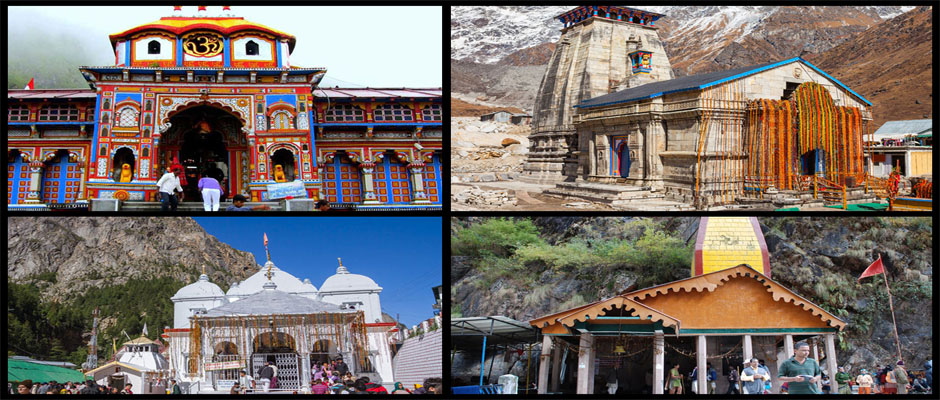 Chardham is one of the most spiritual yatras that consists of four religious pilgrims i.e., Badrinath, Kedarnath, Yamunotri, and Gangotri. Every year thousands of pilgrims visit Chardham yatra and pay homage to the deities of all the four temples of Char Dham.
It is believed that Chardham yatra washes away all your sins that you have done in your life and gives you Moksha or salvation from the cycle of birth and rebirth. Every human must visit this yatra in their lifetime. You will find peace in the serene nature of Chardham surrounded by Snow-clad mountains and lush green trees.
Today, Chardham yatra becomes comfortable with facilities like Chardham yatra by helicopter or rental car/ taxi. So don't have to go through the hectic journey of Chardham and can make a convenient and hassle-free Journey.
Haridwar railway station:-
Haridwar railway station is among the busiest railway station of Uttrakhand and also one of the well-developed stations. Lots of devotees from all around the world visit Chardham yatra from the Haridwar.
The railway station of Haridwar is well connected to the major destination of India. Haridwar railway station has 11 tracks and 9 platforms. People choose the Haridwar railway station to travel Chardham because of its prime location it becomes convenient to go to Chardham yatra from Haridwar.
Available Trains to Haridwar for Chardham Yatra:-
Trains From West Bengal To Haridwar
Trains From Uttar Pradesh To Haridwar
Trains From Rajasthan To Haridwar
Trains From Madurai, Tamil Nadu To Haridwar
Trains From Jammu To Haridwar
Train From Kathgodam & Ramnagar To Haridwar
Trains From Kerala To Haridwar
Trains From Maharashtra To Haridwar
Trains From Gujarat To Haridwar
Trains From Madhya Pradesh To Haridwar
Trains From Himachal To Haridwar
Trains From Bihar To Haridwar
Train From Delhi To Haridwar
Trains From Amritsar, Punjab To Haridwar
How to reach Chardham from Haridwar:-
UKSRTC Bus stand is located in front of the Haridwar railway station. There is no railway station in any of Dham, so You have to travel by bus or taxi. You can hire GMOU buses to reach Kedarnath, Badrinath, Yamunotri, or Gangotri, or You can also hire a rental car or taxi.
To book a car and taxi, you have to talk to some of the travel agents who provide services of Chardham Yatra by Car or taxi. Many travel agents in Haridwar provide reliable Chardham car rental services.
Suggested Day-Wise Itinerary of Chardham Yatra of 13 Days and 12 Nights:-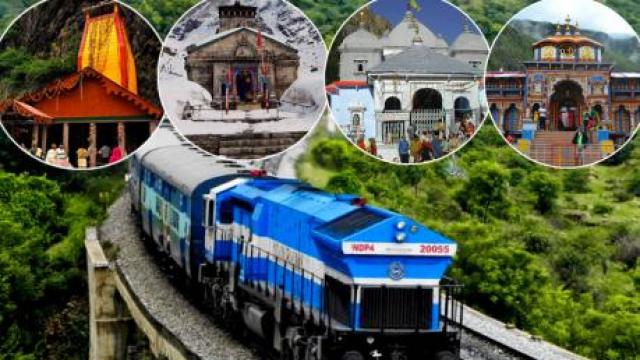 Day 1:- Departure from the city you live to Haridwar:-
Departure from the city you lived for the Haridwar railway station.
Day 2:- Arrival at Haridwar and Sightseeing at Haridwar
Reach Haridwar for a whole day stay. After reaching and relaxing at the hotel, you can do sightseeing activities in the Haridwar like- Mata mandir, Chanda Devi Temple, Ganga aarti at Har ki Pauri.
Day 3:- Haridwar to Syanchatti
You will head from Haridwar to Syanchatti and do an overnight stay in Dharmshala.
Day 4:- Syanchatti – Yamunotri Dham – Syanchatti
Early morning drive from Syanchatti to Jankichatti. Now travel a 6 km trek of Yamnotri from Jankichatti. And after pooja reaches syanchatti for an overnight stay in Dharmshala.
Day 5:- Syanchatti to Uttarkashi
Departure from Syanchatti and arrival to Uttarkashi for an overnight stay.
Day 6:- Uttarkashi – Gangotri Dham – Uttarkashi
Departure from Uttarkashi to Gangotri. Do pooja Archana at Gangotri temple and arrive back to Uttarkashi for overnight stay.
Day 7:- Uttarkashi to Guptkashi
Leave from Uttarkashi to Guptkashi for an overnight stay so that early morning you can head towards Kedarnath.
Day 8:- Guptkashi – Gaurikund – Kedarnath – Gaurikund
Now, in the early morning, we will leave for Gauri Kund from there. You will trek 14 km from Gauri Kund to Kedarnath. You can also hire pithu or ponnie wala. After darshan from Kedarnath, you will return to Gauri Kund for an overnight stay.
Day 9:- Gaurikund to Guptkashi
Now, you will leave from Gauri Kund to guptkashi for a night stay.
Day 10:- Guptkashi to Badrinath
In the early morning, you will leave from guptkashi to the land of Narayan, Badrinath. Do pooja and darshan there and visit some places and stay there for a night stay.
Day 11:- Badrinath to Rudraprayag
From Badrinath, you will go to Rudraprayag after a morning aarti. Do night stay at Rudraprayag.
Day 12:- Rudraprayag to Haridwar
In the early morning, heads towards the Haridwar from Rudraprayag. Stay at Haridwar in the night and leave in the early morning for the city where you lived.
Day 13:- Haridwar to the city you lived
Now, leave for the city you live at your train timings. With this, your Journey ends here with some fantastic memory.
This is some suggested Day-wise itinerary of Chardham Yatra that you can follow on Your trip and can plan your trip accordingly.
Places to Visit in Haridwar:-
Mansa Devi is the deity of Mansa Devi temple is situated on the top of bilwa part on Shivalik hills and offers a magnificent view of nearby surroundings from high above. This temple is a part of panch tirth means five pilgrimages in Haridwar and also popularly known as bilwa tirth. Mansa Devi udan khatola service is also available at Mansa Devi temple, which is known as ropeway service.
Har ki Pauri is one of the busiest and auspicious ghats situated in Haridwar. This Ghat is remain occupied by thousands of devotees or pilgrims. This Ghat is built by King Vikramaditya for his brother Bharthari's remembrance. Most of the fairs are also organized here like Ardh Kumbh Mela, Kumbha Mela, and Vaisakhi. Famous Ganga Aarti is also performed on this Ghat daily at 6:00 pm.
Chanda Devi temple is located at an altitude of 2,900 meters at the top of Neel parvat in Haridwar. This deity of Chanda Devi is put here. Many devotees visit Chanda Devi temple every year. The opening time of the temple is 6:00 am and closes at 8:00 pm.
Bara Bazaar is the perfect destination for Shopaholics. There are a variety of things that are available in bara bazaar-like- religious equipment, jewelry, wooden items, handicrafts, etc. Don't forget to taste the famous "peda," which is a famous sweet made from milk.
Hanti Kunj is an ashram in Haridwar, which is built by Pandit Shriram Sharma Acharya. This place is full of Spirituality and surrounded by the Shivalik range of Himalayas. It is also a headquarter of the All World Gayatri Pariwar (AWGP).
So, above are information regarding trains from Haridwar to Chardham yatra and Itinerary of Chardham Yatra that will be very useful for you while planning a trip to Chardham.
Author Bio :