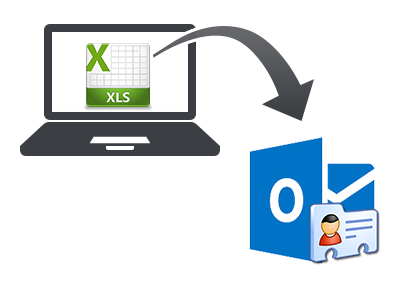 A Contact list helps to find all the details related to the specific user in Outlook user. It also helps to save professional details such as Business Address, Fax number, Phone number. Outlook offers an option to create a Contact group or distribution list, that helps user to send a message to all members of the group within one click. It also offers an option to import Excel (.xls) contacts into Outlook. But to create a contact group, a user need to add each member details in the contacts group. If you are working on Organisation then it becomes a tedious task, if the number of Outlook contacts is large in number. To save precious time, user first needs to save all the details in Excel file format and then import XLS contacts into Outlook.
Simple and easy solution but when a user tries to perform the activity to import XLS Contacts to Outlook, unknown error prompt occurs. Some time some row of user information not saved properly and sometimes some field of user get blank. Even sometimes a Mapping Translation Error [MTR] error occur when a user tries to use CSV file.
As excel file different from Outlook format. It uses a grid of cell to save information in it. This is the main reason of getting an error while importing contacts into Outlook application. Some of the error is given below:
Verify & Check Excel data properly.
Save the file in XLS format.
Remove the damage or wrong field of export & save again to re-import XLS file
In MTR (Mapping Translation Error)
Network error also arises when account not configured properly
First 3 issues are related to the verification of the Excel & CSV file and to fix MTR issue, open the CSV file again in Microsoft Excel and save again properly Comma Separated Value format. The Last error occurs when the IMAP & POP setting of the configured account not set properly.
To import XLS contacts into Outlook platform, we divide the solution into two parts. In the first part, a user needs to add the all details in .xls format file created in Excel Application then convert the XLS file format into CSV Format as New versions of Outlook, no direct method to import XLS contacts into Outlook 2010/2013/2016 paltform.
In the Second step, the user needs to import excel file into Outlook. As Outlook application has different versions, So here we focus on Outlook Outlook 2016/2013/2010 versions
Import XLS contacts into Outlook 2016
1) Launch Outlook 2016 Version >> Click on Open & Export option
2) Now Select Import/Export (Import or Export files settings) option.
3) In this section, choose Import from another Program or file. Click Next.
4) Select Comma Separated Values field
5) Now Navigate to Browse location of CSV File in the configured system.
6) Note: To avoid any kind of duplicity issue >>Select Do not import duplicate items to avoid duplicates. Click Next.
7) Choose Destination Folder Destination Folder(Contacts), To save the imported Excel file to Outlook 2016 platform. Click Next.
8) Now In next "Import a File" dialogue box
9) In Map Custom Field >> Match Excel Attributes with Outlook attributes.
10) At last click Finish button.
11) View the imported Excel contacts into Outlook 2016 contacts list.
Import XLS File into Outlook 2010 Edition
In Outlook 2010 editions, the path to find different section is changed otherwise steps are similar to above Outlook 2016 edition.
1) Launch Outlook 2010 Application
2) Click on File Tab of Top left Corner >> Select Open Menu.
3) Select Import Tab >> In Import Export Wizard section.
4) Now all steps are similar from above steps 3 of Outlook 2016 instruction.
Conclusion
To import XLS file into Outlook 2010 format helps to save time and effort of saving each detail into the contact group. In this technique 2 file format, XLS, and CSV format are used as both file format look similar on the display but the properties of files are very different. Since in Old versions of Outlook such as 2007, option to select excel file directly available but in Outlook 2010/2013/2016 platform, a user needs to convert the excel file format in CSV format to import excel file to Outlook.