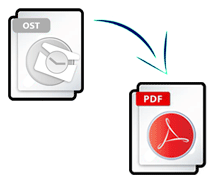 Are you finding the reliable method to export OST emails to PDF file format? If yes, then you are on the right page to find your answer. Here, in this article, we will discuss various method to convert Outlook OST files to PDF file format. Moreover, different reasons for the conversion are also described. But, before that let us understand more about OST files. Basically, these files are used to store Outlook data in an offline mode. Outlook OST is bound to the profile for which it is created. When an OST file is created two encryption keys are created, one that resides on the server and the other that present with the OST file. On synchronization with the server, if the keys were matched then synchronization is done successfully with the server. Moreover, if it fails, then OST becomes inaccessible. Therefore, in order to make these files accessible, there is need to convert OST to PDF file format. As this file format is most secure and portable. Moreover, there are other numerous reasons for migrating OST emails to PDF that we will discuss in next section.
Reasons to Export OST Emails to PDF
There are various root causes for converting OST emails to PDF documents. Some of them are described below-
The user can add the feature of password protection, digital signature, etc. So that file can be secured and safe.
PDF files are platform independent means they can be easily open on Windows, Mac, Linux, etc.
After converting OST to PDF file format, users can take print out of these files. Nevertheless, these documents may not be altered.
Any changes in PDF pages will leave electronic footprints in the documents.
Large size OST files can be compressed after converting them into PDF file format.
Manual Solution to Convert OST to PDF
Firstly, open the Outlook's email account
After that user have to open particular email that is to convert into PDF file format
Now, the File label
Then, users have to click Save As
Then, select the location where users want to save the file
After this, click on the Drop-Down menu for "Save as Type"
Then, select HTML format
Then Save
Now, go to the location where user save the file
Firstly choose the file and then right click on HTML file
Now, open the file with Microsoft Word
After that, in the Word Document, Go to the File label
Then, Save As
Select PDF
Drawbacks of Manual Solution to Export OST to PDF
We have seen the manual strategy to migrate OST emails to Adobe PDF file format. With this method, the user can upload OST files to PDF. But, there are various limitations some of them are –
This process would be complex for those users who are not technically sound
Lengthy and Time-consuming method
User is unable to import multiple OST files to PDF file format
Chance of Data Loss
Troubleshoot Method to Export OST Emails to PDF
For bulk conversion of OST files to PDF along with attachments. It is recommended to use third party tool i.e. OST to PDF Converter. This software allows users to open an .ost file without interruption. This tool provides an option to print the files in bulk. Moreover, it also provides various matchless features some of them are –
It provides date based email filter option to the users
Tool easily export OST emails to Adobe PDF along with attachments
Maintains technical properties such as To, Cc, Bcc, Subject, etc.
There is no file size limitation
Time to Sum Up
As we know PDF is the most secure and safe file format. Therefore, users want to convert OST to PDF file format. Here, in this article, we have seen other reasons due to which users demand to upload OST files to Adobe PDF. However, we have discussed both manual as well as the trouble free method for conversion. But, manual approach is not easy as it seems to be, it has various limitations. Therefore, it is recommended to opt for third party tool that performs migration of OST emails to PDF in batch.