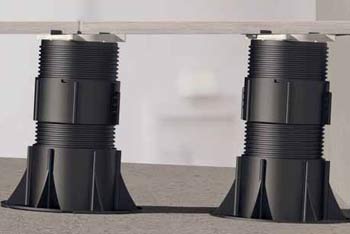 Pedestal paver system is a great way to easily build elevated decks using wood tiles, pavers, or steel grating over uneven or sloping substrates. By using it, you can create suitable space on wood decks, roof decks, foundations, promenades, mechanical walkways and other areas without investing a huge amount of money and time for constructing supporting structures of bearers or sleepers.
Pedestal system is used to raise levels and uniformly spaces paver stones. It protects the substrates in waterproofed installations like terraces, arenas, patios, balconies, podiums, plazas, and roof gardens. It is also perfect for building energy efficient roofs.
Adjustable Deck Supports
When it comes to buying Pedestal paver system, always go for one that comes with adjustable feature. An adjustable deck support can provide you with a cost-effective and most efficient method for building raised decks or rooftops, roof terraces or other sloping surfaces. It can save your considerable amount and time when compared with constructing decks using traditional deck foundation structures of bearers are sleepers.
The deck foundation structures of bearers and sleepers are required to building decks on rooftops in a high-rise building. However, even if you use the traditional wood plans deck, you will need to use apedestal paver system to attach the bearers to your deck to the pedestal array. This is a unique solution at places where constructing any permanent structures on a rooftop is not allowed.
To be honest, adjustable pedestals may typically have a minimum height of around 1 ½". But since it is adjustable, you can extend it to 36" inches or more in elevation. The standard height and extended height is subject to the making of the system.
Most Common Application
One of the most common applications where you can use pedestal support systems is supporting roof deck. You will require using the system where the pavers are supported only on each of the four corners in the construction of elevated decks on rooftops using slab pavers (either concrete or porcelain). It is important to know that you may require additional deck pedestals due to the size and weight of the paver and the weight loading and intended application.
Wrapping Up
To wrap this blog, pedestal paver system is the best solution to construct elevated decks using wood tiles, pavers, or steel. And, the adjustable system is even better to meet your requirements. If you want to buy get the paver system, search them online. Many companies provide the system via the internet.
Author Bio :