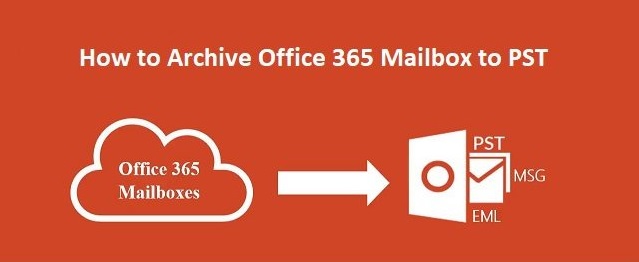 There are many Office 365 users who face a common problem which is "how to archive emails in Office 365 to PST format". We have seen multiple Office 365 asking this query over various forum sites. This problem is commonly faced by almost every office 365 users at some point time. Mainly, when they try to migrate their data to Outlook or changing their Office 365 account.
Some Office 365 users got confused between Archiving Office 365 emails to PST and Office 365 archive mailbox to PST.
What is Archive? And Archive Mailbox in Office 365?
Archive means moving data to a repository as a backup to keep them separate for compliance reasons.
Archiving emails in Office 365 to PST, means, backing up Office 365 mailboxes to Outlook PST file format.
Whereas, archive mailbox is a specialized mailbox in Office 365 account which is available for all users (by default). This mailbox is alongside with primary mailbox(Inbox), which is used to store the emails that you wish to separate from one another. When a user wished to separate certain mails and documents with other Inbox emails then they can use the archive option.
For more details read the query from Microsoft Forum
Eva on Gallery Technet Asks – "Hi, How can I archive emails in Office 365 to PST? I need an easy and quick method to solve this problem. So that I can access it on my computer. Soon, I will quit my current job and switch to a different organization. In my current organization, I have an Office 365 account and all my emails and data are stored in the Office 365 cloud. Now, I wish to archive emails of my Office 365 account into PST file format, so that I can easily carry them with me. Hopefully, someone will suggest a quick method to export Office 365 data. Thanks In Advance."
Top 4 Reasons To Archive Emails In Office 365 to PST
Following are the topmost reasons we have collected from various forums for archiving Office 365 emails:
1. Share Office 365 emails with others
2. Migrate from Office 365 tenant to another tenant
3. Having a backup copy of Office 365 emails
4. Accessing Office 365 emails in a desktop-based email client like Outlook
Top Two Methods to Archive Office 365 Mailbox to PST
There are currently only two methods using which users can archive emails of Office 365 into PST file format. First, by using the eDiscovery Export tool and another is by using Office 365 Export tool. Both the solution works completely but there is a difference of functionality in both. The Office 365 exporter is simpler and user-friendly whereas the eDiscovery Export tool is a hard and complex procedure. So if you like to know about the eDiscovery tool, you can visit the Microsoft website for more details.
Professional Solution to Archive Emails in Office 365
The best and simplest solution for archiving Office 365 mailboxes is by using Office 365 Exporter. This software is highly recommended by the Microsoft MVPs for all Office 365 users for performing a backup. This tool can also archive emails in Other file formats such as EML, MSG. Using this software user can also take Office 365 archive mailbox backup also. Following are the top feature of the tool:
1. Archive emails in Office 365 to PST, EML, MSG formats
2. Login option via Admin or User Account
3. Archive Office 365 mails, contacts, calendars, tasks, etc.
4. Creates multiple PST files of an Office 365 Mailbox
5. Category & Filter option to archive only selective data
6. Archive PST to the desired destination location
7. Option to export Office Archive mailbox also
8. Generates complete Report after archiving is completely
5 Simple Steps to Archive Office 365 Emails
1. Download and Launch the Software
2. Enter Admin or User Admin credentials for Sign in
3. Choose the Email Format as "PST" and Apply Split PST Filter (if required)
4. Select the Category of Mailbox and Apply Date Filter for Each
5. Choose the Destination location for the PST file and Click Start button to begin the archiving
Note: By using the professional solution, the user will be able to archive emails in Office 365 to multiple formats. This method is far easy and faster than the eDiscovery Export tool of Microsoft.
Conclusion
In this blog, we have tried to cover the most commonly asked query of Microsoft Office 365 users "how to archive emails in Office 365 to PST". We have explained a professional solution that is recommended by the Microsoft MVPs and tool provided by Microsoft; which is hard to implement. You can try both methods and choose the best one for you. Both solutions are 100% working. You can also try the free demo version of Office 365 Exporter to 100 emails and 25 other items to PST and other formats.
Author Bio :