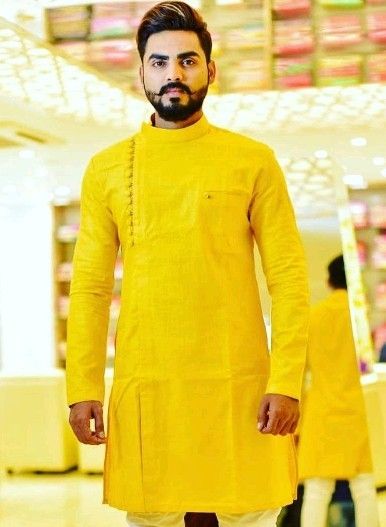 Indian wedding and its rituals have their owned beauty and importance, which attracts non-indians as well. Indian weddings and ceremonies have a kind of belief. Today we discuss Haldi ceremonies which are pre-wedding ceremonies in India. Where Haldi paste applied to both Bride and grooms. Indian grooms and bride prefer Yellow and White colour for this ceremony. Let's see how the groom styled himself for the Haldi ceremony.
Plain Kurta salwar
Quite contemporary in their looks, Salwar is more like loose and comfy. They have a flare till the toe which makes it comfortable and easy to carry. This salwar was initially worn by Afghan people. Kurtas are available in several designs. One must choose the kurta pattern taking into consideration the function. Haldi rasam requires you to dress up traditionally.
Rescue with Short Kurta
if you are going to attend friends Haldi ceremony and you are in a dilemma of what to wear? Simple go for short kurta with jeans or Pajama, and pair up with Nehru Jackets. Style your bottom in contrasting colours and embroidery, if you wear jeans try to wear funky, it proffers you low key appearance than the groom but not less attractive that you don't even look like. 
Also, you can try kurta with a cowl neckline, it gives you completely unique and stylish look.
Pathani Kurta
Pathani kurtas have long sleeves and collar, kurta is usually made up of cotton. Pathani kurtas have rounded edges and are worn with salwar. Opt for festivals and wedding events, pathani kurtas are best chosen in white toned colours. These kurtas are comfortable to carry and are also easy to style. Make sure you complete this look by opting for proper footwear.
Dhoti with Kurta
Kurtas with dhoti are traditional looking and ideal for the Haldi event. A kurta with a dhoti is ethnic by all means. This outfit is best for wedding functions, cultural events, etc. You can get dhoti pants in various colours and tones. Select the colour of the dhoti pant carefully taking into consideration the pattern and colour of the kurta. White Dhoti Kurta is the perfect outfit for this ceremony is you are a groom.
Yellow Nehru Jacket
Kurta pyjama can also be worn with yellow Nehru Jacket for Haldi. If your Indian kurta is in other colour and any heavy prints and embellishments, you can add an ethnic yellow nehru jacket to the look. The kurta pyjama with nehru jacket look is suitable for all occasions. Make sure the pattern and the colour of your jacket complement the kurta pyjama design.
Fabric selection – Silk shine
Every fabric has its own unique texture and that influences the fit of the outfit too. It is necessary to select the fabric carefully if you are looking out for a particular kind of ceremony. Indian kurta pyjamas are available in all fabrics. For weddings and festivals, you can opt for fabric like silk, because it shines and it never shows you dull.
Indian Staple outfit –  Kurta with churidar pyjamas
It is a well-liked and favourite staple outfit of Indian men for the haldi ceremony. A simple kurta pyjama in yellow or white colour is according to you a simple yet elegant look if your bit experimenting and voguish try something out of the box like plain kurta with printed pyjama. Yes, it is a bit unique but surely it goes well on you also pop you in your ceremonies. 
Fashion doesn't have any rule book to follow and in this fashion and the innovative world always gives.
Color pop in Haldi ceremony
Haldi's ceremony is about a yellow colour but if you want to play with colour as a modern groom, opt for the colour like orange, pink, green rather select yellow and white.
Yellow shirt kurta
Yellow Shirt kurta is casual and extremely comfortable for the Haldi ceremony. These Shirt kurtas can be worn for events like Haldi, sangeet ceremonies, festivals, etc. A short kurta for men can be teamed up with denim and trouser gives a super cool look. This combo is likable by men a lot.
Yellow Plain Shirt for Haldi Ceremony
It is a very casual and chic suggestion for the Haldi ceremony. If you are not much experimentation and not much ethnic lover, go for a plain shirt and jeans.
Accessories for Haldi Ceremony Men
Accessories are an important element for men. It's essential to go for the perfect one as it can make or break your look in function. If you want to look cool, wear leather strap Watch as it goes well with ethnic wear. If you plan to adorn waistcoat then go for a pocket square, perfect accessories. Remember to wear Juttis for a perfect traditional look.
Attires for any ceremonies need to be of a proper fit. Apart from choosing the right pattern – design one also needs to focus on the fit.
Author Bio :