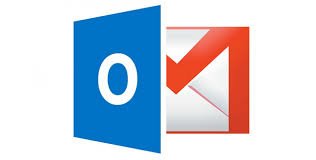 Learn here how to import OLM files to Gmail account to perform Mac Outlook to Gmail Migration. Here one can get an easy solution to export OLM emails, contacts, calendars and other items to Gmail. Outlook is a very widely email client used on both Windows as well Mac machine. While Gmail is another web-based email, contacts, calendar or task manager by Google. Hence a trend of the switch from Desktop based Mac Outlook to Gmail is at its peak, therefore, get here all the possible solutions to perform such complex and tricky migration in simpler steps.
Queries about OLM to Gmail Migration!!!
"I need to upload my all Outlook Mac emails and calendars to Gmail account as I want to get access to them from anywhere using cloud based Gmail or Google Suite profile. Kindly share with me the easiest method to accomplish this task."
It can be easily understood from the above query that how it is so useful to find a solution that can upload OLM emails, contacts as well as calendars on Gmail account.
Solve OLM to Gmail Migration Manually!!!
You can import OLM files on Gmail just by creating an IMAP folder in the Gmail account. To do so, follow the given steps:
To set up IMAP on Gmail or Google Mail account, first log in to your Gmail account.
Browse to the Settings option from the dashboard.
Choose the Forwarding and Pop/IMAP tab.
Enable the IMAP Access as shown below and at last click on Save changes button.

Create a new label in Gmail to move all OLM data.
Configure Gmail Account with Mac Outlook
Select the Accounts option from the File menu of Outlook for Mac.
Choose the Emails option.
Enter your Gmail account UserName and Password to configure with Outlook.
At last click on Add Account button. Now your Gmail account is successfully configured in Outlook for Mac.
Transfer Data from OLM to Gmail Account
Open the Outlook on Mac machine and select the folder of which items you want to export into Gmail account.
Right-click on the folder and then browse to Move>>Copy to folder button.
A new dialog box will appear on screen, choose the Gmail label name from the list and then click on Copy button.
At last click on the Send/Receive button to transfer all OLM emails to Gmail account.
With the help of the above procedure, one can only export emails of OLM files to Gmail, but if you are trying to import OLM Contacts or calendar details then this method proves to be failed. Therefore, you can use RecoveryTools OLM Migrator that makes allow you to upload all data of OLM to Gmail account including emails, contacts and calendars entries. The tool provides separate option to export OLM Contacts as vCard format & OLM Calendar to ICS format. A user can import vCard or ICS file into Gmail easily.
Convert OLM Contacts to vCard file!
To convert OLM Contacts to vCard format, follow the given steps:
Download, Install & Run OLM Migrator and read all the instructions on the Home Screen.
Click on Add Files or Add Folders option to load the OLM file and then click on Next button.
Check/Uncheck all OLM items that you want to export and click on Next button.
 Click on Contacts radio button, you will see vCard option selected by default.
Choose the location to save the resultant vCard file, and then click on Convert button.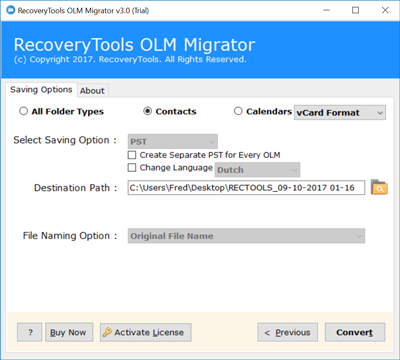 You will receive all Outlook Mac Contacts in the vCard file.
Import vCard to Gmail account!!!
You can export OLM Contacts into Gmail account by import resultant vCard file into Gmail:
In the leftmost part of Gmail, choose Contacts option from the drop-down list.
Click on More button from the options, and then Select the import button.
Select CSV or vCard file from the list & click on Next button.
Browse for the resultant vCard file location by clicking on Choose Files option.
At last click on Import button, all OLM Contacts can be easily accessed & manage through the Gmail.
Conclusion
Outlook is a very popular personal information manager that organizes your emails, calendars, contacts, tasks, events, reminders etc. very easily. Outlook is available for both Windows as well Mac machine. Outlook Mac exports all his mailbox items like emails, contacts, calendars, notes etc. into an OLM file. In a business environment, sometimes a user required to access all his OLM emails or contacts on Gmail account so that they can be easily managed, organized through a remote location. In the above excerpt, the user will get to know how to export all OLM data to Gmail account. The user can also get to know about the easiest method to import OLM Contacts to Gmail. Hope this article might helpful for you.
Author Bio :