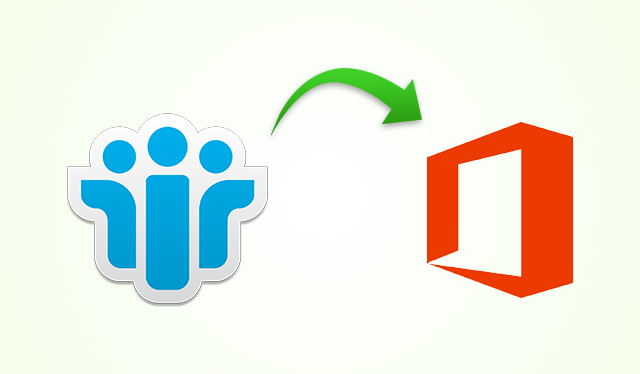 IMAP Migration from Lotus Notes to Office 365 – Detailed Explanation
Lotus Notes is a famous email client that integrates social collaboration, instant emailing, and business applications. NSF files are the standard data files used by IBM Lotus Notes. However, this email client is quite difficult to operate. Hence, it is not appropriate for non-technical users. Also, it is expensive and its maintenance cost is so high. Thus, many IBM Notes users are eager to IMAP Migration from Lotus Notes to Office 365. It is so because O365 offers more benefits with cost efficiencies and other assets like zero-maintenance and universal accessibility.
In this editorial, we will discover that what makes users inclined more towards Office 365 and how to migrate NSF to Office 365 without data loss. A third-party tool i.e. Lotus Domino to Office 365 Migration Software is also discussed to carry out the migration easily.
Reason to Migrate Lotus Notes Application to O365
There are so many reasons for what users are required to transfer NSF to O365. Some of the major causes to switch from Lotus Notes include:
Large Data storage: Lotus Notes needs a large amount of RAM to stock the mailboxes. Users find it costly to install the heavy RAM. Thus, they find an alternate email client i.e. Office 365, which requires minor and cheap RAM.
Synchronization Problems: IBM Notes users suffers from the poor synchronization speed with Domino server. It results the inconsistency in email service and decreases its performance.
Formatting Issues: Lotus Notes is unable to provide the HTML/CSS script efficiently. It leads formatting difficulties in emails as well as in the associated attachments. It is challenging to uphold data consistency using this faulty application.
Client Migration: Lotus Notes stores its data in NSF format and this format has very narrow use among other applications.
Benefits of Importing Lotus Domino to Office 365
Office 365 offers a large number of additional features that make Notes users recognizing that migrating to O365 from Lotus Notes would be a finer choice. Some of the advantages experienced by users after migration are following:
Easy access to Lotus Notes mailbox without any data loss.
Permission to access the on-premise email messages of Lotus Notes from any place.
Various medium of communication as VOIP calls over the Skype, OneDrive storage etc.
Approach for IMAP Migration from Lotus Notes to Office 365
The IBM Notes users can easily import NSF to O365 and access all the emails without any difficulty. This data migration can be done in the following two ways:
Manual Technique
Users can manually choose the mailboxes to move in Office 365 via IMAP configuration. Following mentioned steps leads to a successful Domino to O365 migration:
First, create a backup of all NSF files which are required to be migrated.
Now, create a new mailbox for each user profile.
After this, enable the IMAP settings:
Launch Lotus Notes and click on Browse Domino Administrator >> Configuration tab.
Unlock the Server file that runs on IMAP.
Now, click on Ports >> Internet Ports >> Mail tab.
Change the TCP/IP Port Value Status to Enable.
Click on Save for applying the done changes.
Connect to the IMAP connector for Lotus Notes to Office 365 migration.
Demerits of Manual Method
The calendar entities of Lotus Notes cannot be migrated by the manual method. They are required to be migrated manually and it is much time-consuming procedure.
IMAP data migration has file size restrictions i.e., maximum 1 GB sized of the mailbox can be imported to Office 365 via this approach.
Exporting data through IMAP Connector transfers only the online data items. Different important offline IBM Notes files will be left by the tool due to the lack of offline connectivity.
When Lotus Notes client is disabled or if there are some connection issues then, the manual approach cannot be used to move data.
There are high-chances of data loss while carrying out the migrating to O365 from IBM Notes via IMAP connector.
Every step is connected with some technicality hence, the process requires a technical expert to execute migrate data from NSF to Office 365 safely.
Automatic Technique
To get rid of the various limitations and risks of the manual method, various third-party tools for IMAP Migration from Lotus Notes to Office 365 are available in the online market. However, only a few of them are reliable to migrate all data items of NSF files like emails, contacts, calendar, appointments etc. to Office 365. Lotus Notes to Office 365 Migration Tool is one of the best ways to execute this operation without any data loss. It allows users to export Domino to O365 mailboxes with entire data items. Via this amazing utility, users can easily migrate the data from single or multiple NSF to O365 in few clicks.
Final Verdict
Cloud services like Office 365 offer various services thus, Lotus Notes users are attracting towards it. This write up consist two methods to execute IMAP Migration from Lotus Notes to Office 365. Where the manual method is associated with many risks OF data loss and automatic method is a perfect solution for this task. Users can prefer any technique according to their time and requirements.