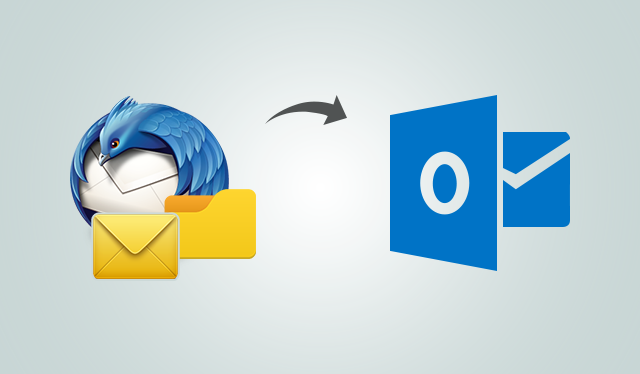 How to Export Messages and Folders from Thunderbird to Outlook
Thunderbird is a popular email client but many users find themselves looking out for the cloud features from Outlook. It provides the latest features in technology and comes packed with multiple security benefits. One of those popular features is the introduction of cloud based emailing platform with Outlook 2013 and later versions. This is why many start to export messages and folders from Thunderbird to Outlook. These abilities grasp the eyes of business as well as home users. This allows one to read messages through a browser through Android, iPhone or any smart phone. Reading emails from desktop-based Outlook is a thing of the based. This post is based on the methods to import MBOX to PST files.
Email Migration Between Thunderbird and Outlook
There are hundreds of users worldwide that need to move Thunderbird mailbox to Outlook with the new cloud services in play. Before proceeding one must understand that Thunderbird stores emails in a MBOX file format and Outlook in PST. To export folders from Thunderbird to Outlook, a conversion of MBOX file to PST format. If there is a way to import MBOX in Outlook will be the best procedure. The entire email message folders like Inbox, Sent Items, Drafts etc can be moved to Outlook easily. This post describes a universal way to move Thunderbird Mail to Outlook 2003, 2007, 2010, 2013 and 2016.
Methods to Migrate/Transfer Emails from Thunderbird to Outlook 2013
Here are some of the ways to move emails from Thunderbird application to Outlook:
Solution#1 Use an IMAP Account
There are accounts that use IMAP to send and receive emails. This saves emails on a remote server location. One can use a dummy IMAP Gmail account to transfer emails from one email client to another. It acts an intermediary in between Thunderbird and Outlook. Repeat the steps below to use Gmail IMAP to move emails.
Step#1: First, configure Gmail account in Thunderbird.
Step#2: Then, create a new folder in Gmail and transfer the MBOX file data to this folder.
Step#3: Next, click on the Send/Receive icon to start synchronization between mailboxes.
Step#4: After that, configure the same Gmail account in Outlook.
Step#5: Now, all the emails have been moved from Thunderbird Mail to Outlook.
Note: This method can be used to migrate/transfer emails from Mozilla Thunderbird to Outlook 2013. It may take hours to move complete mailbox folders.
Solution#2 The Drag and Drop Method
Each Thunderbird email can be saved on the desktop locally without using a third tool or application. Then, one can use the drag and drop method to export messages and folders from Thunderbird to Outlook. The file extension for individual emails dropped out of Thunderbird is .eml. Outlook 2010 and earlier versions can read the .eml files as individual messages. Following are the steps to save an email message from Thunderbird EML File(s) to Outlook.
Step#1: Save Thunderbird Emails As EML
First, select the messages that need to be moved from Thunderbird Mail to Outlook.
Next, create a folder on the desktop where these email files will be moved.
Now, drag and drop all emails from Thunderbird to the desktop folder.
Step#2: Drop the EML files to Outlook
First, launch the Outlook application and go to the folder where the .eml files are saved.
Next, Drag and drop all those files in the Outlook application.
Drawbacks of Using the Manual Method
Lack of Options:
This method can not create a PST file for all Thunderbird emails. It is difficult to import MBOX to Office 365 mailbox without a .pst file.
Limited Migration:
Through the manual procedure only limited email items can be moved. It is usually not the preferred choice to move large mailbox files from Thunderbird profile to Outlook.
Automated Solution to Move Folders from Thunderbird Emails to Outlook
The manual procedure is too lengthy and time-consuming to migrate/transfer messages/folders from Thunderbird to Outlook 2013. Many users look for alternate solutions in third-party tools that offer an automatic solution to move emails. One such tool is the Thunderbird to PST Converter. It directly converts mailbox file from MBOX format to a PST file. This makes uploading emails to Office 365 mailbox much easier. There is no need to have Thunderbird installed on the migration machine. Just copy the .mbox files to the tool and start to export messages and folders from Thunderbird to Outlook. It can even work with all Inbox.mbox, Sent.mbox, Drafts.mbox all in one go. The output .pst file can work with all versions of Outlook 2003 and above.
Final Word
The world of data migration and security is a difficult undertaking. It is not easy to understand export messages and folders from Thunderbird to Outlook. It needs technical expertise in both Outlook and Thunderbird applications. It is this necessity that is recognized in this post and manual methods have been discussed. An expert, automated solution to move emails from mailbox has also been described here.
Author Bio :