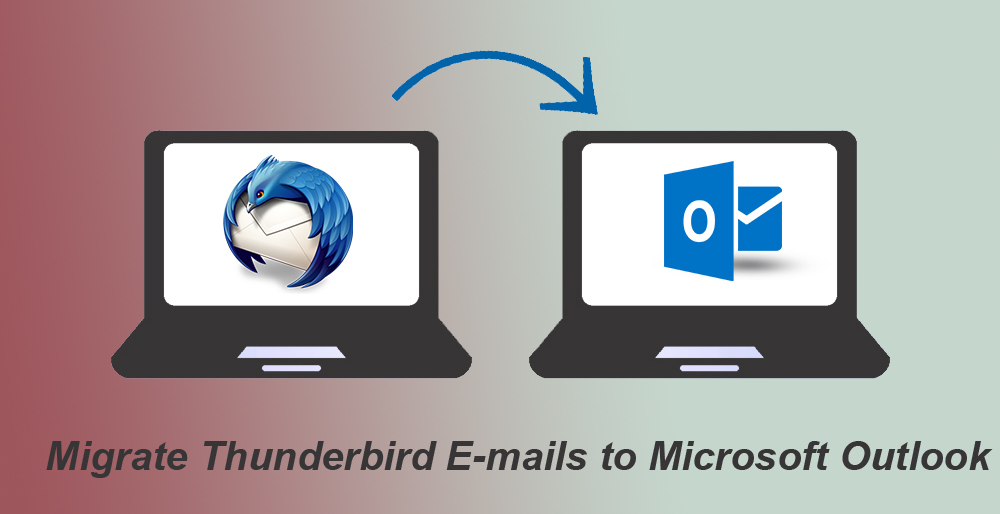 Nowadays, a lot of Mozilla Thunderbird users are switching to Microsoft Outlook or Office 365. Because these both applications are providing the best platform for Business users to work with the Exchange Server. So in this blog, I will discuss all possible methods for migrating Thunderbird MBOX to Outlook or Exchange Online (Office 365) Cloud platform. Before moving to Thunderbird to Outlook migration techniques, we will discuss why users are migrating to MS Outlook or office 365 from Mozilla Thunderbird.
| | | | |
| --- | --- | --- | --- |
| Feature/support | Mozilla Thunderbird | Microsoft  Outlook | Microsoft Office 365 |
| Price | Free | Cheap price | Affordable plans |
| Secure | Less | High | High |
| Exchange server | Not supported | Supported | Supported |
| Email scheduling | Not Supported | Supported | Supported |
| Supported Mobile | Not supported | Android & window supported | Cloud-based |
| Supported formats | .mbox, .eml | .pst | .pst & .csv |
| Task, calendaring | Not Available | Not Available | Available |
| Teams and Skype For Business | Not Available | Not Available | Available |
| Personal Storage | Not Available | Not Available | OneDrive |
Apart from that, Outlook & Office 365 accounts can be accessed through mobile devices too. Nowadays mostly users use Smartphones & tablets for personal or business purpose. If he uses Outlook or Office 365 then he can check his/her emails, task etc anywhere and Make task and schedule for arranging a meeting but Thunderbird did not provide this facility. You can see that there are several benefits due to which now companies are migrating Thunderbird Emails to MS Outlook as well as Office 365 cloud environment.
How to Convert Thunderbird to Outlook/Office 365?
You can export Thunderbird to Outlook or Office 365 by using four different techniques as shown below:
Method-1: Export Thunderbird Emails to EML and import them into Microsoft Outlook
In this technique, you need to export your Thunderbird emails to EML format first, later you can import the EML files into MS Outlook by Using  Drag and Drop method.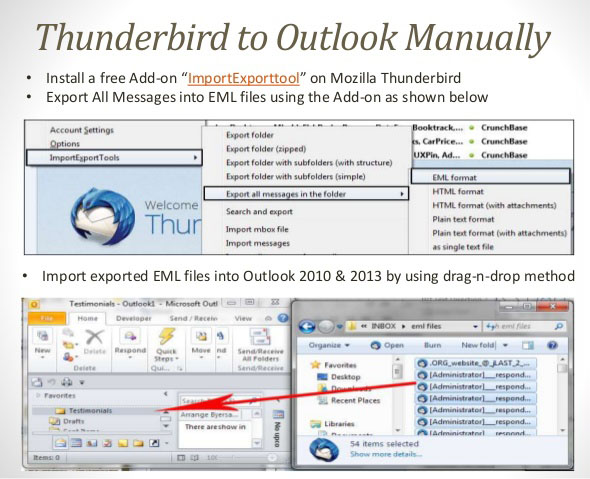 Method-2: Convert Thunderbird to Outlook by using Eudora Mail Client
For migrating Thunderbird emails to Outlook using this method you need to install Eudora mail client on your PC. Follow a few simple steps to convert Thunderbird Inbox to Outlook.
Go to Thunderbird profile
C:\Users\<Windows user name>\AppData\Roaming\Thunderbird\Profiles\<Profile name>\
Find the folder which you want to migrate to Outlook like Inbox and Rename file name "Inbox" into "Inbox.mbx".
Then move renamed file i.e "Inbox.mbx", into a directory in which Eudora stores its mail files
C:\Documents and Settings<user>Application Data\Qualcomm\Eudora
Now open Eudora and then double click on "Inbox.mbx" file to finalize the file creation and close the Eudora.
Now launch the MS Outlook > Click on File > Open > Import > Import Internet Mail & Address > Eudora (Pro & Light) 2.x, 3.x, 4.x > Finish
Method-3: Thunderbird to Outlook Conversion Using IMAP
You can also migrate Thunderbird data to Outlook & Office 365 with the help of IMAP. It's quite lengthy procedure but effective to transfer emails from Mozilla Thunderbird to MS Outlook as shown in below steps:
Configure a Gmail account with the same profile in Mozilla Thunderbird
Now create the new folder on newly configured account
Move emails from the previous mailbox to newly created folder using Drag and Drop Method
Now back to your Gmail account. You can check that the folder created on Thunderbird is now synced with Gmail and you can also view its emails.
Now configure the same Gmail account with Outlook using POP3 or IMAP servers to migrate Thunderbird data into Outlook platform.
Note: This method is quite tricky and time-consuming for migrating multiple mailboxes to Outlook. You may not able to migrate Thunderbird data to O365 portal using this technique.
Method-4: Migrate Mailboxes from Thunderbird to Outlook/Office 365 by Converting MBOX to PST Format
If you are not comfortable with above methods and still not able to move Thunderbird data to MS Outlook or Office 365 then don't worry about it. You can use a 3rd party tool for converting MBOX to PST format and later you can easily import PST file into Outlook and also can Import PST to Office 365 account using Microsoft Network upload method.
There are several GUI based mbox to pst converter available online. I will suggest you find out and download the best MBOX to PST Converter which will help you in converting MBOX to PST in same structured and given the format.
Install and Open MBOX to PST conversion tool
Click on Add file and browse your Thunderbird MBOX files. You may also use Auto Load to select thunderbird folders automatically.
Select PST from Export option and Finally, Click on Export button. That's it.
Conclusion:
In this article, I showed you different techniques to export Thunderbird MBOX to Outlook PST or Office 365. You may select a suitable method for transferring Thunderbird emails to Outlook & Office 365 Cloud platform. If still, you have any doubt or query related to the blog then post a comment. I will be happy to reply to you.
Author Bio :