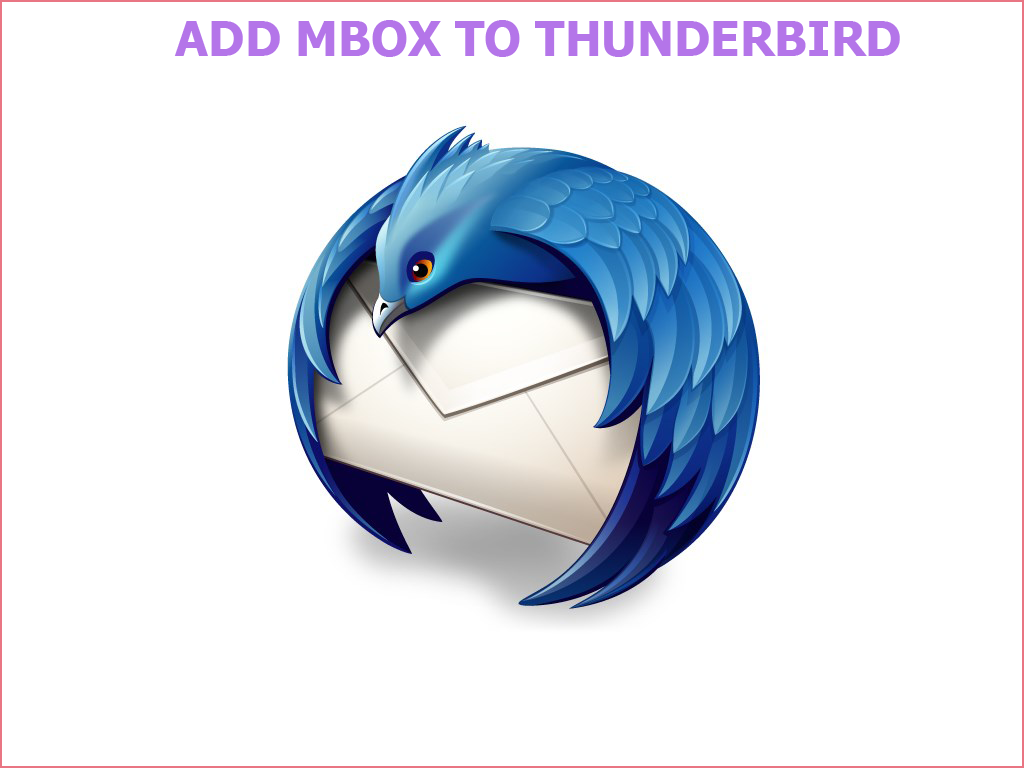 Summary:-
In this guide, a detailed manual method to add mbox to Thunderbird is described. After reading this blog, you are able to import mbox to Thunderbird.Furthermore, In the guide, I also mentioned the professional solution to import mbox files to Thunderbird.If you follow each step mentioned in this guide carefully then you can easily import mbox mail into Thunderbird.
Quick Overview of Technical Details about MBOX File Format
MBOX is the file format which concatenates the plain text data into the single file. The new message which arrives is appended at the end of MBOX file. It stores the copy of messages on the local storage & usually stores without extension and created by default in many email clients. There are many email platform that supports mbox file format such as Mozilla Thunderbird, Microsoft Entourage, Qualcomm Eudora Netscape Mail, Pocomail, SeaMonkey etc. Now in this article, I am only going to tell "How to import MBOX into Thunderbird?"
As MBOX file is supported and created by many email platform. In the current mbox file is also created when archiving the email account. If you have recently take the Google take out of Gmail account or have the mbox file created by other email platforms. Now you want to access mbox file into Thunderbird email platform. Then you need to installed ImportExportTools Extension in your Thunderbird email client.
Make sure to take backup of MBOX file before following steps to import mbox into Thunderbird. This is necessary because the manual procedure is not always error proof. If any one of the steps missed or executed in an incorrect manner then this will lead to serious data disaster. If you have the backup then there is no to worry about data loss or inaccessible file issues.
Let's achieve our goal to import mbox into Thunderbird
1. Start the Mozilla Thunderbird Application
2. Then after right click on the email address configured in Thunderbird. If no profile is configured then you can create dummy profile also.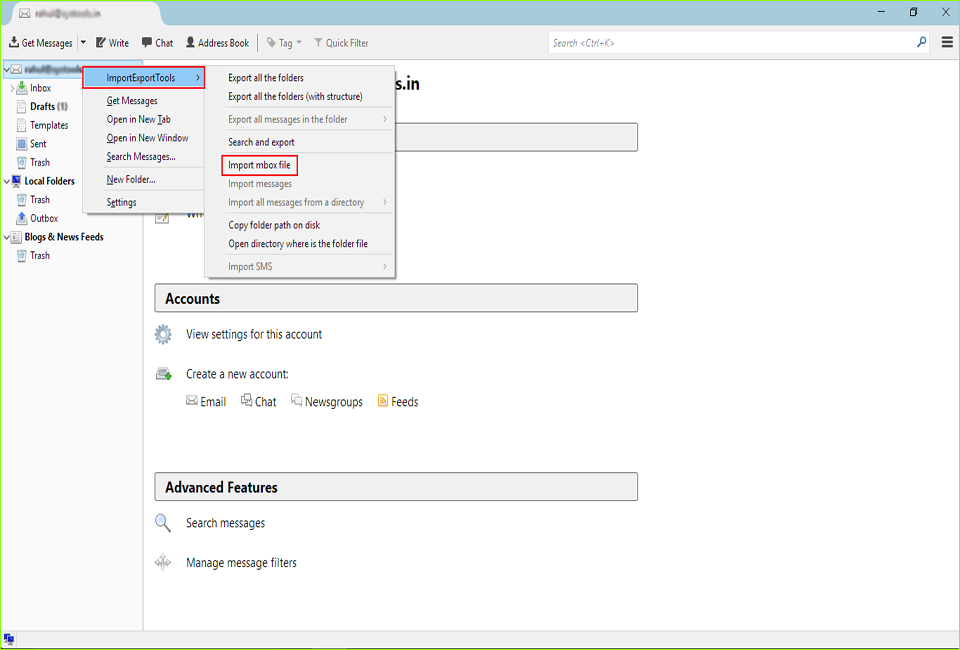 3. Click on ImportExportTools Option
4. After then Click on Import MBOX file.
5. When Click on Import MBOX file then an import wizard is open up as shown below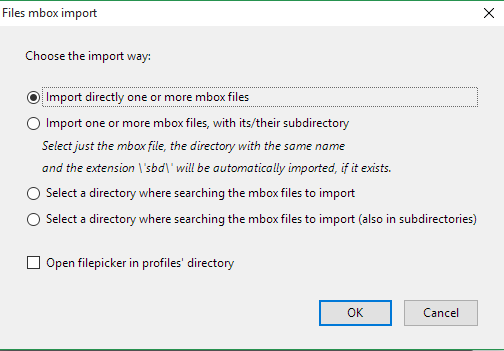 6. Select Import Option according to your requirement. You can also search mbox file from the directory also.
7. There is also the option available to import mbox file from profile folder also.
8. Browse the file from the local storage and click on Open to proceed further.
9. After Successful import of mbox file into Thunderbird, you will see the new folder created in configured profile as shown in the picture.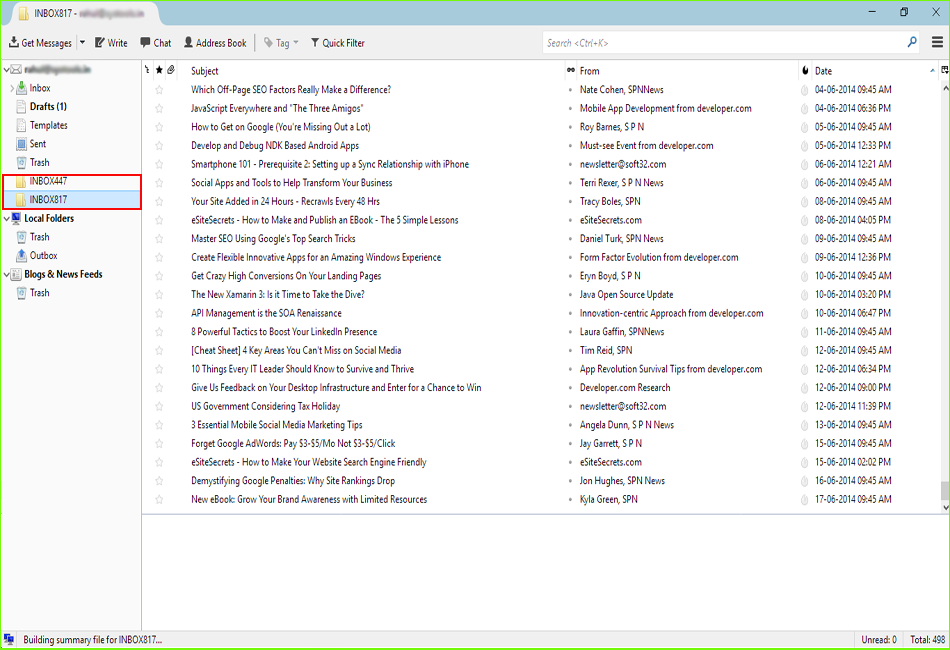 Now the process of importing mbox into Thunderbird is completed. You will able to see the mbox file content in Thunderbird email client.
Professional Solution to Add MBOX to Thunderbird – Import MBOX Wizard
However, the Manual method to add mbox to Thunderbird using the ImportExportTools extension is free but there is always the possibility of loss of data and the corruption issues. Therefore the use of a third-party software is always recommendable because Email Data is more crucial than anything else in professional or business life. Add MBOX to Thunderbird is one such tool that can easily import mbox files in Thunderbird without loss of any data. It provides the advanced filter to narrow down the import process. With help of date filter, you can selectively import mbox to Thunderbird. It also provides the facility to import mbox data into desired profile.
At Last Note
ImportExportTools add-on is the free utility to import mbox file into Thunderbird. You can use this tool to easily import mbox mail to thunderbird. But with free extension, there will always the possibility of data corruption, data loss etc. So In my recommendation use of an expert solution is the need of an hour. No one wants to lose its crucial data. Nowadays data is given more preference than money. Its depend on you, "What you want to prefer loss of data or Add MBOX to Thunderbird Software?"
Author Bio :