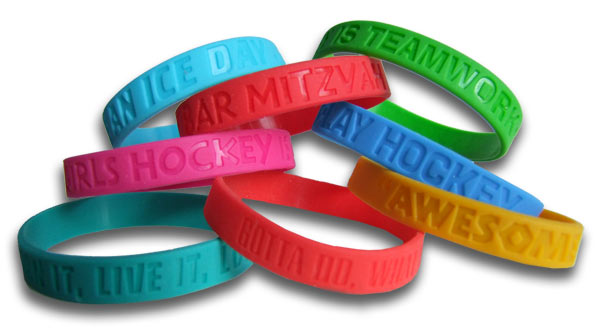 Ever since Lance Armstrong started iconic yellow wristbands as a part of his Livestrong awareness campaign on cancer, many across the globe found a new of getting their efforts highlighted. Today, many types of Customized Rubber Wristbands have been used for various purposes, including causes, fundraising, product promotion, and others. They are an inexpensive and effective way of spreading a word.
These colorful bracelets are as much a fashion accessory as a tool for product promotion. In the world full of uniform wearers, a bracelet helps you stand apart in a good manner. If clothes are a cake, then the wrist accessory is cherry on it. Even our ancestors were great admirers of bracelets. During the olden days, bracelets made of bones and other materials were worn as a tradition or a symbol of power. In the modern world, many people wear them to enhance their overall personality and appear unique in the crowd.
There are people who don't like to wear heavy jewelry items. For them, silicone wristbands are the answer. These rubber bracelets are easy to wear and carry. Plus, they come in a plenty of sizes, colors, and customization options which make them a flexible fashion accessory. Be it casual, classy or a special occasion, wristbands can be worn anytime and anywhere. Some admirers also believe that their wristband helps them to stay positive and focused in life. Wristband personalization allows them to engrave their favorite quote or a message on it.
There are several reasons to wear these bands as a fashion accessory, and some of them are:
They Help Start A Conversation
Yes! A wristband not just enhances your personality but can also pose as a conversation starter at a party. It may help you get an attention in a positive manner. For example, you are in a cafe waiting for your friend. A pretty woman notices your eye-catching customized wristband and wants to know more about it. In another scenario, it's a fine sunny day and you are roaming on a beach. The only attractive accessory you can wear is a wristband.
They're Attractive Replacement To Heavy Jewelry
Jewelry is for a special occasion. You cannot wear heavy bangles and bracelets every day. Wristbands can be the right replacement for those jewelry items. They are available in the market in many types, sizes, and colors. The rubber bracelets are easy to wear and can be carried easily. In addition, you can wear many of them at one time.
They Can be Matched With Clothes
As these rubber accessories are cost-effective, you can buy a plenty of them to mix and match with your clothes. You can wear several of them at one time to match with your clothes' color and to make your appearance more colorful.
They Can Be Worn With Other Accessories
You can wear them alone or with other hand accessories. Many fashionistas can be seen wearing lots of colorful wristbands with their watch. These silicone bracelets can be matched with a watch to make them appear more attractive. For example, the band's color can be chosen to match it with the watch's strap or its dial color.
What's The Right Way To Wear A Wristband?
These colorful bracelets are inexpensive and come in different types. But it doesn't mean you can wear any size and color to look attractive. Here're some tips to make these accessories appear more fashionable:
1. Match The Wristband With Your Personality
You cannot just wear a bracelet seeing your friend wearing it around his wrist. A silicone band you are wearing must be matching your personal style. You shouldn't choose a colorful, funky wristband if you like things in their simple form. There is an enormous range of wristbands in the market and you must choose one that suits your personality.
2. Match With Your Dress Code
You can buy several types of silicone bands in different colors and wear one or two of them after matching them with your clothes. For example, if you are going to wear formal clothes, then the bracelet can be simple. And if it's party time, you can wear colorful bands that glow in the dark.
3. Customize Your Wristband
Over the Internet, you will come across many stores that let you Make Your Own Wristband. From size, type and color to a message to be engraved, there are a plenty of options to turn a simple rubber bracelet into your own. A major benefit of wearing a customized rubber wristband is that it will be of your choice and you are going to wear it all the time. Plus, you can design a bracelet that reflects your personality.
Author Bio :